It's October 31st and you know what that means – it's the one day where adults dress up in their favorite, yet sometimes scariest costumes and we get to see those little ones jump into their adorable costumes. Wherever you are and whatever your plans are today – Happy Halloween from me and the entire FrontRunner Team!
Funny story, I just have to share today…
As I left the office yesterday, I was sent a link to our website saying "Hey, we updated our pictures for Halloween." My first reaction was … oh, my. What have the designers turned me into? These guys (and gal) are some of the most creative people I have ever met so needless to say, I was a little excited but a whole lot nervous.
Yesterday, I was just me… Today, I am officially a member of the walking dead.
Looking at the new pictures of the entire FrontRunner team was probably the most I have laughed in a while. My personal favorites: Katie Kortschaga and Mark Miatello. If you need a good Halloween chuckle, just take a look below.
But, I also want each of you reading this to meet our incredible design team. Seriously, they are all absolutely amazing at what they do and bring their own personalities into their work, especially on a day like today. From what you will see in my picture for example, my "makeover" was clearly done by Jason Scott.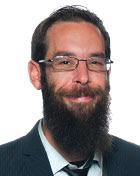 Jason Scott – How do I describe this man? Let's just say this – every time I travel somewhere and there is a store with "creepy" things on display, I go in because of him. I would love to count all of the skulls or other creepy things we as a team have bought for him. He loves all skulls, probably every horror movie, and anything creepy at all, any day of the year. Halloween is hands down, his favorite holiday. He is also the design mastermind behind how client websites look and to be honest, so many things around here.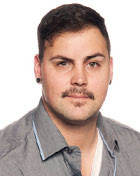 Then there is Mike Charlebois, often referred to as "X" around the office. To be honest, I am not even sure why he is called that. He is the design mastermind behind our new FrontRunner website and has been with the company for as long as I can remember (along with Jason). Give him a project and tell him it needs to look modern – and he'll blow you away. Visit him on Friday, and you'll see him in "This is my Friday shirt".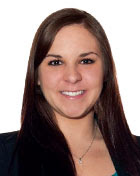 And Katie Kortschaga. She is the newest member of the design team but has been with us for 2 years. She is the design mastermind behind our new National Branded Systems – Simpler Times and An Unforgettable Friend and many other new projects going on around here. She is absolutely amazing at what she does. She also sits as the only female in a room full of male programmers and designers. You want stories? I am sure she has 100s.
These three keep things VERY interesting around the office. Clearly – as you can see from the transformations of our staff in the pictures below.
Who is your favorite? We can't wait to hear it in the comment section below!
Kevin Montroy Founder/CEO

Ashley Montroy
Marketing Director
Jason Scott
Creative Director
Kris Frenette
CTO
Michael Charlebois
Graphic Designer
Kim Stacey
Content Writer
Mark Pieczonka
Technology Analyst