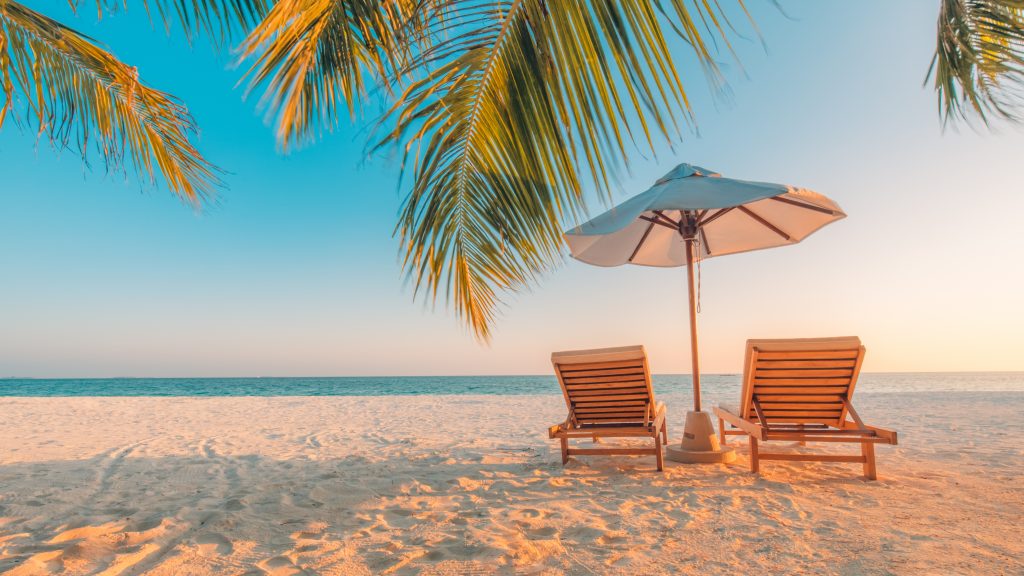 With the passing of Labor Day, students across the United States and Canada are back in the classroom for a new school year. Think back to when you were a kid and what summer vacation meant for you. For me, it was two glorious months to relax and unwind spending my days at the lake, golf course or baseball diamond. When you're a kid, the summer isn't just a break from school. It's time for you to recharge and refresh your mind before hitting the books again in September.
Now because the school year is underway, it's time for a quick pop quiz.
According to Project Time Off, in 2016, how many vacation days did full-time US employees leave unused?
662 million (no that's not a typo).
It's funny how things change as you get older. For most people, you finish school, get a job and your summer vacation disappears to 2-4 weeks of vacation time for the entire year. What's even more puzzling is that even though our vacation days are greatly reduced from when we were kids, we take even fewer days than we're allowed to.
According to Project Time Off, less than half of Americans use all of the vacation days allotted to them each year. Even though 59% of women say vacation is extremely important to them, only 44% actually use all their vacation days. The numbers aren't much different for men either.
There are plenty of reasons why someone might not be willing to use every vacation day. Maybe its because you have kids and don't want to pull them out of school, or you're putting your savings towards another major purchase like a new home. Some people just have a mountain of work piling up and others feel guilty about taking a vacation because they worry what management or their colleagues will think if they're off too much.
The Benefits of Vacation
Even just a few days of vacation can do wonders for your mind and body. A little time spent away from work gives you the opportunity to recharge and enjoy what you've worked so hard for. Here are 4 benefits of taking a vacation.
Boost Your Energy Reserves
If the only time you take off work is the weekend, you're setting yourself up to burnout or crash sooner or later. Research has shown that taking a vacation can help you restore your energy reserves. This means that you return to work ready to take on anything. As a funeral director, you likely find yourself assisting families on weekends or at night meaning your time away from work is even less than the typical American worker. In the type of work you do, being able to take some time off to recharge isn't just important, it's essential.
Keep Your Mind Calm
Believe it or not, your brain actually gets used to not vacationing – and simply put, that's not good. Some neurologists now believe that our brain's ability to produce calming feelings become weaker over time if they are not utilized. This means that it can actually become harder for you to relax even when you're away from the funeral home. Taking a vacation allows you to put these neural connections to use and help keep your mind calm and relaxed.
Improve Your Workflow
Just because you're on vacation doesn't mean your work and responsibilities go away. When you know you have some time off coming up, you're likely to make sure you complete everything ahead of time. Taking a vacation can actually help you become more productive at work because you learn how to improve your workflow and manage your time so that everything is completed before you leave.
Increase Your Earning Potential
It might not seem logical, but taking a vacation can actually help you increase your earning potential. It doesn't matter whether you own your funeral home or are employed there. Studies have shown that most bosses return from vacation with increased creativity and new ideas about the company's future. Employees also stand to benefit from a vacation. Not only will it make you happier with your job, research is finding that employees who use all of their vacation days consistently score higher on annual performance reviews than employees who leave vacation days unused.
All Aboard – The FrontRunner Workshop Cruise
Hopefully, by now you understand that a vacation isn't just about a break from work. It's a healthy escape to recharge your mind and body, increase your happiness and return to work ready to be more productive.
Now by now, you likely know that we are bringing back our annual FrontRunner Workshop Cruise in 2019. This year's excursion will see funeral professionals from across North America join us on The Symphony of the Seas – Royal Caribbean's newest (and the world's largest) cruise ship. This year's cruise will depart from Miami, Florida as we cruise the Caribbean and explore the islands of St. Maarten, St. Thomas and the Bahamas.
If you haven't seen it yet, check out this video we've put together to learn more about this year's cruise.
Earn Up To 6 Continuing Education Units
This isn't just a cruise, it's an opportunity for you to earn continuing education units. CEU's include up to 4 technology/marketing credits and 2 embalming credits. These workshops will be taught by professional and certified instructors who have taught at more than 50 conventions across North America. Not only will you learn how to better use marketing and technology to grow your funeral home, you'll get the chance to network with other funeral professionals and leave inspired.
Nonstop Entertainment
The Symphony of the Seas is a cruise ship, unlike anything you've ever seen. With more than 20 restaurants, 15 bars, onboard entertainment, a waterpark and so much more, the fun never stops. Once we reach each of the islands, you'll have the opportunity to leave the ship and explore some of the most beautiful parts of the Caribbean and experience the local culture.
Cabin Prices and Details
We have secured cabins at a special group rate which are available on a first come, first served basis. Book early to guarantee your cabin type and rate:
Interior cabin: $1549.09
Oceanview with window: $1627.09
Oceanview with balcony: $1839.09
Boardwalk cabin with balcony: $2176.09
*Fees are per person (USD) and include all taxes, port and workshop fees. A small deposit is due to hold a cabin and is refundable until October 1, 2018
For more information on the 2019 FrontRunner Workshop Cruise, please click here to learn more.
P.S.
We're giving away a VIP Cruise Experience to one lucky attendee. All you have to do is place your deposit by October 1, 2018, to be entered to win. Click here to learn more.