10 Types of Funeral Home Social Media Posts For 2020
June 26, 2020
34110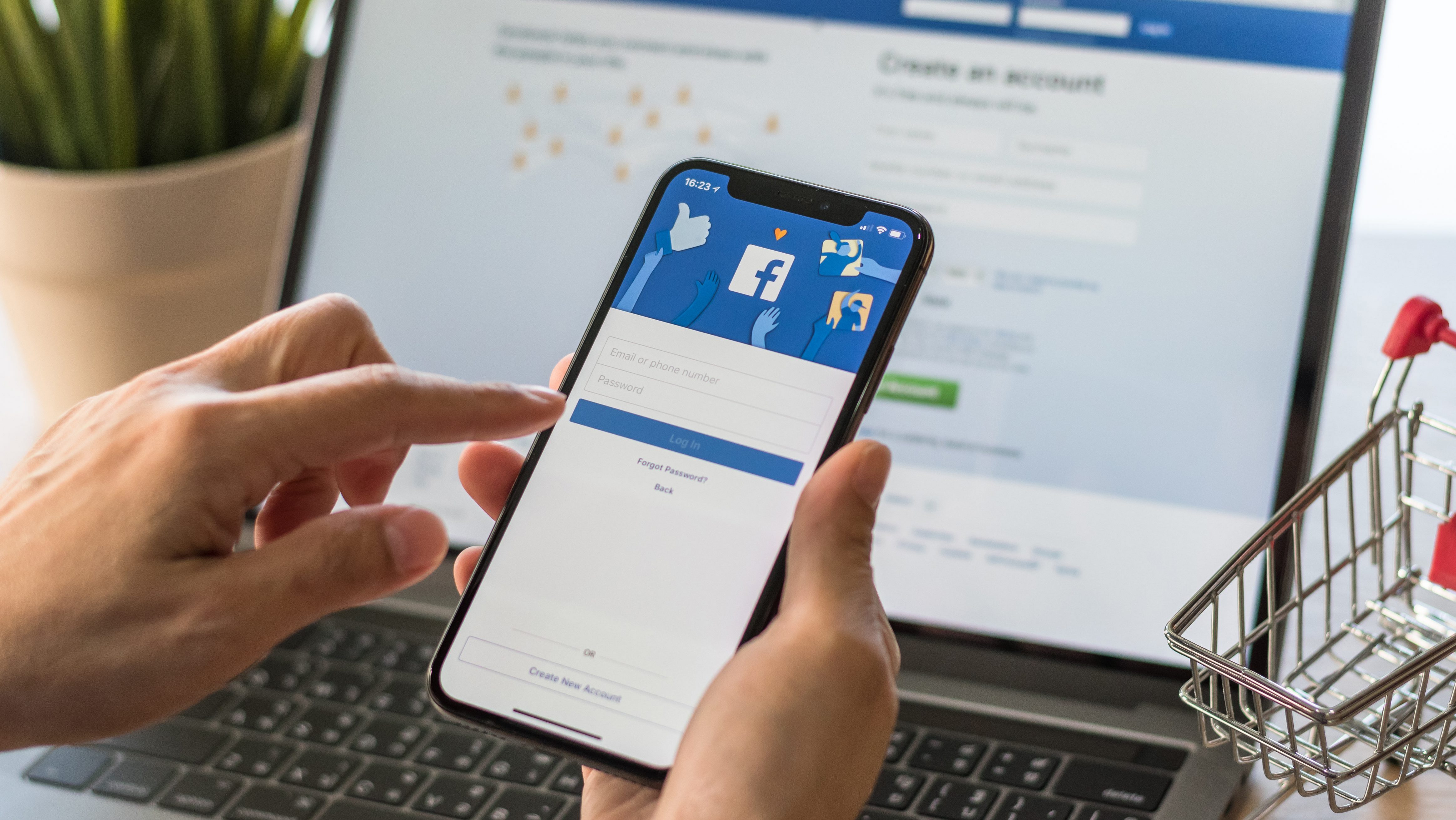 It's been around for less 20 years, but social media has completely transformed the way we communicate with one another. Every day, billions of photos, updates, videos, and articles are shared across different networks like Facebook, Twitter, and YouTube.
For businesses, social media has opened a new door for communicating and promoting products and services. Today more than ever, it's important that you're actively using channels like Facebook to connect with families. In fact, some people now turn to Facebook first find a business before visiting their website.
Over time, more and more funeral homes are starting to embrace social media marketing as a way to connect with the community. For today's post, we're going to highlight 10 different types of Facebook posts you should be including on your page.
Practical Tips & Advice
You want to make sure your social media pages provide value to your audience. One of the simplest ways to do this is by showcasing your expertise. A lot of people have questions about funeral service, help answer some of them. This can include funeral etiquette tips, helping someone who is grieving, preplanning advice and so much more.
There are many ways you can go about making these posts. Video is a popular way to get attention and engagement. Consider starting a weekly 1-2 minute video series where you offer practical advice to families about funeral service and what they should know.
We love these kinds of posts because they show you know your stuff. But more importantly, they build trust with your audience and start to position you as the place to turn when the time comes and they need your services.
Jokes
If you're looking for something simple and shareable, cartoons and joke posts are great! These types of post show off the light-hearted side of your business and are a great way to get noticed. These types of posts often generate lots of likes, comments, and shares which can lead to others discovering your page.
Infographics
Infographics are a great way to display a lot of information in a limited space. These types of posts let you break down information in an easy to follow format. Studies have shown that infographics can increase web traffic by up to 12%. Some examples of past ones we've made for clients include checklists for preplanning a service and funeral etiquette tips.
There are plenty of ways to use templates and create easily shareable infographics. All it takes is some creativity and a free Canva account. Check out this guide if you want to learn more about making an infographic.
Holiday Themed Posts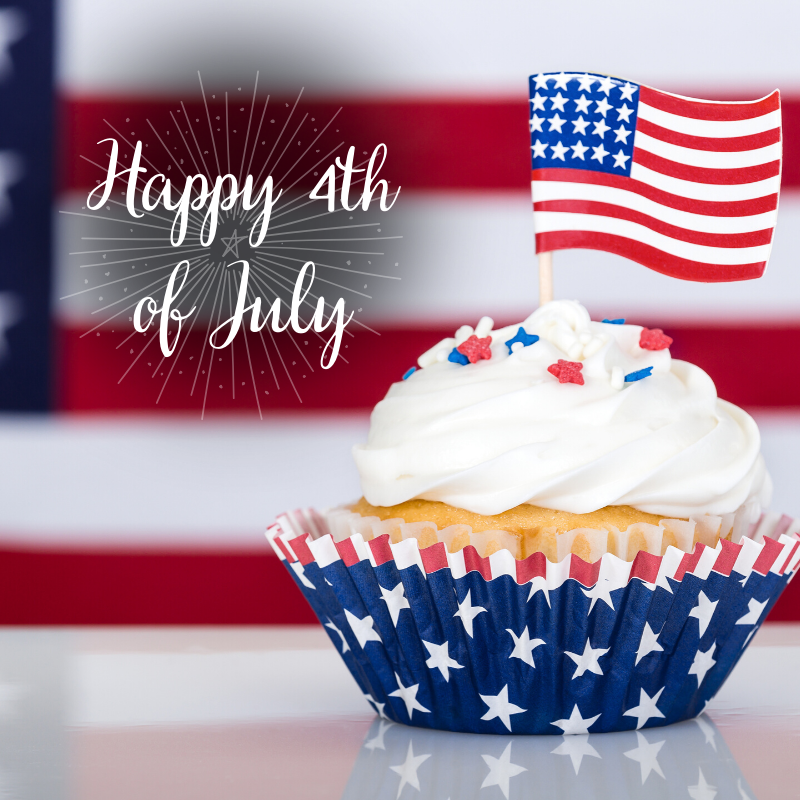 Holiday themed posts are an easy way to celebrate a special day and connect with your audience. When you're making posts to recognize and celebrate a day, make sure to use popular hashtags associated with it. For instance, if you're decorating your firm for the the 4th of July make sure to use a popular hashtag like #July4thDecor to open yourself up to a larger audience.
Another great thing about these types of posts is most people are celebrating the holiday as well. Ask your audience how they plan to celebrate the day or wish them well. Both will lead to plenty of comments and replies on your post.
Customer Reviews & Testimonials
People love social proof. In fact, research shows 84% of people trust online reviews as much as their friends. People look for these when considering who they want to do business with. When a family leaves you a great testimonial on Facebook, Google. or wherever – share it.
Create a post with the best part of the testimonial and thank the person for their kind words. Don't just post this as a status though, make sure to put it into some sort of photo or with a background to maximize engagement.
Live Events
While you likely aren't planning any events during the pandemic, hosting events is a popular way to network with the community. If you plan to host a remembrance service, charity event, seminar or other community gathering, make sure to make an event on Facebook. Create ads for it and promote it to increase attendance. After the event ends, make sure to share any photos for even more engagement.
Answers to Common Questions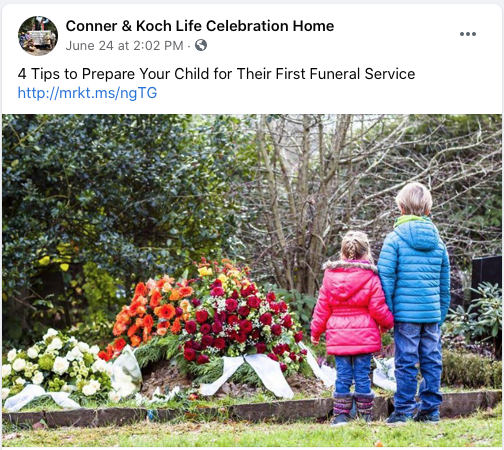 You likely hear a lot of the same frequently asked questions all the time. When it comes time for someone to plan a funeral or think about preplanning they have questions. Like we said above, creating posts that offer value are a fantastic way to nurture potential leads into customers.
People are naturally searching for answers, be there to offer them. Consider starting some sort of weekly series where you address commonly asked questions and build a library of knowledge people can access.
Products & Resources
Marketing is like a funnel. You aim to put posts out that capture peoples' attention, and then slowly nurture them. With the end goal being they end up on your website and contact you about your services. Use social media as an engine to drive traffic to your website. One of the simplest ways to do this is by sharing direct links to information about products, services and resources. Do you offer ebooks, checklists or other downloadable content? Share links to help people discover these resources.
Do you have a new line of keepsakes or aftercare items. Make sure to promote them and encourage people to visit or reach out to learn more.
One thing to remember when posting about products specifically is follow the 4-1 rule. For every four posts you do to create engagement, educate, or entertain – post one promotional post. This helps create a nice balance where your audience isn't only seeing promotional posts all the time.
Behind the Scenes Content/Staff
People want to know who they're working with, so showoff your team and facilities. By opening the curtain and showing people behind the scenes, it helps build trust and shows transparency. These types of posts can include celebrating staff on their birthday or work anniversary, team meetings or outings, renovations, decorations and more.
Targeted Ads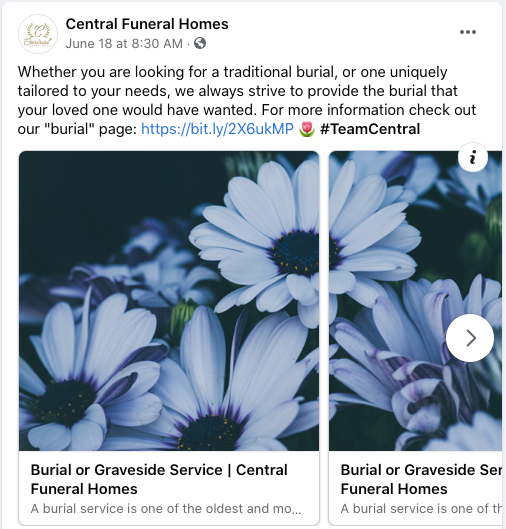 Over time, social networks have really become pay to play. Pretty much every business is using it to try and reach people. While many of the posts shared above can help generate organic traffic, targeted ads will reach a larger audience. Compared to traditional advertising methods, paid social ad campaigns can reach a more targeted audience for less.
If you need help getting started with Facebook advertising, click here to download this helpful guide our team has put together. Inside you'll learn about different types of adds and how to best use them to maximize your results.
Tommy holds a Communications degree from Laurentian University and an Integrated Marketing Communications Graduate Certificate from St. Lawrence College. He is a Content Marketing Specialist at FrontRunner and focuses on producing engaging content that funeral homes can use to connect with families. In addition, Tommy crafts SEO content for clients and specializes in helping the general public connect with the death care industry as a whole.