How Memorial Websites have Revolutionized Traditional Newspaper Obituaries
A memorial website provides so much more than just an obituary listing. Memorial websites have become treasured memorial spots that families visit to remember and honor their loved ones.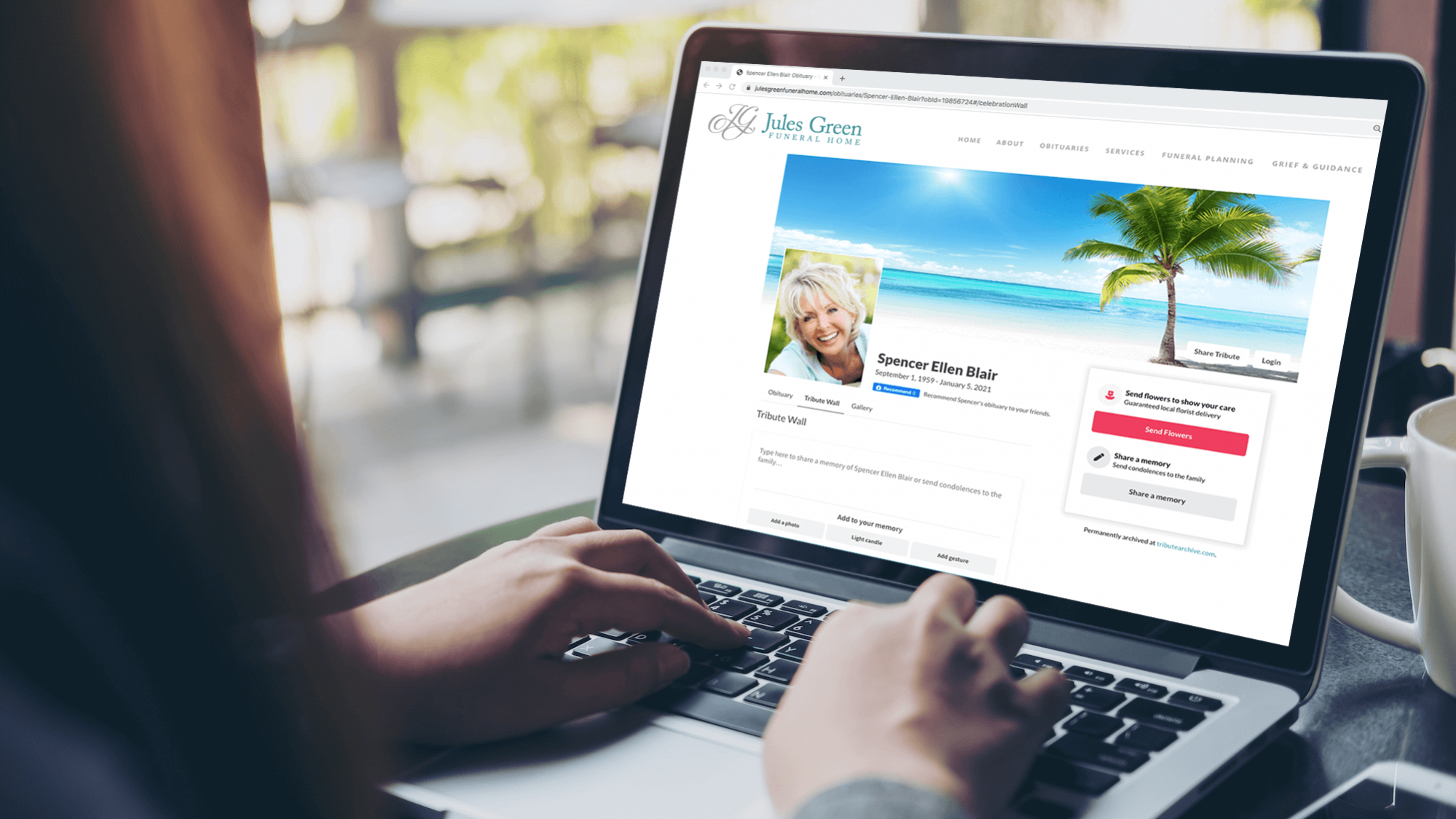 Memorial websites have taken traditional newspaper obituaries to the next level. While I believe there will always be a place for printed newspaper obituaries, I think its popularity and prominence will be over taken by memorial web pages in the future. Traditional obituaries are limited and constrained in many ways compared to memorial websites. Overall, memorial websites just offer more flexibility, features, and options that provide a better memorialization of the deceased.
Below I provide the biggest differences between traditional newspaper obituaries and tribute websites. I also touch on specific features that exist within FrontRunner's memorial websites – The Book of MemoriesTM.
Personalization
Every life is unique, each story is unique, and a loved one's obituary should capture that. Memorial web pages do a great job of capturing the deceased's personality. Many website providers have a selection of themes that help capture the individuality of the deceased. From golf themes to fishing and everything in between, there seems to be a theme for everyone.
Our Book of Memories has a 100+ predesigned themes for families to choose from. About 2 years ago, we also added the ability for families to create their own theme with custom cover photos. These cover photos are similar to cover photos used on Facebook profiles. For example, now instead of using our golf theme, a family can use a photo of their loved one's favorite local golf course.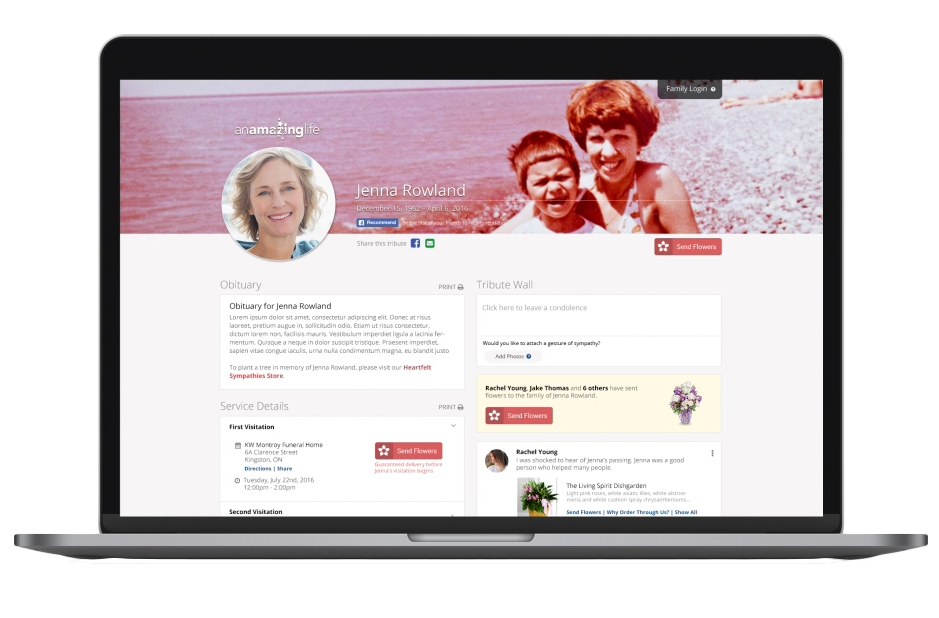 Interactivity
A traditional newspaper obituary is a one-way form of media meaning the info is supplied and the reader can absorb it but is unable to interact, respond, or engage with it. This is a definitive advantage for memorial websites. They allow family, friends, and the community to share their condolences, upload photos, share stories, send flowers, make donations, etc. This ability for visitors to engage with the loved one's memorial really makes it a place where people can come together as a community to sympathize, remember, and honor the deceased.
In 2020, FrontRunner added a notifications feature to our memorial websites. Similarly to a newsletter, visitors can sign up to receive text or email notification updates. This is an easy way for families to keep people informed of things such as changes to funeral times, providing important service details like requested wardrobe, or even sharing a link to the live stream of the service.
Distribution & Access
A major limitation with print newspaper is reach. If an obituary is just posted in a print newspaper, then only those in the local area that read the publication will have the chance to hear the news of your loved one. As we know, nowadays more people spend time on the internet and less people spend time reading print newspapers. Therefore, memorial websites do a much better job of sharing news of the loss. While most newspaper publications are digitally accessible, their digital obits use the memorial website as the primary source of info and often link and reference the memorial website.
A memorial website is easily accessible to anyone in the world with working internet. In a matter of seconds, someone can type in the url, hit 'Enter', and be given access to a memorial website. Also it is so easy to share a website url. Share buttons on memorial websites make it simple to share the news of the passing through facebook, twitter, and email.
A Permanent Memorial
For many families, memorial websites become a place similar to a burial grave or where ashes are scattered. As already detailed above, memorial websites are so much more than just an obituary. They are better described as places of memorialization for the deceased. A place of memorialization that can be visited at any time. We've worked with many funeral homes and families to change or work on memorial web pages that are 10 or 15 years old. This is how precious these websites are for families.  
While some may keep the newspaper clipping of a loved one's obit, many people simply don't because they are not dynamic, personalized, and nicely designed. Many newspaper obits are used as a source of info instead of as a keepsake that can be treasured for the rest of time.
Unlimited Possibilities
Memorial websites also have the flexibility to offer more and alter as demands change. Print newspaper obituaries are what they are, and there really is no room for growth. At the end of the day, some lines of text and a photo can be provided.
Each year, our Book of MemoriesTM tribute web pages seem to evolve in some manner. A few years ago, we introduced video condolences where friends and family members could upload short videos of themselves sharing their sympathies. Just last year, we introduced the RSVP feature. With the global pandemic, managing funeral attendance became a major issue for funeral homes. The RSVP feature is a tool that requires guests to visit the memorial website and reserve their spot at the funeral. This allows funeral directors to set capacity limits and gives them a clear record of all people in the funeral home for perfect contact tracing.
Jeff works as a Digital Marketing Specialist at FrontRunner. He has a degree in Business Administration from Laurentian University and a Graduate Certificate in Integrated Marketing Communications from St. Lawrence College. Jeff specializes in search engine marketing, data analysis, and content creation.