How to Create Unique Touchpoints with Families Long After the Funeral Service
We hear it time and time again – funeral directors want to find better ways to connect with families months, days and even years after the service. But how do they do that when time is limited, tasks are never-ending, and consumers are changing faster than you can keep up?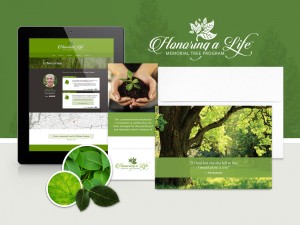 At FrontRunner, we're always keeping our eyes peeled for things that may help funeral homes with this. You didn't think we were called FrontRunner for no reason did you? We work with thousands of funeral homes across North America so it's our job to always be watching for new, innovative ways to keep funeral homes ahead of the rest.
For many, introducing our partnership with Honoring a Life – a memorial tree program, was seen as a fit, especially with the tie-in to the Book of Memories tribute program. Others asked us why we, as a technology and marketing company, got into the memorial tree planting business. What a great question!
The Honoring a Life Memorial Tree program caught our eye for a few reasons:
1. It's an Incredible Aftercare Tool that Truly Connects and Means Something
This was one of the biggest attractions for us to this program. I personally hear from so many funeral directors around the world about how they want an aftercare program. They tell me too many of their families leave the funeral home and they don't know when they will speak to them again.
With the Honoring a Life program, the funeral home can now send a card and a bookmark to the family 2 weeks after the service to let them know a tree in honor of their loved one will soon be planted. How powerful is this touch-point 2 weeks after a service? The touchpoints do not just stop there. Because tree planting is seasonal, it allows for a few connections with the family throughout the year and beyond to send a message and also see how they are doing:
Request for the planting of a tree in their loved one's name with a nicely designed card
A message to let the family know the tree planting has been processed
A message to let the family know when the tree is actually planted
And of course, the many, many touch points of generations visiting the funeral home website to see the co-ordinates in the Book of Memories tribute page for the location of the tree.
2.. It's an Amazing Story for Funeral Service
Honoring a Life is a global initiative taken on by the death care industry to help offset the effects of climate change. The program arranges for the planting of memorial trees in honor of a deceased an requires very little effort from the funeral home.
It is a green initiative that is a unique and inspirational gift for the families. Trees benefit the environment, making our world a better place for both current and future generations to enjoy. Isn't it time for funeral homes to have an incredible story in the news?
3. It's the Perfect Addition to the Online Book of Memories Tribute Pages
As mentioned above, the location of the tree will appear in the deceased Book of Memories tribute page on the funeral home's website. This is a permanent tribute page for all generations in the future to see. Now, they can not only see all of the photos uploaded and stories shared, but they can also locate the tree or trees planted in honor of their grandmother or aunt. The power of technology to not only create touchpoints but also impress families is pretty incredible.
4. It was Designed with ALL Faiths in Mind
Some faiths simply don't practice lighting candles or sending flowers. Some prefer to re-align themselves with the natural elements of the earth. Planting a tree in honor of a loved one, gives all faiths an alternative and a green option – which is becoming more and more important to many. We loved this addition to the many offerings of FrontRunner Professional.
So, How Does It All Work?
Honoring a Life, in partnership with the Canadian Institute of Forestry and American Forests strive to restore urban and wildland forests that have been ruined by deforestation. FrontRunner Professional joined forces with Honoring a Life to not only bring more good to this world of ours, but also to bring a great story to funeral service and an incredible aftercare program that had a unique offering with a technology tie-in.
The Honoring a Life Memorial Tree program is seamlessly integrated with all FrontRunner systems, yet it can also operate as a stand-alone platform. Each memorial tree comes with a beautifully designed card, bookmark, envelope, and online memorial.
Check out what some amazing funeral directors are saying about this new program:
"I need to take this opportunity to simply mention how very pleased I am to have the reason to, be able to offer families the ability to continue the circle of life by honoring their memory within the planting of a tree. You and your team deserve the utmost credit for engineering this brilliant exercise of giving back. It is hard for me to tell you how many thank you notes, phone calls, hand shakes and hugs we have received at our firm. From families we have served (and even some we have not) regarding their heartfelt response, and truly their sincere appreciation for planting a tree in memory of their loved one. FrontRunner never ceases to amaze me with their ingenuity, brilliance, talent and professionalism and dedication to our funeral profession."
– Dave Scotland, Scotland Funeral Home
 "We feel this program offers a symbolic gesture to honour the loved ones that we have lost. As one journey ends, another begins through the planting of a tree for future generations to appreciate."
– Jim Ranger Ranger's Cremation
 Ready to do Some Good and Stay in Touch with Families?
If you're a FrontRunner client and would like to join the growing number of funeral homes who are taking part, simply order your kits here. We'll send you a pack of follow up cards, and show you how to request a tree be planted in honor of a loved one. With the click of a button on your dashboard, we coordinate the tree planting in the state/province requested. You can then track the trees, re-order kits, and personalize messages.
You can learn more about Honoring a Life here or request a sample kit for your funeral home. To speak to an Honoring a Life representative, call 844-486-0246.
Ashley Montroy, Marketing Director at FrontRunner Professional, has committed herself to helping funeral professionals understand and excel in today's digital age. With a long-standing history in the funeral business and her father being a licensed funeral director for over 30 years; she grew up learning the family funeral business. Ashley holds a bachelor's degree from Carleton University and diploma from Algonquin College. Today, she continues to speak to over 15 state and provincial funeral association groups each year on funeral marketing in the digital age and protecting funeral firms online using experiences and examples from working with thousands of funeral homes in North America through FrontRunner Professional.