FrontRunner announces strategic partnership with Heart-in-Diamond [Press Release]
FrontRunner today announced that it has concluded an exclusive partnership with Heart in Diamond.
CEO and Founder of FrontRunner, Kevin Montroy cites, "This new and exciting line of carbon-based manufactured diamonds will be added to the suite of new revenue opportunities available exclusively to FrontRunner clients. Under the new patented exclusive process, diamonds can be manufactured from a small amount of cremated remains or a lock of hair in a fraction of the time and cost of traditional manufactures."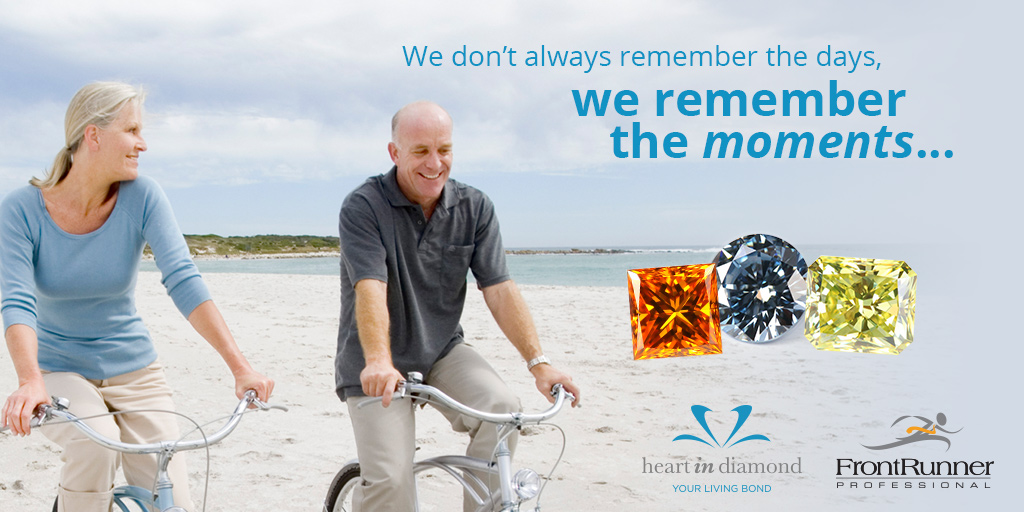 The opportunity here is significant and there is little to nothing that the FrontRunner client needs to do. All marketing and sample kits will be made available at no charge and the hook up is instantly promoted on the firm's website. FrontRunner's Heart In Diamond Success Coach will speak with any interested purchaser and close the sale. The funeral home receives a full 15% commission.
These diamonds are as real as earth-grown diamonds with exactly the same optical, physical and chemical properties as you would find in a fine jewelry store. With an incredible selection, Heart-In- Diamond offers a variety of colors and cuts to suit your needs. For those more discriminating purchasers a near flawless clear diamond can be produced.
More importantly, the Heart In Diamond program allows funeral homes to extend the offering beyond the families in the community they serve at the time of death. It is even more attractive with families wanting to create 'living' family rings and engagements rings where both sets of hair can be combined to create the ultimate eternity stone. This initiative helps solidify FrontRunner's commitment to help our clients expand revenues outside their traditional markets, allowing them to diversify strategically and grow new profits, and to attract new market share in the process.
For more information about this exciting new offering contact Michael Tkautz, Heart In Diamond Success Coach at 1-866-748-3625 or visit us online at www.Frontrunnerpro.com/ or www.Heart-in-Diamond.ca
CKWS TV segment: https://www.youtube.com/watch?v=yq8CHCl4ie0&feature=youtu.be
Diamond Cremation Process Video: https://www.youtube.com/watch?v=-ZNyGrkFo4w