2019 NFDA Convention & Expo Preview Guide
Headed to NFDA's International Convention and Expo in Chicago? Our preview guide highlights must see sessions during the convention, restaurants and places to visit during your stay in Chicago.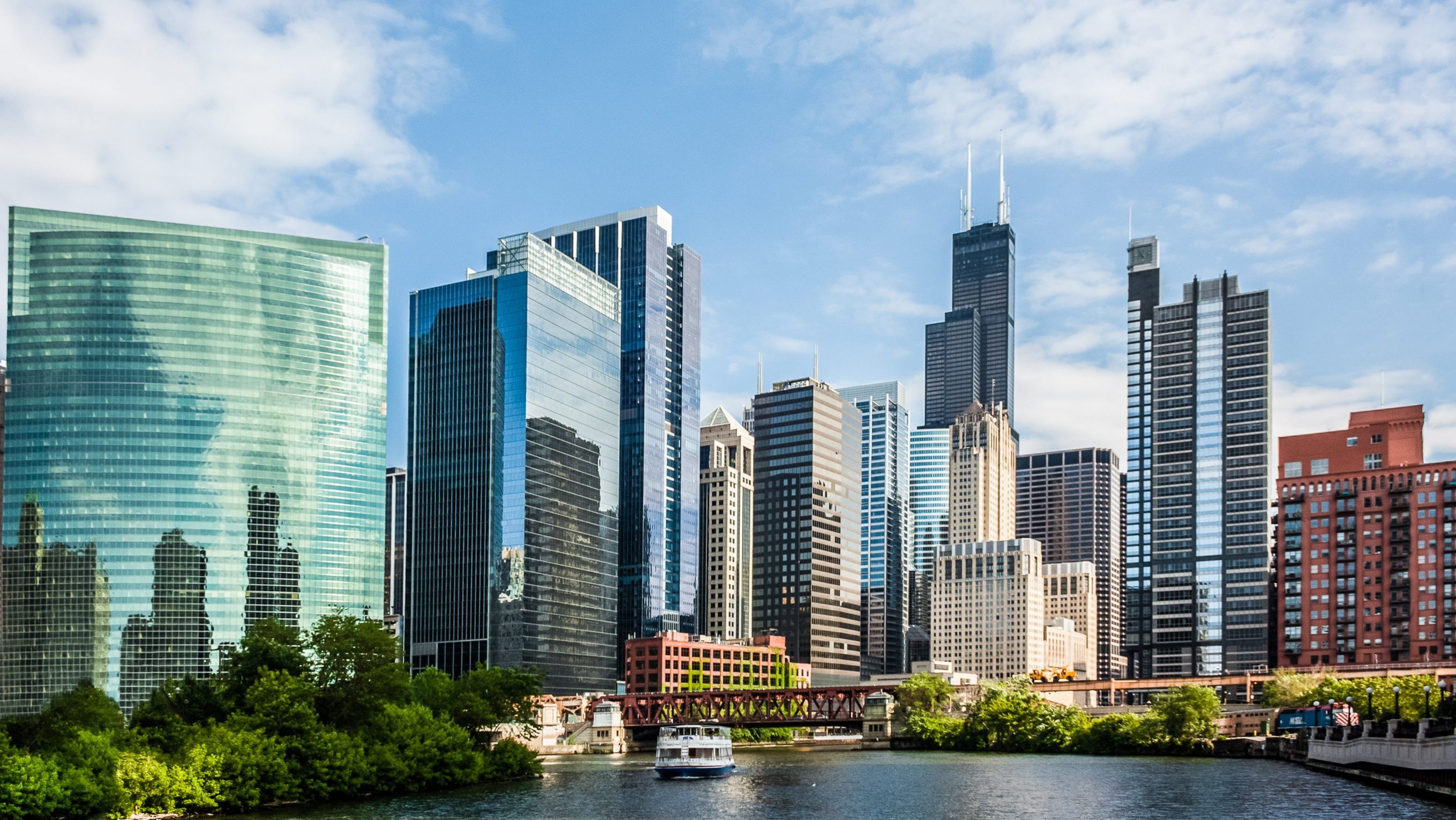 It's been a busy fall at FrontRunner with trade show season in full swing. After attending several other funeral home conferences this fall, our team can't wait to arrive in Chicago. We've had the 2019 NFDA International Convention and Expo circled on our calendars all year. This year's show is sure to be a great event once again.
Chicago is one of the largest and most visited cities in the United States. Besides all the events taking place during the conference, the city itself has many things to offer visitors. To help get you prepared for this year's show, our team sat down to put together your preview guide to this year's convention.
Below, we've highlighted some important sessions you definitely don't want to miss out on. We've also researched and pooled past experiences to recommend some of the different restaurants and attractions to check out during your free time in Chicago.
Continue reading to check out our can't miss things to see and do during the trade show!
What's Happening At The Convention & Expo
The NFDA Convention is packed full of opportunities to learn and network. Whether you're exploring the expo floor or attending one of the networking events or sessions, this year's convention offers plenty of can't miss events.
Keynote Session + More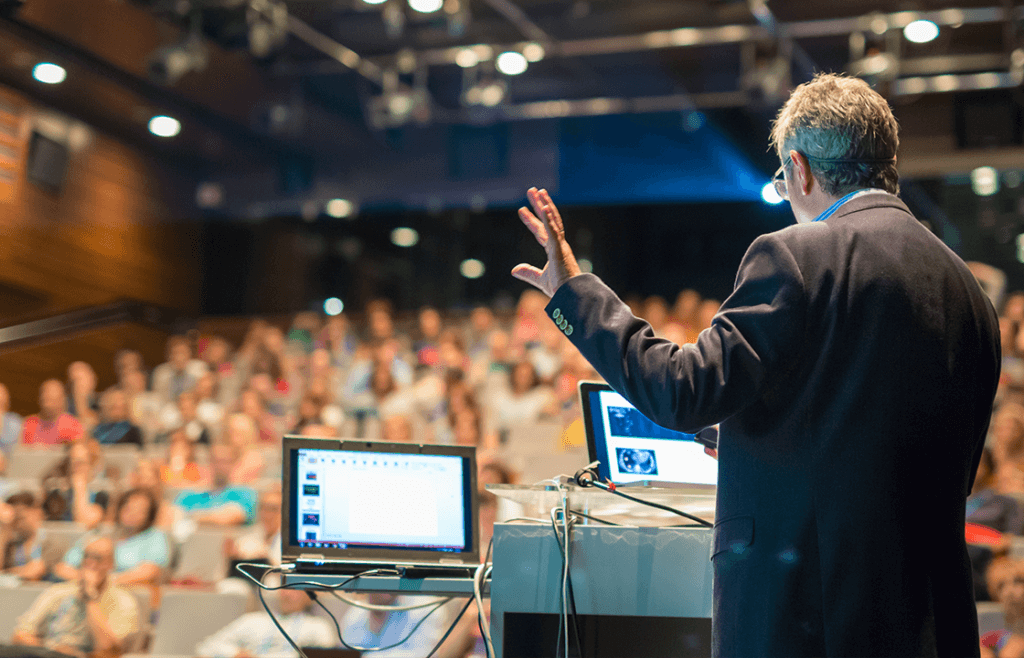 In addition to all the fun away from the conference, this year also has an incredible lineup of speakers and sessions. One session you won't want to miss is the General Session on Monday, October 28th, from 9:45 – 11:45 AM that features keynote speaker Seth Godin who is a renowned marketing expert and entrepreneur. During this session, he'll discuss how today's economy offers us the opportunity to share stories and really connect with families while breaking through the noise around us.
Throughout the NFDA convention, there will be plenty of other great sessions and speakers to check out. This year's list of sessions features several topics to help set your firm up for success in 2020 and beyond. For a complete list of the agenda, click here.
Visit The FrontRunner Booth (946)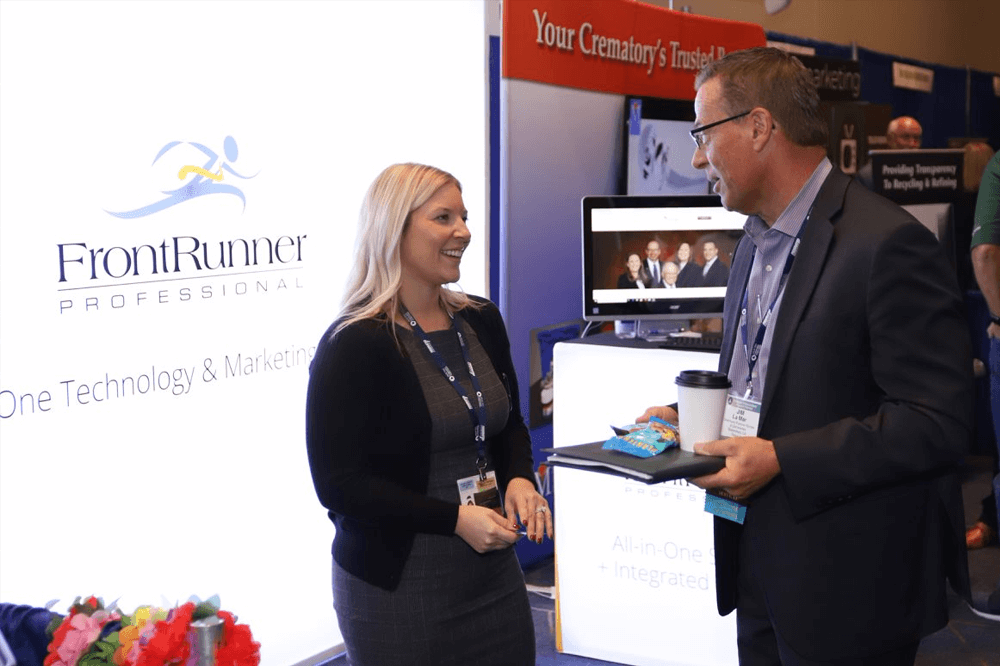 As you explore the expo floor, make sure to stop by the FrontRunner booth and say hi. This year's booth is unlike anything we've ever prepared for past shows. Besides just learning about how our products and services can help you manage every aspect of your business, there will be educational workshops, a complimentary cafe plus so much more!
Every hour on the hour, we're holding free workshops covering a range of marketing and technology topics. During these sessions, we'll be sharing some of the tips and tricks our team uses to help our clients grow their businesses and connect with more families. Best of all, you can make sure you don't miss any session by being able to schedule it through the NFDA app.
Inside the FrontRunner Cafe, you'll find complimentary refreshments and snacks plus plenty of seating. Network with other funeral professionals and take in one of our special presentations.
We're also bringing plenty of free gifts to the booth including our FrontRunner Cash Cards so you can save big on our products and services.
Finally, if you haven't heard, the 2020 Funeral Technology and Marketing Workshop Cruise sets sail again in February 2020. During this week sailing the beautiful western Caribbean, attendees can earn up to 8 CEUs while exploring 4 beautiful destinations. The cruise area of our booth will include plenty of information about the cruise and the chance to spin our prize wheel and leave with a free gift.
Oh and just because we're so excited about this cruise, you'll also have the chance to enter to win a free cabin onboard the cruise.
It's all going down in booth 946 so don't miss out on what is sure to be a lively booth with plenty to offer.
Places To Eat In Chicago
You'll never go hungry in the windy city. Throughout Chicago, there are plenty of incredible places to eat and dishes to try. Deep dish pizza, hot dogs, Italian beef, steak, Garret popcorn and even tacos should all be on your list to try.
Remember, Chicago is one of the most visited cities in the country. If any of these suggestions catch your eye, make sure to call in advance and book a reservation before you arrive.
Uno Pizzeria & Grill
If you're looking to try some Chicago-style pizza, you won't have to go far. There are plenty of pizza spots across the city and near the convention center. However, if you want to try a truly authentic deep-dish pizza, make sure to make the trip to Uno Pizzeria & Grill. You'll be in for a great meal that's sure to leave you full. After all, this pizzeria invented deep-dish style pizza all the way back in 1943.
Acadia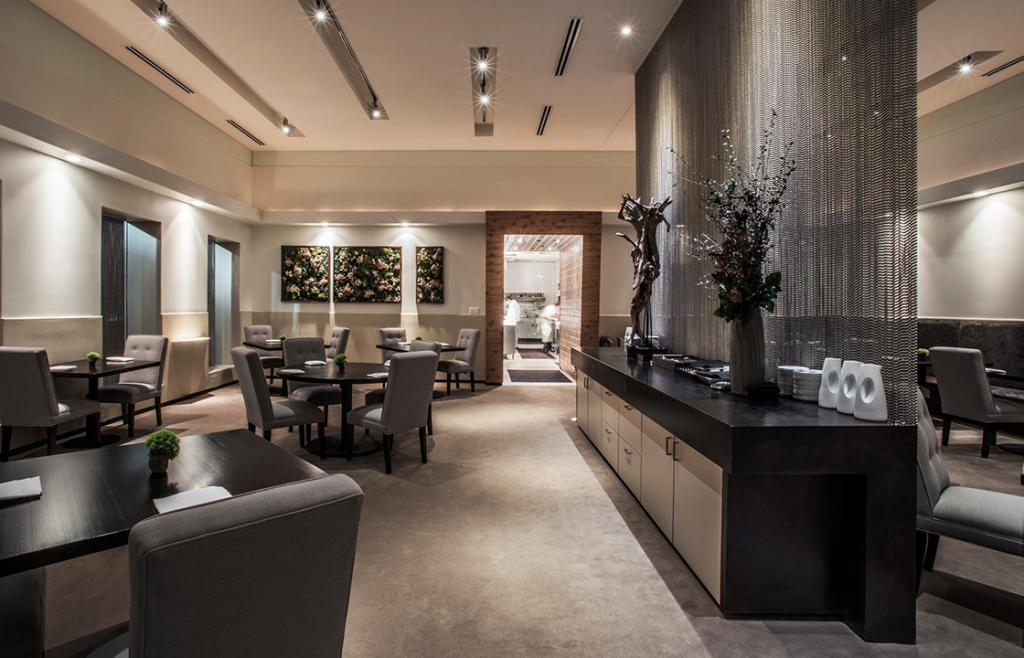 Located just 4 minutes away from the convention center, Acadia is a can't miss place to eat. Pairing incredible dishes with standout cocktails, you're in for a wonderful meal at this 2 Michelin star restaurant. If you're looking for a truly unforgettable dining experience, make sure to try the restaurant's ten-course tasting experience.
Fatpour Tap Works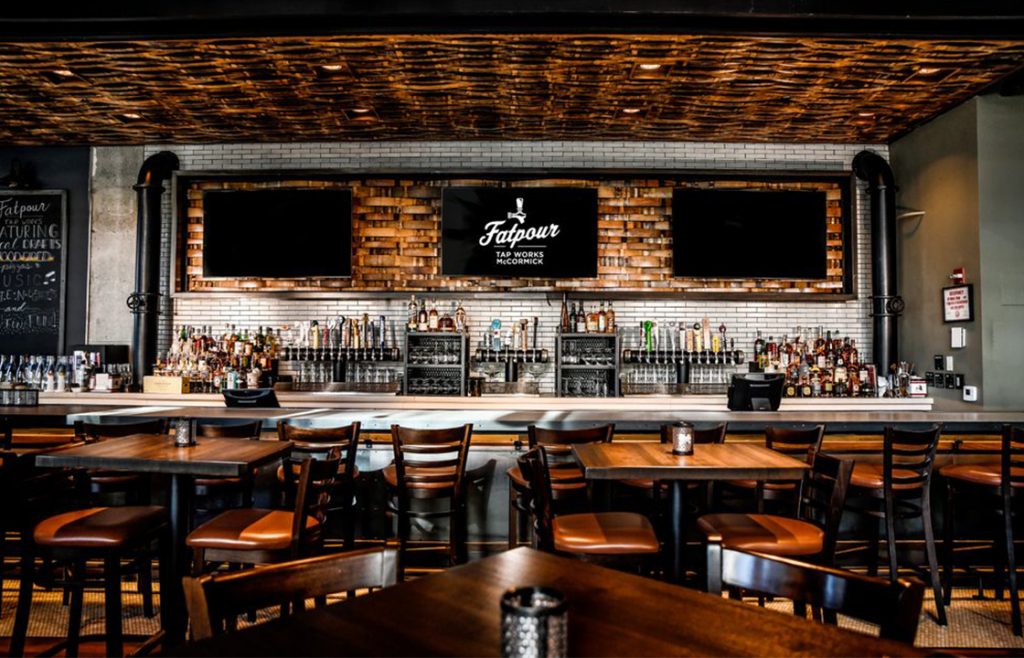 If you're looking for something a little more laid back and casual, make a trip over to Fatpour Tap Works. Located around the corner from the convention center, this local spot offers delicious pub style dishes, 22 ounce pours, and a never–ending list of beers to choose from.
Gibson's Bar & Steakhouse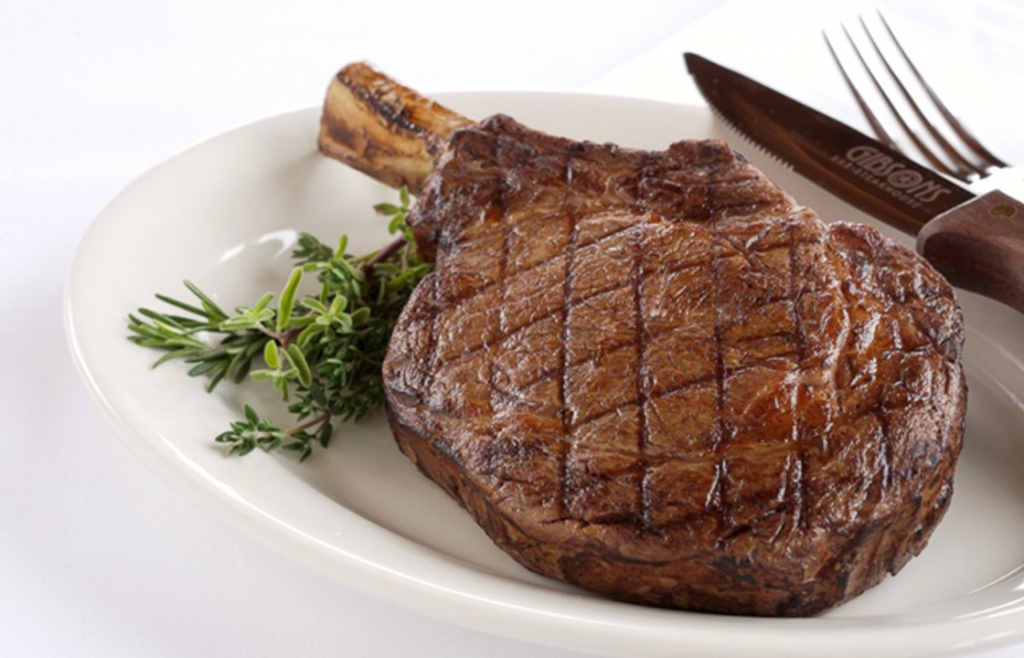 Before there were hot dogs, deep-dish pizzas, and skyscrapers, Chicago was the meat processing capital of the world. As such, the city has a long and storied history with steakhouses. For a truly great dining experience, make sure to make the trip to Gibson's Bar and Steakhouse. There are 3 locations across the city with the closest being about a 15-20 minute drive from the convention center. Gibson's is a celebrity hotspot and highly regarded as the premier steakhouse in the city.
Things To Do In Chicago
Now that you know some the best places to grab a bite to eat during your stay, it's time to plan some fun things to do in the city.
Go To A Sports Game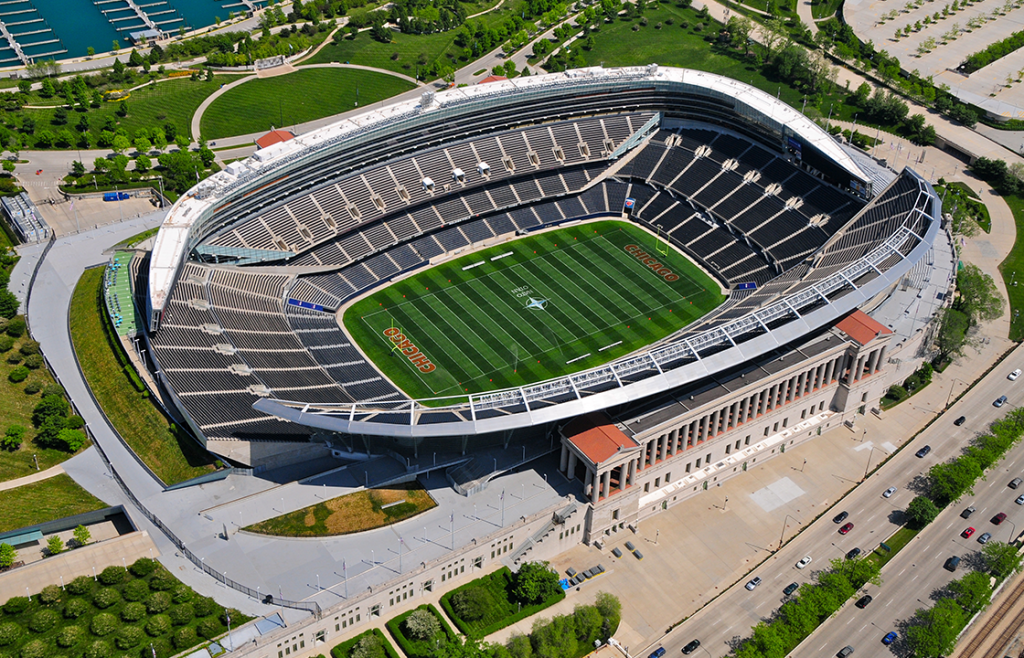 Chicago is arguably one of the best sports towns around. Late October is a great time to be visiting the city if you want to go to a game during your time in the city. This year, we're very fortunate to have the opportunity to see an NFL, NHL, or NBA game while the convention is taking place.
Saturday night before the convention kicks off, the Chicago Bulls will be hosting the NBA's reigning champs – the Toronto Raptors at 8:00 pm. The Bulls play at the United Center which is about a 20 minute drive from the convention center.
On Sunday October 27th, the NFL's Chicago Bears will host the Los Angeles Chargers at Soldier Field. The stadium is located just 2 miles away from the convention center.
Sunday night, The Los Angeles Kings are in town to take on the Chicago Blackhawks. This game also takes place at the United Center with puck drop at 7:00 pm.
Topgolf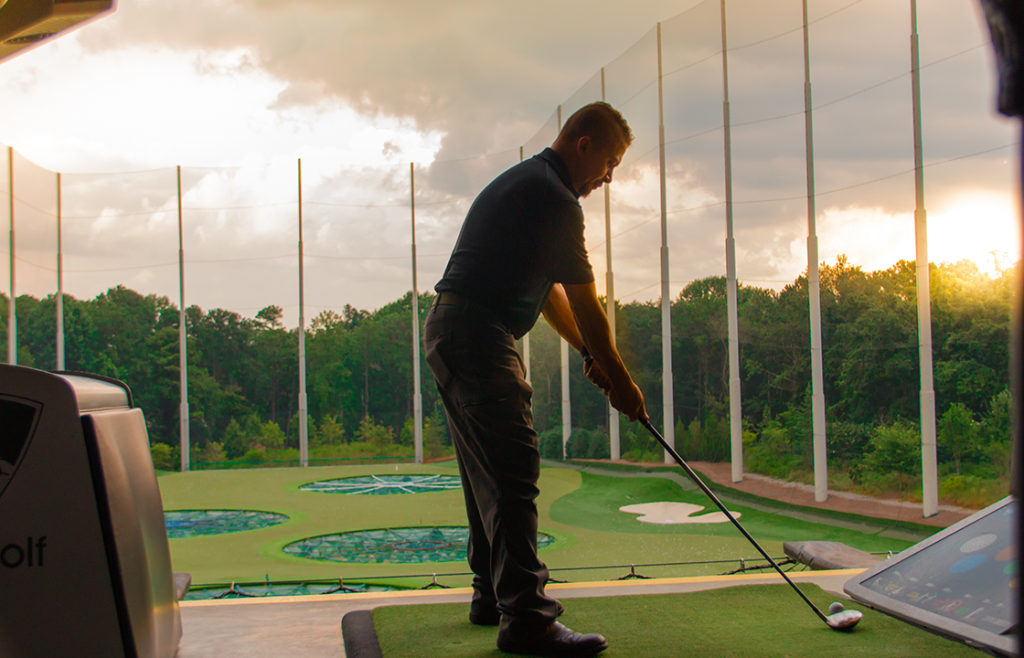 Join your fellow funeral professionals on Sunday October 27th for a fun afternoon at Topgolf. If you've never been to one before, Topgolf is an interactive driving range where games are played by hitting balls into different target areas. Using micrchip technology, the balls are tracked and scores are updated automatically.
During this year's Annual Foundation Golf Classic, you'll be able to enjoy food and drinks while playing in tournament style games and networking with other funeral professionals.
If you don't feel like swinging a club but want to go, you can still take part as a spectator and have a fun-filled afternoon with your peers.
Second City Comedy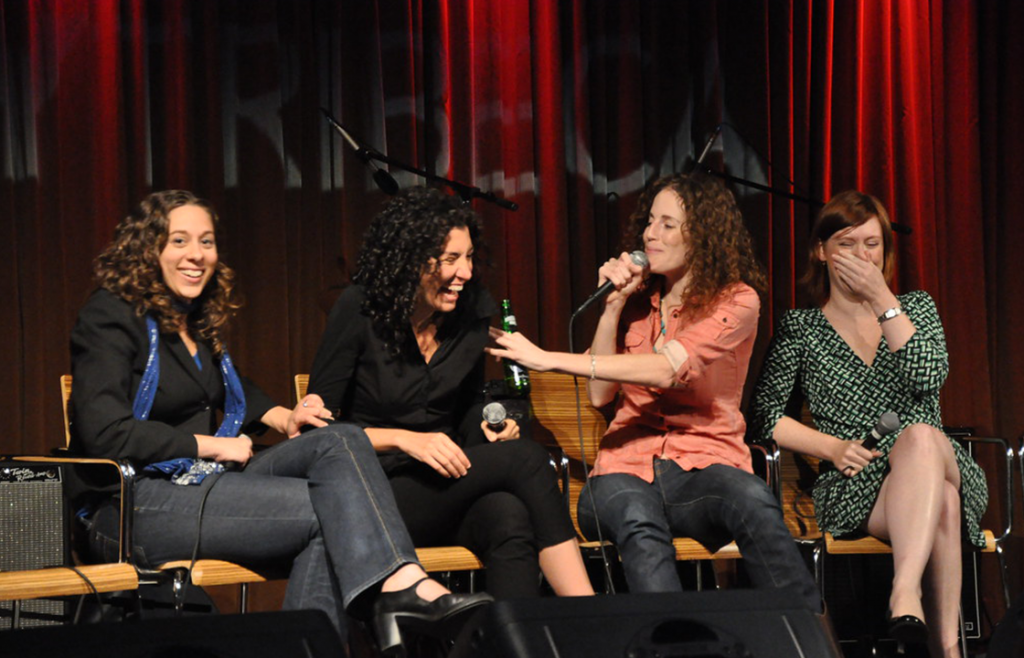 John Belushi, Bill Murray, Tina Fey, John Candy, Stephen Colbert, and Mike Meyers are all legends of comedy who got their start at The Second City. Come see the next greats of comedy at this legendary, Chicago institution. With shows every night of the week, there are plenty of comedians and performances to see.
Observation Decks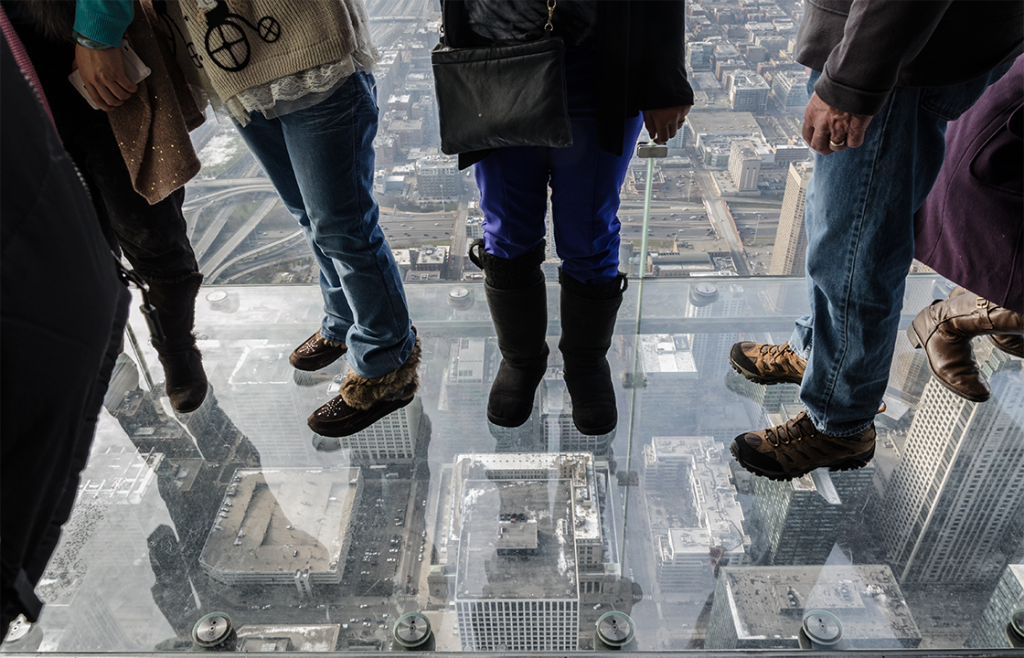 The buildings in Chicago have been influential throughout the history of American architecture. What better way to see the city than by visiting one of the two observation decks.
Willis Tower (formerly Sears Tower) is the eighth tallest building in the world. Get your heart racing by visiting the Ledge at Skydeck Chicago. Standing 103 floors above the ground, this special attraction features a glass box you can step out 4.3 feet from the edge of the building on a glass floor to look straight down. Willis Tower also offers other entertainment options and 360 degree views spanning 50 miles and 4 states.
Just a short drive away, you'll find another thrilling observation deck at 360 Chicago. This building features the tallest bar in the city, interactive exhibits and the premier attraction, TILT. TILT is an enclosed platform that actually tilts you out over Michigan Avenue 1030 feet in the air.
See You In Chicago!
Are you getting excited yet? With so much to see and do in Chicago, you're in for a great week at the 2019 NFDA Convention.
We hope we get a chance to see you during your time at the convention. Make sure to drop by our booth to say hi and check out our latest products and services.
For more information, click here for a sneak peek inside our booth.
Tommy holds a Communications degree from Laurentian University and an Integrated Marketing Communications Graduate Certificate from St. Lawrence College. He is a Content Marketing Specialist at FrontRunner and focuses on producing engaging content that funeral homes can use to connect with families. In addition, Tommy crafts SEO content for clients and specializes in helping the general public connect with the death care industry as a whole.