Book of Memories: Stepping Up Personalization Options
A gift from FrontRunner Professional to kick start the new year…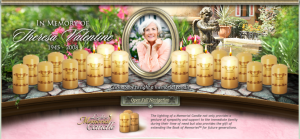 As more families embrace their loved ones' Book of Memories, funeral firms now have the opportunity to provide further personalization options. New themes – feature-rich and beautiful – help create a memorialization product like none other available today.
The diverse selection of themes represent a plethora of interests: religious, hobbies, outdoor scenes, and floral. The veteran and fallen hero themes respectfully pay tribute to those men and women who have fought for our freedom.
All available themes are activated and ready for all clients in paid systems such as Total Business Solutions, WebSuite and Perfect Website.
What does this mean for funeral professionals?
The new selection of free themes allows funeral firms to work closely with families to select the one that best reflects the life and/or interests of loved ones. With nearly 50 to choose from, families appreciate the number of options presented by the funeral home.
Funeral firms also have the choice to offer the selection of memorial page themes to families within various categories and price ranges, if desired.
What does this mean for families?
More and more families are taking ownership of their loved ones' Book of Memories to build a beautiful and lasting legacy. They continue to add photos and stories while connecting with family and friends expressing their condolences. The online memorials are a great comfort to grieving families. They want their Book of Memories to truly represent the life lived.
How to access the themes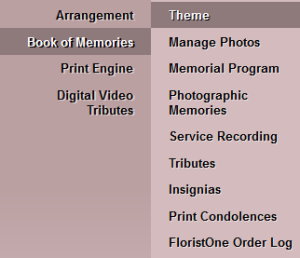 All Book of Memories options are accessible once the basic information about the deceased is saved in a record. In the left menu, choose Book of Memories then Themes.
There are currently four categories of themes: BOFL, Beta, V5 and TN. Click on the dropdown to access the different themes and then highlight the various themes, which will display on the right side.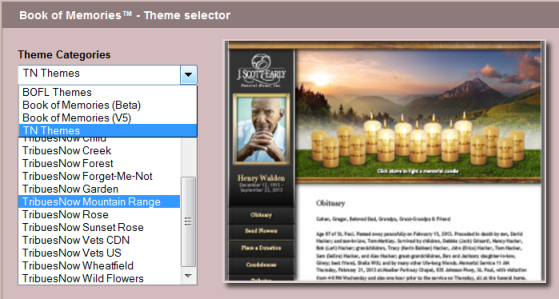 If you're unable to access the various themes, please check the default theme settings at the bottom right of the Themes page under Book of Memories Settings.
If at one point in the past, you selected a particular theme as the default for all records, all male records or all female records, choose the default setting 'Select record type' and then hit 'Save' at the top right. This will allow you to choose a different theme for every record created.
FrontRunner recognizes that it takes more than a website to successfully compete in today's changing market. As the expectations for services continue to change, this new selection of themes allows funeral directors to connect with families on an even more meaningful level.
To view all the standard, enhanced and premium designs available from FrontRunner, check out the Book of Memories Themes page. If you have any questions, don't hesitate to give us a call at 1-866-748-3625.