Golf Day & Why We Love Team Building At FrontRunner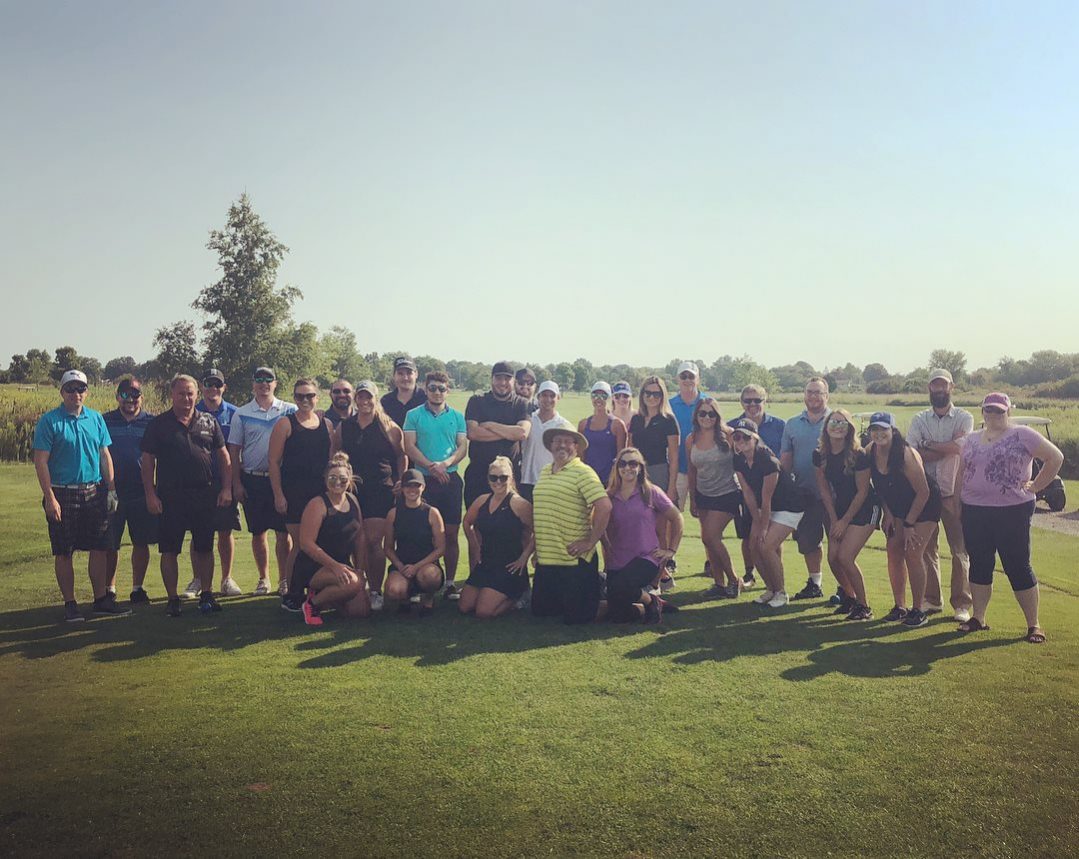 Last week our team here at FrontRunner had the pleasure of spending the day at our annual company golf tournament. This yearly tradition is something everyone around our office looks forward to each summer. A full day spent away from the office creating bonds with our peers and enjoying some time together.
This year's tournament saw nearly 40 FrontRunners organized into groups of 3 or 4 to take over a local golf course. It was a beautiful day that saw the winning team drop a birdie putt in the final few holes to take a 1 stroke lead and close out the tournament.
Following the tournament, everyone reconvened at our Founder's house for a barbeque, drinks and prizes.
Check out this video we put together capturing the excitement of the day.
Our yearly tournament is about so much more than simply a day off from work to play golf. It brings our office together for a day of team bonding to help strengthen our company as a whole. Team bonding and being able to work together is crucial to the success of any company. Part the reason our office is so close and able to work well with one another is because we're all friends outside of work. Whether its weekly recreational sports teams, going out for drinks after work or just hanging out – there are very few nights in a week that a group of FrontRunners aren't spending time together.
If your funeral home doesn't have any ongoing team building activities at the moment, I'd strongly encourage you to start. As a funeral director, being able to work together as a team to help families plan meaningful services is essential to your success. Team building activities like our weekly sports teams or annual golf tournament not only strengthen our relationships with our coworkers, they teach us to work together and understand one another better.
Still not convinced?
Here are 5 ways that team building activities can strengthen your funeral home staff.
Build Relationships and Get to Know Each Other Better
People like to work with their friends and team building activities are a great place to start fostering these relationships. By creating a way for employees to get to know one another outside of the office (or funeral home), you can help them build stronger relationships with one another. This means an increase in workplace morale and a team that can work together to solve everyday issues.
Boost Performance by Learning to Work Together
If you want your staff to be more productive, a team building activity is a great place to start. Your employees will be able to better understand each other's strengths, weaknesses and interests. This translates to increased performance when working together to complete a task because you can better understand your teammates and where they excel.
Create Competition and Bragging Rights
Deep down, everyone loves a little bit of competition. By creating fun activities that get your employees to compete for bragging rights, you can help them bond in a fun and productive way. This results in a more inclusive team ready to work together to tackle any task.
Foster Creativity and Collaboration
When people are comfortable around others, they tend to be more imaginative and think outside the box. A successful team building event can lead to greater workplace collaboration among coworkers. By helping your team become more comfortable around one another, you'll be amazed at the ideas they can produce.
Create Stronger Communication Between Coworkers
Last but not least, communication is the key to the success of any project or task. Being able to work together and communicate effectively with one another can make your team able to tackle anything together.
Ashley Montroy, Marketing Director at FrontRunner Professional, has committed herself to helping funeral professionals understand and excel in today's digital age. With a long-standing history in the funeral business and her father being a licensed funeral director for over 30 years; she grew up learning the family funeral business. Ashley holds a bachelor's degree from Carleton University and diploma from Algonquin College. Today, she continues to speak to over 15 state and provincial funeral association groups each year on funeral marketing in the digital age and protecting funeral firms online using experiences and examples from working with thousands of funeral homes in North America through FrontRunner Professional.