Everything You Need To Know For ICCFA 2019
The ICCFA 2019 Annual Convention & Exposition represents for many, the start of the funeral industry's 2019 tradeshow season. This year's convention in Charlotte is sure to be another remarkable event with plenty of opportunities to learn and network.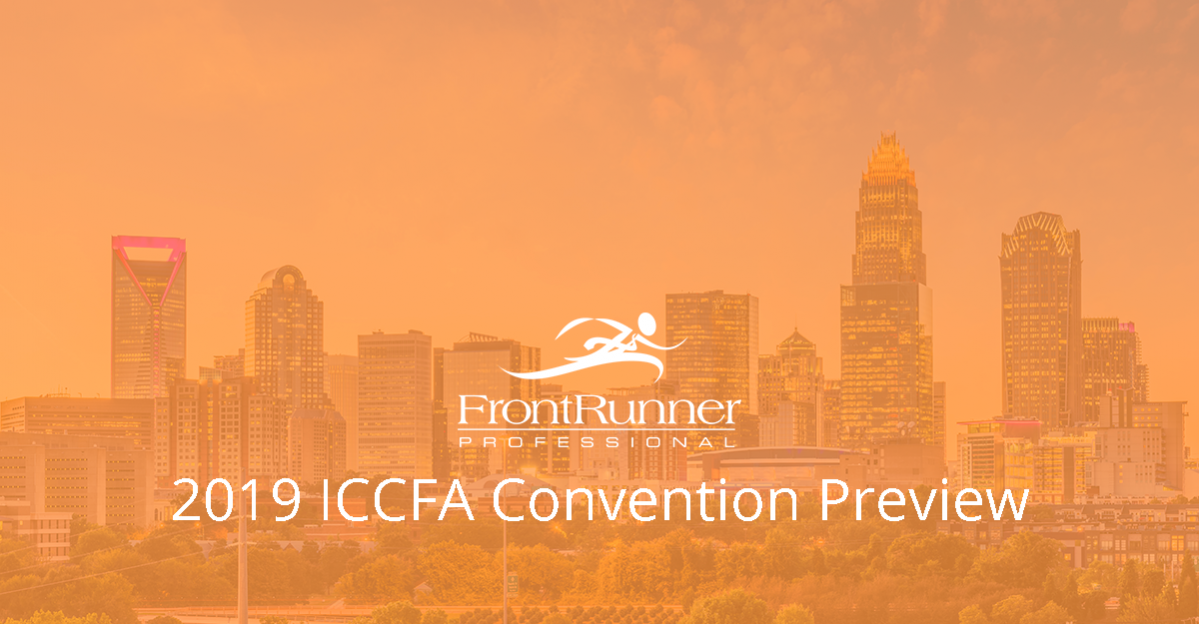 The ICCFA 2019 Annual Convention & Exposition represents for many, the start of the funeral industry's 2019 tradeshow season. This year's convention in Charlotte is sure to be another remarkable event with plenty of opportunities to learn, network, and see all of the innovations available to cremation, cemetery, and funeral service professionals. At FrontRunner, our team always looks forward to this show and discussing how our technology solutions can help you serve families better in 2019 and beyond.
To help get you prepared for this year's convention, we've compiled this helpful guide to showcase some of the must-see sessions to attend, exciting and fun places to visit in Charlotte, and a sneak peek of what you'll find when you visit us at booth 719.
Can't-Miss Learning Opportunities
With more than 30 sessions to attend, the agenda for this year's convention features speakers who will educate and inspire you to deliver first-class experiences to the families you serve. No matter which sessions you plan to attend, you can expect to benefit from the industry expertise and knowledge each speaker will share.
Below, we've selected three interesting sessions to check out from this year's lineup of speakers.
Serving the Community Through the Doors of the Funeral Home
3:00 pm Wednesday, April 3 – Jill Lazer
Community events are an excellent way for funeral homes to open their doors to the public long before they need your services. Join licensed funeral director, Jill Lazar, as she outlines how to prepare for an event hosted by your firm. This session will cover everything from the planning process to different types of events and how to effectively follow up afterward.
Be the Extra Support Your Families Need & Get More Media Attention, Too!
10:00 am Saturday, April 6 – Allison Gilbert
Making an effort to remember a loved one can be beneficial during the journey of grief. Join acclaimed grief expert, Allison Gilbert, as she discusses new and innovative ways to help families remember and celebrate their loved ones. During her session, Gilbert will show how many of these new strategies can also help you generate media attention.
Repeat Families: You Can't Stay In Business Without Them
12:00 pm Saturday, April 6 – Ellery Bowker
Everyone wants their business to grow, and too often that means focusing primarily on acquiring new customers. While this is important to the success of any business, it's not the only option to consider. Join Ellery Bowker, as he discusses why customer retention is the most overlooked way to grow a business. During this session, attendees will learn how to build loyalty so that families continue to return every time they need your services. Bowker will also highlight things that can turn a customer off from returning and ways to prevent that from happening.
Special Events
During the convention, there are several different events to take part in. Below we've highlighted four special events to check out during your time in Charlotte.
Welcome Reception
Tuesday, April 2 – 6:30 to 9:30 pm
What better way to kick off the convention and visit a historic destination than by attending the convention's welcome reception. This year's Welcome Reception takes place at the Nascar Hall of Fame. During the reception, attendees will be able to experience the museum exhibits and interactive activities while enjoying food and drinks.
Keeping It Personal Award Presentation
Friday, April 5 – 8:40 to 9:00 am
The Keeping It Personal Awards recognize those who go above and beyond to offer the best in personalization. During this award presentation, winners of the 2018 Keeping It Personal Awards will be honored for their outstanding examples of personalization of services and products in the deathcare profession.
Voices from the Past Historical Cemetery Tour
Saturday, April 6 – 1:30 to 4:00 pm
Experience history coming to life as you make your way through the Voices from the Past Historical Cemetery Tour. During the tour, attendees can tour the cemetery at their own pace and learn about the 50 residents of the cemetery who have come back to life to share their stories. Throughout this event, there will live music and local food trucks on hand to provide food and entertainment.
Closing Banquet
Saturday, April 6 – 6:00 to 11:00 pm
As the final event of the convention, the closing banquet is a night filled with food, entertainment, and celebration. During this year's banquet, the ICCFA presidential transfer will take place with Jay Dodds, CFSP becoming the association's new president. The banquet will also include the exchanging of gifts between fellow international associations.
Sights and Sounds
Charlotte is a beautiful city with plenty of things to see and do. If you're looking for activities to do in Charlotte outside of the convention, we've provided some recommendations for places to eat and visit during your stay.
Stoke
If you're looking for a great place to eat during your stay, make sure to check out Stoke. Located half a mile from the convention center, this up and coming restaurant has been regarded as one of Charlotte's top restaurants. The restaurant is located at the Charlotte Marriott City Center and features seasonal American cuisine with locally-sourced ingredients. Upon walking into the restaurant, you'll forget you're at a hotel restaurant and feel like you've just walked into the kitchen of a close friend.
Sea Level
If fresh seafood is your thing, you can't pass up the chance to visit Sea Level. A short drive away from the convention center, Sea Level is operated by the people behind several other popular Charlotte restaurants. The restaurant features a raw bar menu so make sure to call ahead if you want to know what the options will be. If you're the adventurous type, make sure to check out some of the "fun food" to get a taste of Sea Level's style.
Topgolf Charlotte
Located just a short 15-minute drive away from the convention center, check out Topgolf Charlotte for a fun and exciting night out. TopGolf offers a large selection of great food, drinks, plenty of entertainment, and nonstop fun. If you're looking for a night out with friends or colleagues, TopGolf is a can't miss destination.
Visit Us At Booth 719
At FrontRunner, our first priority has always been helping our clients better serve the families in their community. With cremation and pet loss services on the rise, FrontRunner offers several different programs to help your firm offer new services to families and connect with the community like never before.
For this year's show, we're bringing demo stations, promos, and so much more to our booth. Here's a quick look at the special promos we're bringing with us to Charlotte.
25% Off Software
Tired of using multiple pieces of software from different providers? Rather than relying on multiple pieces of software, the Pulse Business System provides a complete all-in-one solution to manage every aspect of your business. Take advantage of our show special and save 25% on the industry's only truly integrated business solution.
A month of Free Marketing Services
Looking to reach more families this year? FrontRunner's talented social media and search engine experts can help you take your business to the next level. Sign up for one year of marketing services and receive 1 month free!
Early Bird Pricing on the 2020 FrontRunner Workshop Cruise
What better way to earn CEU's than on board a luxury cruise ship as you enjoy the sights and sounds of the western Caribbean. By booking between now and May 1, 2019, you can take advantage of our early-bird pricing and save $150 per cabin!
Tommy holds a Communications degree from Laurentian University and an Integrated Marketing Communications Graduate Certificate from St. Lawrence College. He is a Content Marketing Specialist at FrontRunner and focuses on producing engaging content that funeral homes can use to connect with families. In addition, Tommy crafts SEO content for clients and specializes in helping the general public connect with the death care industry as a whole.