It Pays – Literally – to be a FrontRunner Client
Free to join. Earn points for every dollar spent.
There's no reason not to join.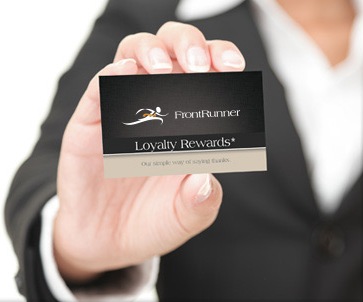 Technology companies aren't normally known for rewarding their clients for being clients. Thankfully, FrontRunner Professional is no ordinary technology company.
Launched in January 2013, the Loyalty Rewards Program – our profession's first – helps our clients get more for every dollar spent on products and services. Funeral professionals can stretch their spending dollars, reinvest their rewards into funeral home amenities, or simply enjoy some personal luxuries.
The Loyalty Rewards Program is our way of saying thank you for allowing us to be your technology partner.
"We believe loyalty is the willingness to make an investment to strengthen a relationship," explains Kevin Montroy, FrontRunner CEO. "We also believe that it is an increasingly rare commodity in today's world. If we are to preserve the integrity of the profession and nurture our business relationships, it simply must be rewarded…not with empty promises, but with true value."
Enrollment in the FrontRunner Professional Loyalty Rewards Program is open to all FrontRunner clients using OS5 or higher, and includes:
A simple and fair point exchange formula
The new Vendor Partner Program will boost your points even more
Points that never expire
Flexible redemption options
Self-serve online account holder portal
Easy account set-up
24/7 support and service
How Does the Program Work?
Points are rewarded based on a percentage of your regular purchases including website hosting fees, apps, and all custom services. Points never expire and point balances are updated weekly.
Who is Eligible to Enroll?
Enrollment in the Loyalty Rewards Program is open to all FrontRunner clients using OS5 or higher. If you are not an existing FrontRunner client, we invite you to take a closer look at our technology solutions. We're confident that you will discover and appreciate our commitment to our clients' success.
Variety, Value and Convenience
The Loyalty Rewards Program was developed by the same company that manages many top rewards programs including American Express Rewards. The online mall features thousands of items including technology, retailer and restaurant gift cards, direct-order merchandise, and travel opportunities. There are thousands of items to choose from and the options are updated on a regular basis.
Just think of the amenities you can add to your funeral facility or the incentives you can offer staff members. Or, you can simply choose to reward yourself.
Are Points Redeemed Easily?
Yes. You will create a secure online account where you will be able to view a product catalog, select items, and spend accrued points. (Your accrued points never expire!) Products will be shipped to the location of your choice.
How Can You Earn Even More Points?
In conjunction with the Loyalty Rewards Program, FrontRunner has introduced the Vendor Partner Program. Encourage all the companies that you do business with (ex. casket and stationery suppliers) to participate in this program so you can earn points for every dollar you spend with them too.
When and How Can You Get Started?
Contact FrontRunner today to enroll. It takes less than 5 minutes to start saving.
What if You're Not Our Client?

Perhaps now is the time to consider change. Take some time to learn more about FrontRunner and how our technology can increase your firm's efficiency, your market share, and your revenues.
FrontRunner solutions are designed to meet any funeral home technology needs regardless of size or budget by providing firms with the advanced and affordable tools they need to effectively compete in today's changing market.
For more information on the Loyalty Rewards program, visit our website. To speak to a Success Coach, call 1-866-748-3625 or email us at success@frontrunner360.com.