10 Funeral Home Website Designs That Set The Bar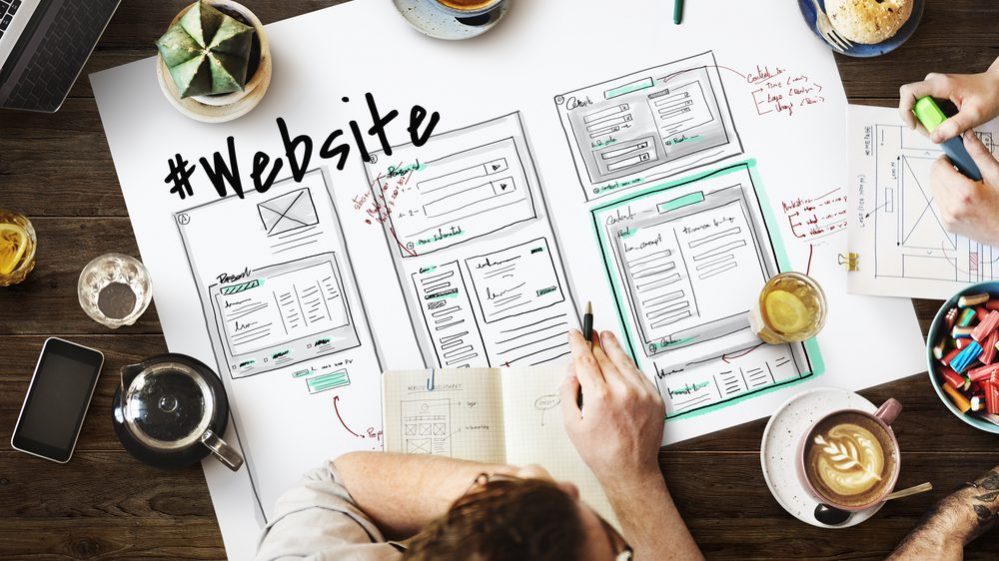 If you're looking for inspiration for your next funeral home website design, this list is sure to offer plenty of inspiration!
Now what goes into making this list you ask?
We've highlighted websites that offer different tools, display information in an interesting way, or simply push the envelope and bring a modern design to a very traditional industry.
In no particular order, here are 10 of our favorite funeral home website designs!
---
Munford Funeral Homes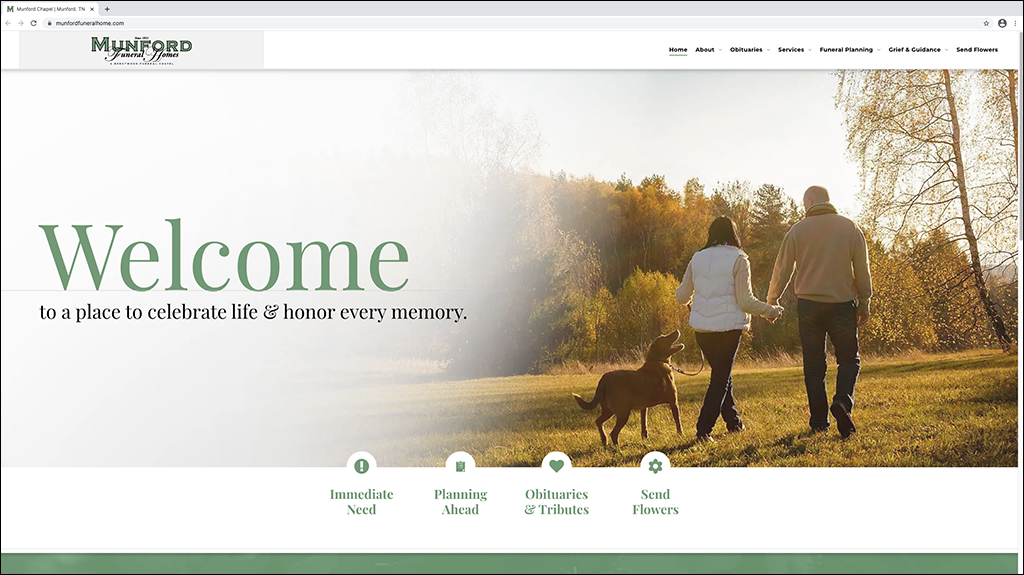 First up on the list this year is Munford Funeral Homes. There are a lot of great things to say about this website. This website has a great design with plenty of whitespace making it easy to browse through different pages. The user experience is great with clear calls to action at the top of the homepage to make navigating the site incredibly easy for visitors.
Affordable Cremation Services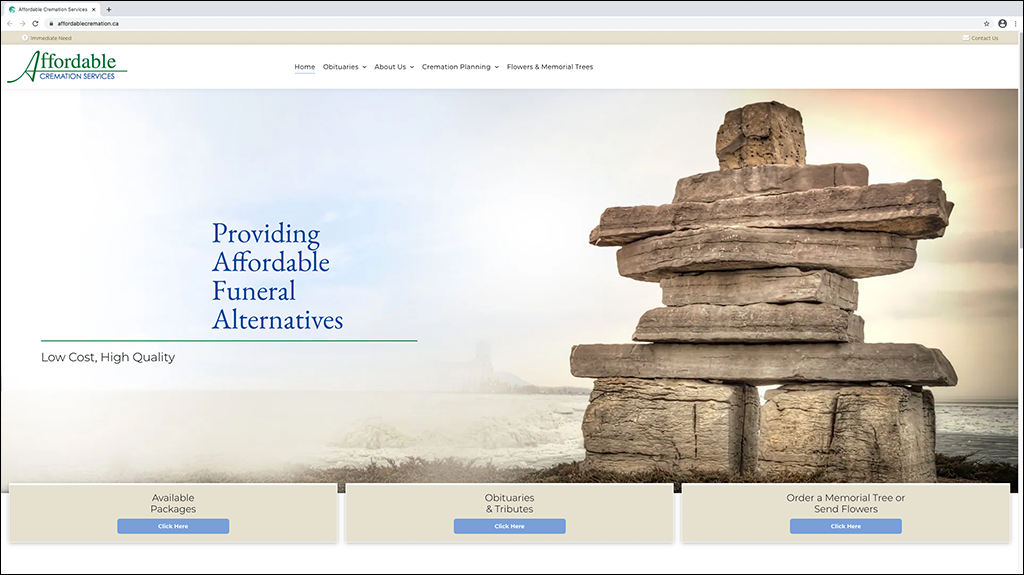 Affordable Cremation Services is another website that offers a very clean and simple navigation and design. As you scroll down the homepage, pricing and a link to their complete price list is clearly displayed and easy to locate for researching families. What I really love about this website is the tagline at the top of the page. In just 8 simple words, it tells what type of service this firm can offer them.
Washington Cremation Centers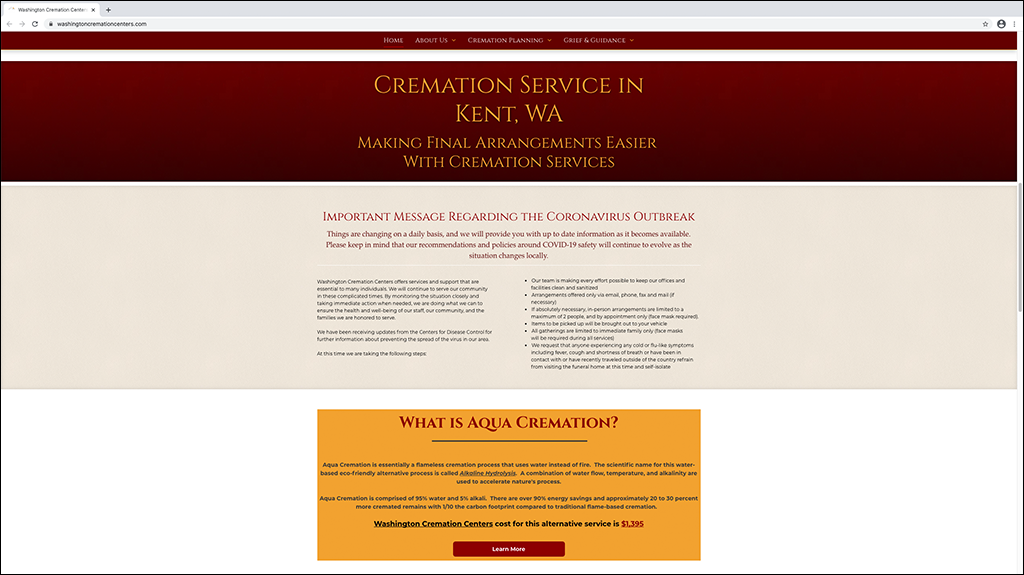 When someone needs to purchase a product or service nearly 9/10 people start by researching online. If a family visits Washington Cremation Centers' website, the information they need to know is clearly laid out. As you scroll down the homepage there's pricing information displayed plus a bright section to offer more details about their unique aqua cremation services. On top of all of that, the top of the homepage features a beautiful and vibrant image. Give their website a visit and check it out!
Keep It Simple Cremation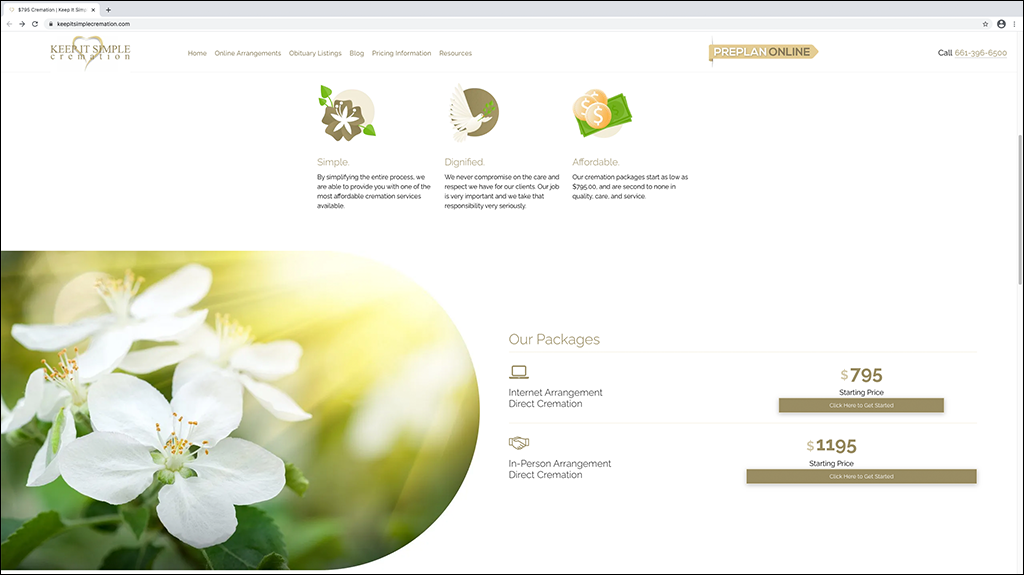 Of all the great websites on this year's list, I think Keep It Simple Cremation is my personal favorite! There are a lot of things I love about this site including the great use of whitespace and little animations on different sections as you scroll down the home page.
My absolute favorite feature about it though is the big "Preplan Online" call to action at the top. When you click this, it opens up our Quote Builder tool to make planning a service online interactive and convenient. If you want a website that prioritizes a positive user experience, this is one to use as inspiration.
Bland-Brumback Funeral Home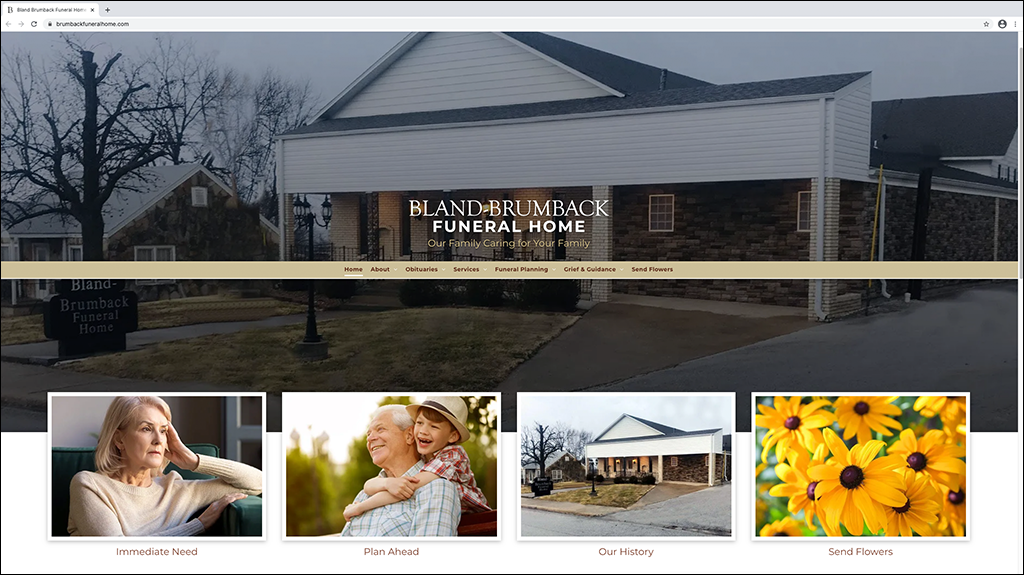 When it comes to local businesses, the last thing you want is a ton of stock content. Bland-Brumback Funeral Home has a beautiful website that uses local imagery across their homepage. The sliding gallery at the top shows the outside of their facility to help form a great first impression. Right below that, there are four large sections to make navigating to different parts of the website easy for every visitor.
ATX Cremation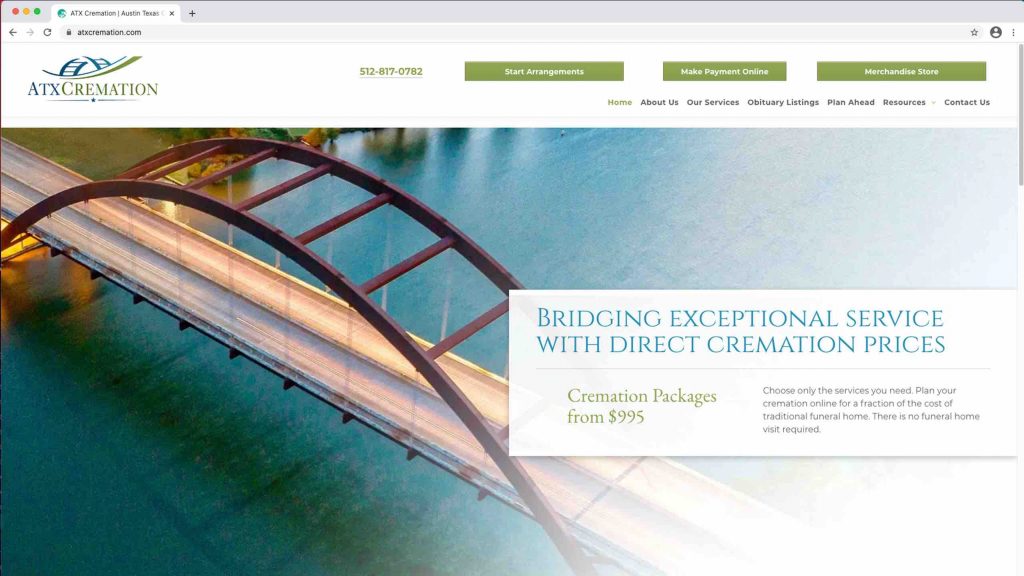 ATX Cremation is another website that has hit a home run when it comes to user experience and making it easy to find information. As you scroll through the homepage of this website, you'll be able to find information about their cremation packages and costs, see what area they serve, and browse testimonials from other families.
Across the top of the navigation, you'll find buttons to use their Quote Builder tool, visit their merchandise store, and even make a payment online. This website is truly an extension of their business allowing them to offer the same level of service online as they do at their facility.
Cremate Me Now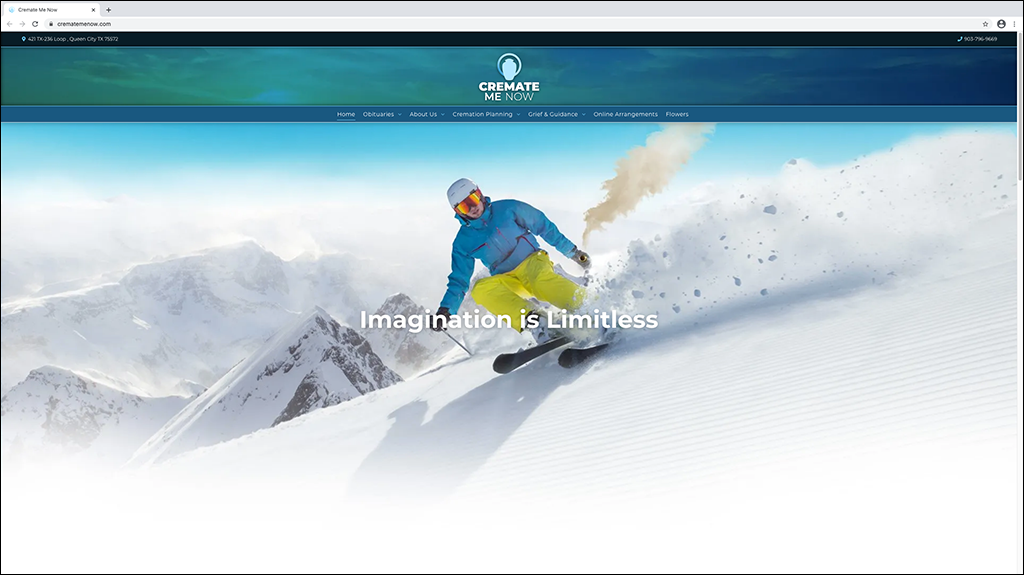 Cremate Me Now has a very modern looking website design for their funeral business. Throughout the website, you'll find very distinct calls to action making it easy for visitors to find the information they need. One thing I really like about this website is the way the home page images emphasize the tagline. The images show ashes being spread while skiing, surfing, and even parachuting. If a family is looking for a unique way to honor their loved one, Cremate Me Now is definitely the place to turn.
Wiles Remembrance Centers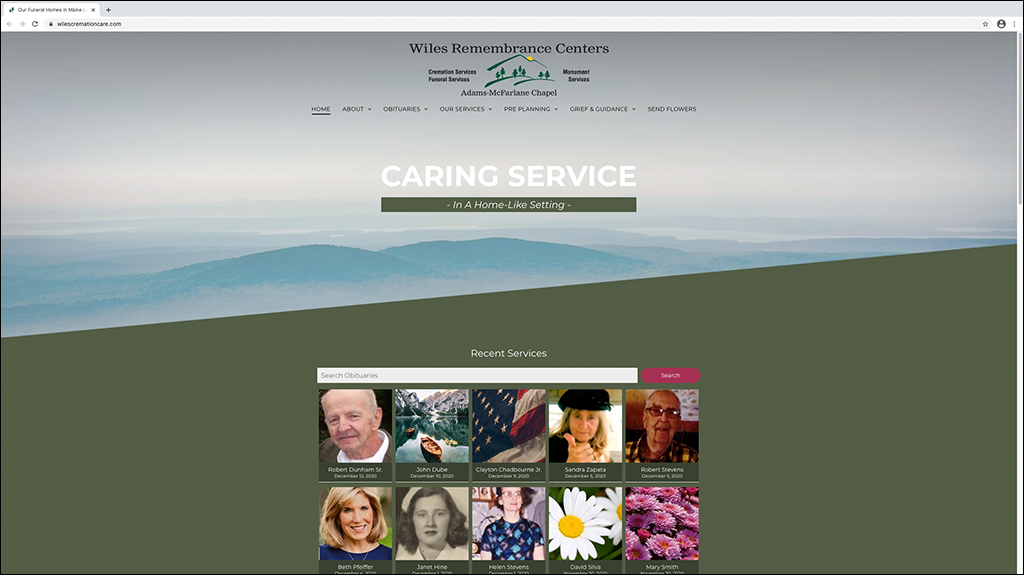 Wiles Cremation Care features a beautiful design with modern elements and an inviting look and feel. This site does a great job of making the memorial pages for recent services very accessible to visitors. In just a few clicks, visitors can find their loved one's obituary to leave condolences, send flowers, and pay their respects.
Peach Tree Cremation Services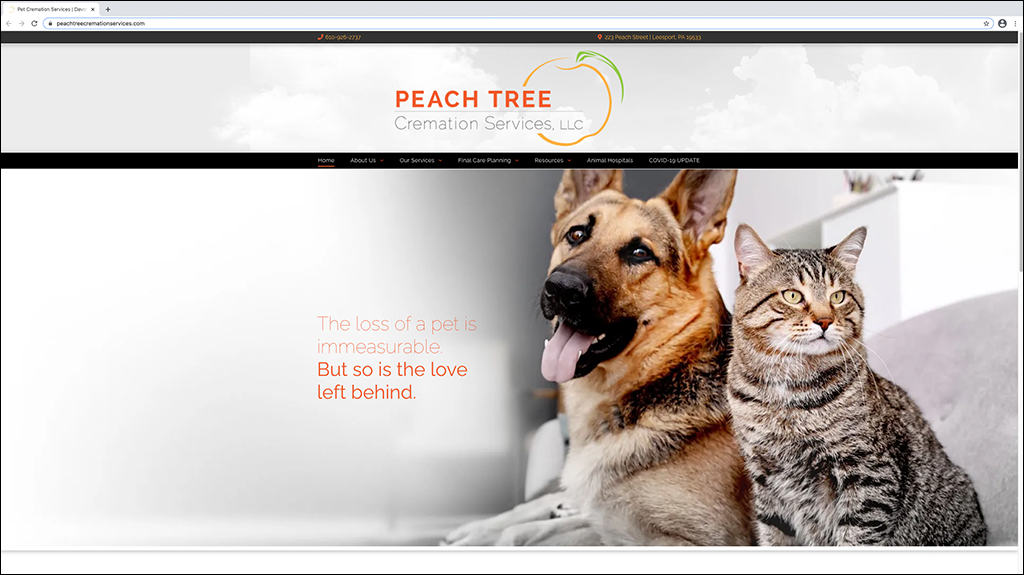 A unique addition to the list this year; Peach Tree Cremation Services has a pet cremation website for families to visit. The website is both tasteful and helpful, offering information and pricing about their services. It includes planning and aftercare resources, links to local animal hospitals, testimonials from families, and more.
Wendt Funeral Home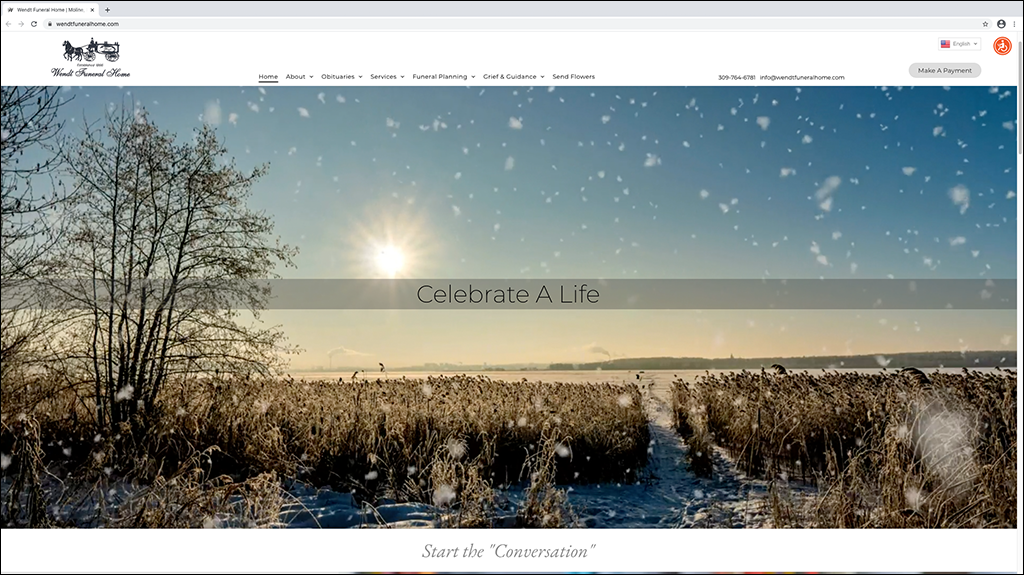 Rounding out the list of funeral home websites we loved this year is Wendt Funeral Home. While the website offers some similar design features and the option to pay online like others on this year's list; two features make it quite unique.
First, the use of video backgrounds to different sections on the homepage brings a modern look and feel to the website. The other really unique feature is our accessibility widget in the top right corner. This helpful tool makes accessing the website easier for people with disabilities.
Tommy holds a Communications degree from Laurentian University and an Integrated Marketing Communications Graduate Certificate from St. Lawrence College. He is a Content Marketing Specialist at FrontRunner and focuses on producing engaging content that funeral homes can use to connect with families. In addition, Tommy crafts SEO content for clients and specializes in helping the general public connect with the death care industry as a whole.