At A Glance – The 2020 Funeral Technology and Marketing Workshop Cruise
Looking to getaway this winter? Time is running out to book your cabin on the 2020 Funeral Technology and Marketing Workshop Cruise.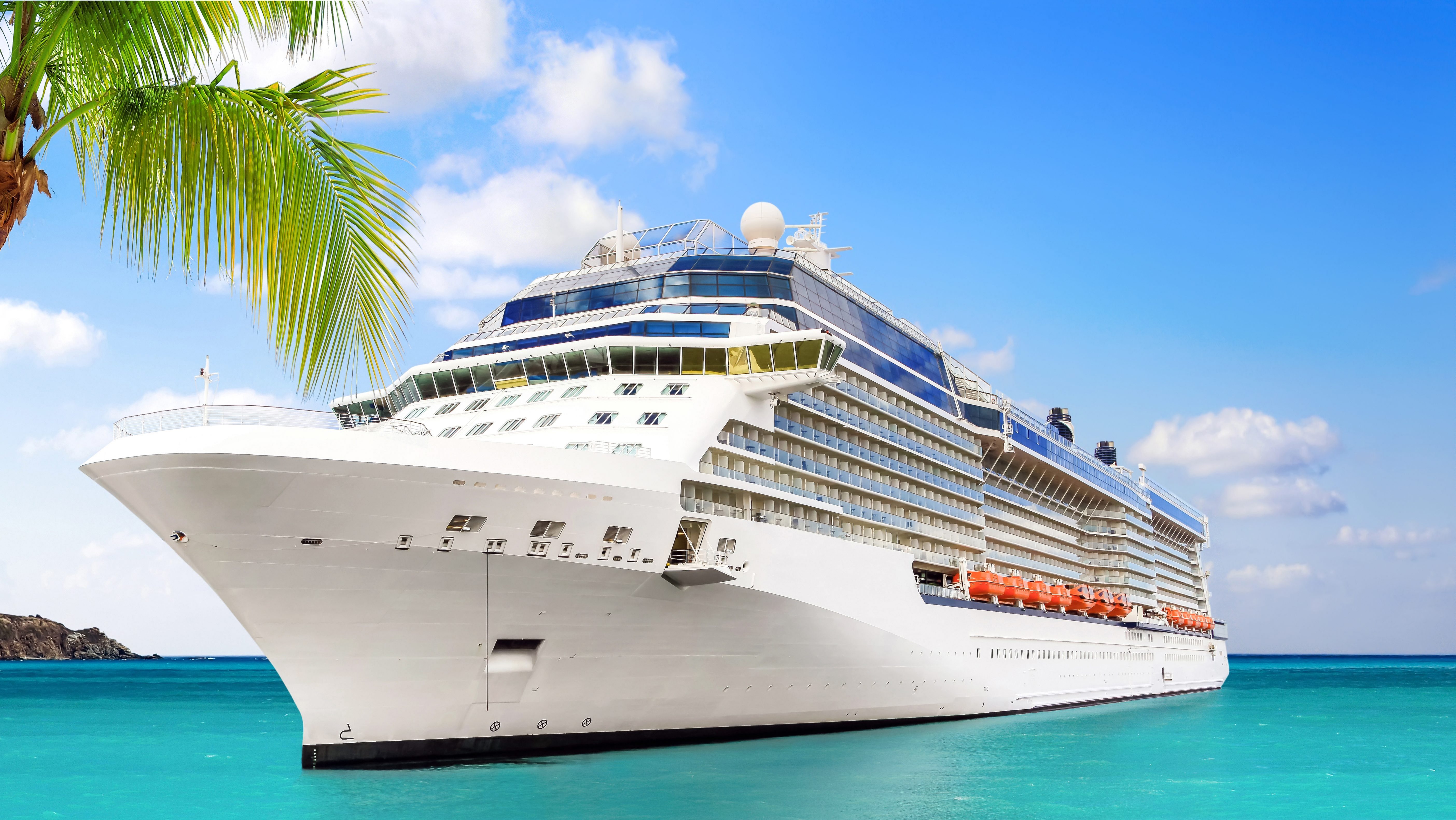 Before you know it, summer will be over and the cooler weather of fall and winter will be in full swing. If you're looking to escape the cold this winter, attending the 2020 Funeral Technology and Marketing Workshop Cruise should be at the top of your list.
Over the course of 7 nights onboard Royal Caribbean's, Harmony of the Seas, attendees will have the opportunity to earn up to 8 CEUs while exploring 4 beautiful tropical destinations. The cruise departs from Port Canaveral (Orlando area) and makes stops in the Bahamas, Honduras, and two locations in Mexico.
Time is running out to book your spot. Our group rate pricing closes on September 30th!
Earn Up To 8 CEUs
During the cruise, there will be plenty of opportunities to enjoy the beautiful weather as well as the amenities and entertainment onboard the ship and at the ports. One of the highlights of the trip each year are the workshop courses. This year, we've planned an exciting lineup of courses covering a range of topics including marketing, legalities and protecting your business, plus many more. Attendees who attend the workshops will have the opportunity to earn up to 8 CEUs over the span of the cruise.
New this year is a special presentation hosted by Royal Caribbean. Have you ever wondered what happens when a death occurs at sea? During this workshop, attendees will learn about the protocols in place for handling a death at sea and receive a private tour of the ship's medical center and morgue.
Year after year, the roundtable discussions are always a highlight for every attendee. What better way to learn than from your peers? During the roundtable discussions, you'll have the chance to network, share what's been for successful for your firm, and leave with new ideas to help grow your business and better serve families.
Enjoy First Class Amenities Onboard
C/O Cruise Critic

C/O Cruise Critic
Royal Caribbean's Harmony of the Seas is one of the largest cruise ships in the world with nonstop entertainment and fun. With more than 20 restaurants onboard, you'll have plenty of different options to try. Some of the ship's featured restaurants include Izumi where you'll enjoy made-to-order sushi and Asian-inspired dishes. If you're looking for something more rustic, Jamie's Italian By Jamie Oliver is sure to leave you full and satisfied with several Tuscan-inspired dishes. Finally, for those who are looking for something new and different, Wonderland serves up incredible dishes that will leave your senses tingling and craving just one more bite.
If these don't get you excited, no need to worry. The ship has plenty of options for every taste including a steakhouse, diner, Starbucks, and plenty of more places to choose from.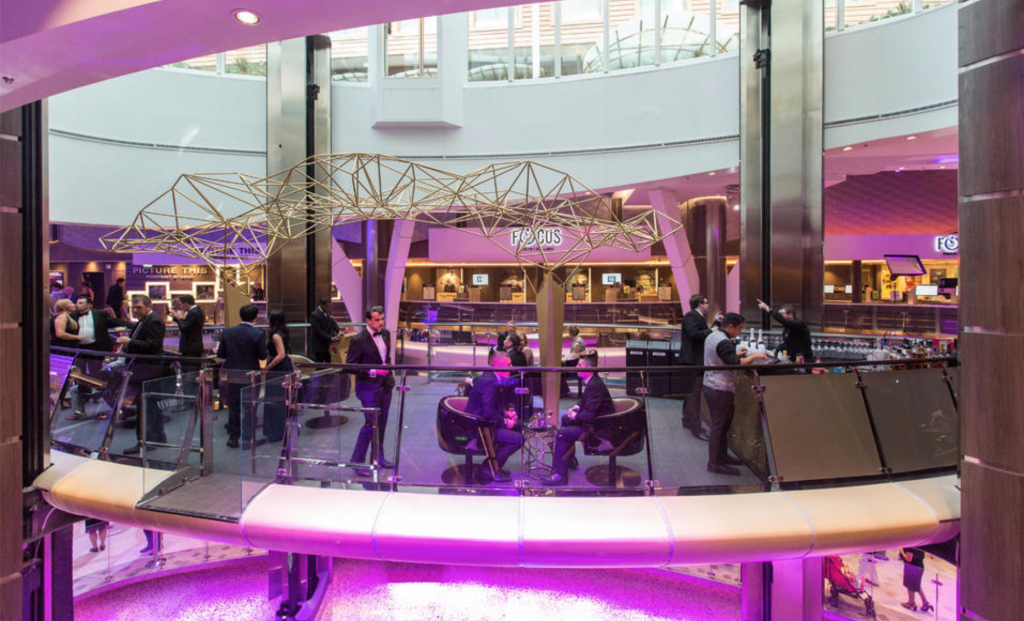 With 13 bars on board the ship, it's easy to find a place to enjoy some drinks with your fellow cruisers. The ship features pool bars, pubs, lounges, and even the Rising Tide elevator bar that can transport you between decks while enjoying a refreshing cocktail or glass of wine.
Non Stop Entertainment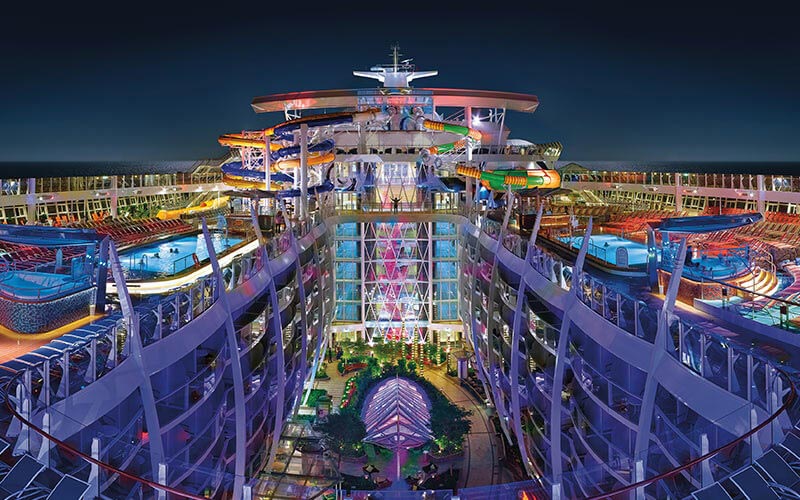 If you're thinking about bringing the family, there's plenty of things to see and do during the cruise. The ship offers plenty of things to enjoy throughout the duration of the cruise. From incredible shows to nonstop thrills on the top of the deck, you'll never run out of fun things to do.
The top deck of the ship is basically an amusement park at sea. With water slides, zip lining, a surf simulator and so much more, it's a thrill seekers paradise. If that's not for you, not to worry there's more relaxing ways to spend your downtown.
The ship features pools, whirlpools, a spa, and plenty of places to lay out and work on your tan during the day. At night, the fun doesn't stop with different shows, a comedy club, casino, outdoor movie nights, and many other ways to enjoy the evening.
4 Beautiful Locations To Visit
Once the ship reaches the different ports, the fun gets ramped up a notch. Spend your day off the ship exploring the different areas we will visit. At each port, you'll find plenty of things to see and do. Whether that's shopping, going on tours, participating in excursions, or just lounging out on the beach, you're in for a fun-filled day for sure.
This years cruise will be making two stops in Mexico, as well as Honduras and The Bahamas.
Book Now – Time Is Running Out!
If you'd like to join us on the 2020 Funeral Technology and Marketing Workshop Cruise, now is the time to book your spot. The deadline to place a deposit on your cabin ends on September 30th. Cabin prices start at just $975 per person.
Don't delay, each cabin booked before the deadline will also receive a complimentary $100 onboard credit.
Tommy holds a Communications degree from Laurentian University and an Integrated Marketing Communications Graduate Certificate from St. Lawrence College. He is a Content Marketing Specialist at FrontRunner and focuses on producing engaging content that funeral homes can use to connect with families. In addition, Tommy crafts SEO content for clients and specializes in helping the general public connect with the death care industry as a whole.