4 Ways We're Helping Funeral Homes Improve Obituary Searches For Consumers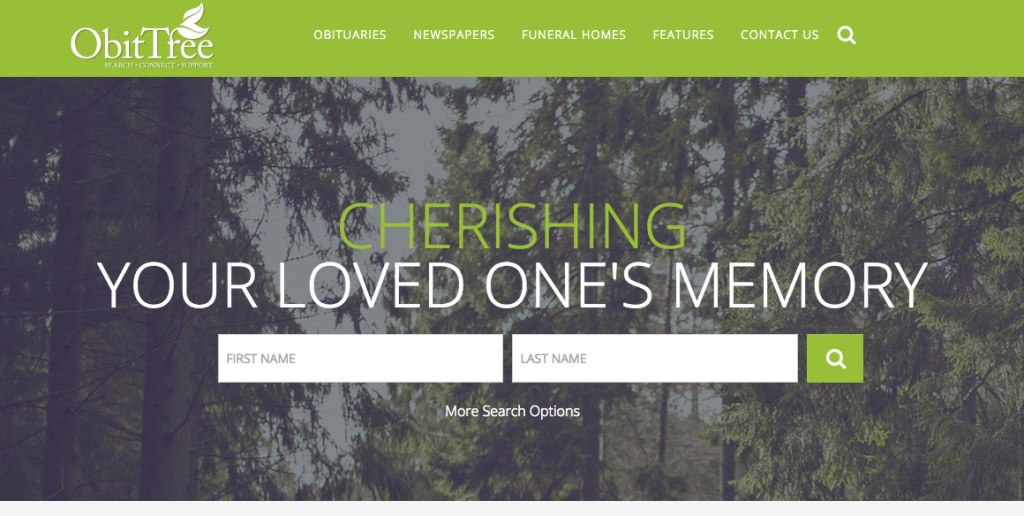 After years as FrontRunner's obituary information hub, Obitsforlife.com will be discontinued this week and all existing traffic will be directed to a new and improved platform, ObitTree.com and we're pretty excited about the change! With every part of our space shifting towards user-friendly navigation, ObitTree.com presents a better experience when families and friends are searching for obituary information. The move aims to update the functionality and organization of the database, all while producing an interactive website consumers can enjoy. At FrontRunner, we are committed to providing our clients with the best possible experience online.
What was Obitsforlife.com?
Obitsforlife.com is (and as of tomorrow was) a website that serves as the central source for newspapers, funeral homes and consumers to find obituary records from across North America. Users are able to navigate through a large database to search for exactly the obituary they are looking for. News outlets formerly offered death notices exclusively, as they served the largest public audience, and sites such as Obitsforlife.com have carried the practice into the digital age. All FrontRunner clients currently have their obituaries pushed to this site, but we realized there was a much better way to serve consumers!
What is going to be improved with the new ObitTree.com?
Well for starters, there will be a more seamless connection between funeral homes, newspapers and consumers so expect more details on all of this. In the meantime, here are four ways that the ObitTree.com switch will positively impact users:
1. Fresher Looking Obituary Site
Function is an extremely important part of a website's user experience. That being noted, a well-designed web page can leave a lasting impression with a user. ObitTree.com is both functional and beautifully laid out. The modern look shortens the trip between the home page and the information consumers are searching for. The site represents a new, clean, attractive and easy-to-navigate resource for the death care industry in North America.
2. Mobile Responsiveness
Another important upgrade to the obituary site is mobile responsiveness. Now, users can access the entire obituary database wherever, whenever and on any device at their convenience. In this day and age it is important to remove any barriers between consumers and the information or services that they are looking for. ObitTree.com is very much our answer to this issue. The truth is, people love using their mobile devices to access the information they want and we needed to offer an obituary site which reflected that shift.
3. New Search Engine Optimization Tools
With an astronomical amount of inquiries being made on search engines like Google each day, it has never been more important to make every obituary easier to find. Perhaps the best feature of ObitTree.com is the new and improved search engine optimization tools that help to ensure obituaries are easily accessible to anyone who is looking for them. The point of online obituaries is to continue the tradition of publicly announcing a person's death so that people from all over can be made aware of their passing. The new features of ObitTree.com will improve the availability of this information. Plain and simple.
4. Better Performance For Users
The switch to ObitTree.com is all about providing our clients and their consumers with an improved user experience. Far too often, database websites prove more difficult to navigate than they should be. No such issue will be had with this platform. Simplified navigation and a clean layout make it easy to find exactly what you are looking for. Let's face it, no one wants to spend their time reading and sifting through endless amounts of info just to begin the process of searching for a friend or loved one's obituary. We decided to make this transition to put the user first.
We're Excited About The Change
With every platform change there is some adjustment, however, ObitTree.com is the necessary next step to completely digitizing the traditional obituary. With information now readily and instantly available at the click of a button, it was time to update the user experience of searching for obituaries.
To all funeral home's that posted their obituaries to Obitsforlife.com, whether a FrontRunner client or not, please know that no existing data will be lost in the migration process. And with the new ObitTree.com, we have some pretty cool things up our sleeve. It's time to truly change how funeral homes maintain control of their obituaries. Stay tuned for more updates!
Brandon is the Marketing Communications Manager at FrontRunner Professional. He holds a Social Sciences degree from McMaster University and a Graduate Certificate in Integrated Marketing Communications from St. Lawrence College. His creative writing and innovative ideas bring new life to the company, FrontRunner's clients and funeral directors world-wide.