7 Weeks of Free Resources & Ideas For Funeral Homes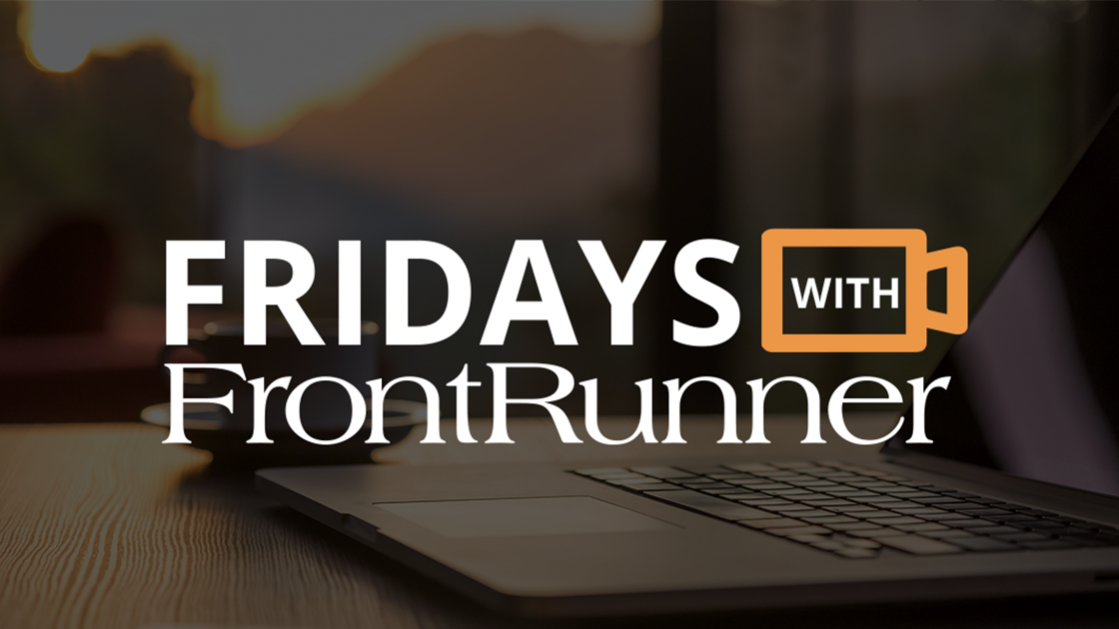 Have you heard about Fridays With FrontRunner? If not, you've missed an awful lot during these past couple of months. Each week FrontRunner's CEO Jules Green and Head of Marketing Ashley Montroy gather with hundreds of funeral professionals for a casual and interactive webinar.
As Covid-19 began to really hit hard across the US and Canada, we had a lot of clients reaching out for help and advice. After talking to so many, our team decided we should create a place for everyone to gather and share ideas. Just like that Fridays With FrontRunner was born. 12 hours later, we did our first show and haven't looked backed.
It's been a busy seven weeks for everyone. But during this time, our team has pooled together resources and ideas to share each week. The best part about the shows has been the audience and interacting with them. Whether its sharing ideas or asking questions in the chat to jumping on the screen and joining the conversation – it's been fun.
Each episode always brings new topics, fresh ideas and all the latest news we're hearing and seeing. It's a place for funeral professionals to come together. In fact, we've had several regular viewers connect outside of the webinar to learn more and work together.
Sounds interesting right?
If you want to sign up and get access to weekly webinars and all the free resources and information shared…click here to sign up.
For this week's blog, we're going to share some of the resources and ideas we've talked about on past webinars. Below are some different ways your firm can support your community, keep everyone safe, and continue to serve families.
Please use these ideas and resources as inspiration for your firm.
Volunteer Initiatives
Community Grocery Giveaway – Ryan M Warren Funeral Home
Special shout out to the team at Ryan M Warren Funeral Home. They organized a giveaway and donated $500 worth of grocery store gift cards to deserving families in need in their area!
Click here to see the feedback from the community.
Baker-Hazel & Snider Offer Mobile Mammogram Screening Bus
Hospitals have been facing a lot of challenges to say the least. So, the team at Baker-Hazel & Snider planned a way to help their community without heading to the hospital.
They're hosting a by-appointment mobile mammogram screening bus for local women in their community.
Free Drive-Thru Milk Giveaway – Schepp Family Funeral Homes
Schepp Family Funeral Homes is doing their part to support local families. They've hosted two free milk giveaway days where people can line up in their vehicles to drive thru and receive their free milk. Both events have been a big success and helped a lot of local families in their community.
Customer Service Ideas
San Antonio Funeral Home Opens World's First Drive-In Funeral Theater
Mission Park Funeral Chapels and Cemeteries have built a brilliant way for loved ones to attend a service. Check out this article about how they've built a drive-in theater in their parking lot for guests to watch outdoors in their cars.
Tribute Insurance Assignments Can Help Families During Financial Uncertainty
Have you faced any issues with cash flow. Do some of your families need alternate solutions to cover final expenses? With this program, we can have funds in your bank account within 24 hours. The Tribute Insurance team handles everything on your behalf and the service is available within your FrontRunner system.
Click here to visit our website and get started!
Townley & Wheeler Funeral Home Builds Drive Up Area To Offer Condolences
The team at Townley & Wheeler have built a creative way for guests to offer condolences to a family. With limited occupancy inside, "Unity Station" features a large tv with camera to virtually offer condolences and interact with the family inside the funeral home.
McMahon-Coyne-Vitantonio Funeral Homes Uses Facebook Live For Candlelight Memorials
Looking for a unique way for friends and family to celebrate a loved one? Check out how this firm is using Facebook Live to create a candlelight memorial where guests can share memories and offer condolences.
Technology & Safety
Everything You Need To Get Started Using Zoom For Virtual Arrangements
Are you considering using Zoom for virtual arrangements and meetings? This helpful resource offered by Zoom provides training and outlines everything you need to know about using the tool
Funeral Live Streaming Equipment
Interested in purchasing professional quality video equipment for streaming funeral services? Click here to read a blog post we've written about an affordable and reliable equipment bundle with links to purchase included.
Special thanks to the team at Callaway-Smith-Cobb Funeral Home for sharing this information.
Free Arrangement Aide for 30 Days + Other Covid-19 Tools
Right now our Arrangement Aide tool is available FREE for 30 days. Click here to learn more about this tool and others we have available to help you serve families remotely.
Best Practices & How-to Guide for Live Streaming Funerals
Are you planning to start streaming services of Facebook Live? Download this free guide to learn about best practices and steps to get started streaming funeral services on Facebook.
Community Spirit Ideas
VanderPlaat Funeral Home Lit Up Their House Red, White and Blue
The team at VanderPlaat Funeral Home is also showing their support for all essential and frontline workers in their community by lighting their funeral home with red, white, and blue lights.
Click here to see their Facebook post!
Story Time Video For Local Children
After getting inspired by Nie Family Funeral Homes on a previous Fridays With FrontRunner webinar, they've started to share story time videos reading books for children to help give parents a break.
Simpson Funeral Home Lifting Spirits With Music On Facebook Page
Simpson Funeral Home have been trying to help lift peoples' spirits. Last week they shared a video of the owner's mother playing piano to help people start the day in a more upbeat mood.
Subscribe To Fridays With FrontRunner
This is just a selection of all the news and resources we've shared and learned from from funeral professionals these past seven weeks. If you want to become part of this growing community and learn from your peers, make sure to sign up for Fridays With FrontRunner.
Even if you can't tune in every week, signing up will get you access to our recap emails each week with resources and recordings of the webinar to watch on demand.
Tommy holds a Communications degree from Laurentian University and an Integrated Marketing Communications Graduate Certificate from St. Lawrence College. He is a Content Marketing Specialist at FrontRunner and focuses on producing engaging content that funeral homes can use to connect with families. In addition, Tommy crafts SEO content for clients and specializes in helping the general public connect with the death care industry as a whole.