Electronic Guest Books: Lead Generator or Business Shredder?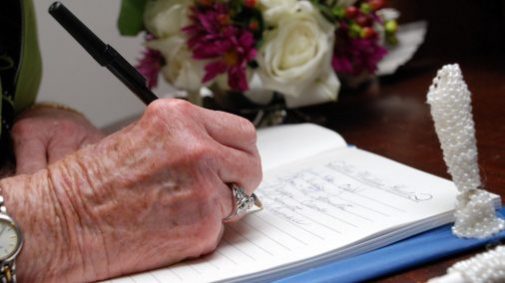 There is a lot of hype these days about electronic guest books and most of the hype, of course, is coming from the technology companies producing them.
As the CEO of a technology company, this latest fad serves to remind me that when it comes to technology, just because we can, doesn't mean we should. And, as more and more funeral homes seek to be the 'leading' funeral home in their communities, being on the front line gives them a greater chance of being shot.
The electronic guest book program shows just how technology can go wrong and how these developers are out of touch with the market they are serving. As the former owner of a funeral home for 22 years, I learned just how long line-ups can be to sign the guest book. Combine that with guests' ages, vast computer illiteracy, and their often-frail fingers, the presentation of an electronic guestbook can be intimidating, to say the least.
As guests struggle with the crash course in tablet technology, they are also being asked to enter their contact information including an email address, address and zip code. On the surface, this is all done to generate personalized thank you cards for the family while the 20-50 people standing in line behind them are wondering "what the hell is going on??."
Is this how funeral directors see themselves as leaders? Is this a true service to families? Do funeral homes really think they will gain new business this way? Today, less than 40% of those reaching out to support the family during their time of need are actually present to sign the guest book.
The advent of the newest stylus pen is even more troublesome. What these companies fail to tell you is that the typical stylus must first learn and study a user's handwriting characteristics before accuracy is achieved. Most reports suggest that after a week or two, the accuracy will greatly improve. This doesn't help calm visitors waiting in line to sign the guest book and the last time I checked, funeral businesses don't do well with inaccuracies.
Setting all of this aside, many desperate funeral homes buy into the biggest feature these companies promote – Lead Generation! While this electronic information gathering is intended to create a database of contact information, the reality is that it can cause substantial damage to your credibility.
When I questioned a number of friends and acquaintances about the prospect of signing an electronic guest book, I got the same response: "If I was asked to electronically sign a guestbook and included my email address only to receive a message on my phone by the time I got back out to my car about prearranging my funeral, not only would that firm never bury my dog, I would never go back!"
So how does a successful funeral home truly leverage technology in a real funeral service world?
My simple suggestion is this: Place a sign near your traditional guest book that encourages all visitors to also take a few moments to sign the online guestbook on the funeral home's website. Promote that you are doing this to provide the family with a complete, printed book recognizing all who have come together to support the family.
If your website is sophisticated enough to also capture the email address of those who have shared condolences, made a donation or ordered flowers, you would have a very good snapshot to print out a memory book for the family that truly showcases your standards and understanding of service.
As for what you do with those email addresses collected, well that is a topic for another day.
Kevin Montroy, CEO & Founder of FrontRunner Professional, is a 34-year licensed funeral director and former owner operator. He has spent the past 20 years looking out for funeral professionals by helping them avoid the pitfalls of technology and understand the importance of choosing their technology partner wisely.