Exciting Product Launch: The Physical, Hard-Bound Book of Memories – What it is & Why It's Totally Awesome!
Providing families with great service is a funeral director's number one priority. As such, we at FrontRunner are constantly looking for ways to help you improve and expand your service options and we are so pleased to announce another expansion to the Book of Memories. Through a partnership with Remembering Books, you are now able to print your online Book of Memories content into stunning hard-copy books for families to have days, months and even years after the service.
These funeral register books are very customizable and beautifully designed. Multiple copies can be easily created with no tools required, providing families with a product they will be proud to have on display in their home. Watch the video below to see just how easy it is to bring a deceased's Book of Memories to life!
At FrontRunner we are always on the lookout for systems and partnerships that we believe will bring great value to you as a funeral director, and the clients you serve. One of the things we have heard you asking for is a way to print the online Book of Memories to give to families. As you can see, Remembering Books has helped us make this possible through their modern designs and simplicity.
All of the Customization, None of the Fuss
Whatever your current comfort level regarding register personalization, this new physical Book of Memories is a breeze to create and keeps your register offerings up to date. Gone is the need for ring bound registers. Say goodbye to any machines you used to create them. Creating these physical tributes for families is a breeze.
Every book is supplied with stunning inspirational quote pages, along with pages that you can have guests sign at the service. You can further personalize by printing text and photographs from the FrontRunner system such as title pages, full-page pictures and service details, and thanks to the unique 'slide-bind' system, you can print and bind in a matter of minutes, all in-house.
Unlike traditional photo books where you have to learn a new system and wait for the finished book to be mailed to you, these books are created using the FrontRunner stationary system you are already familiar with, and can be created in house and in minutes. This is sure to be one less headache and one more time-saver in your daily operations.
Many families who choose or receive a register book aren't entirely clear on its use and the value it can provide to them. These new register books can be a helpful tool in the grieving process and provide a lasting memorial that is fit for display. As for funeral directors, there are a couple ways this product can help you better serve families and lift you above your competitors.
A Timeless Offering to Help Families Grieve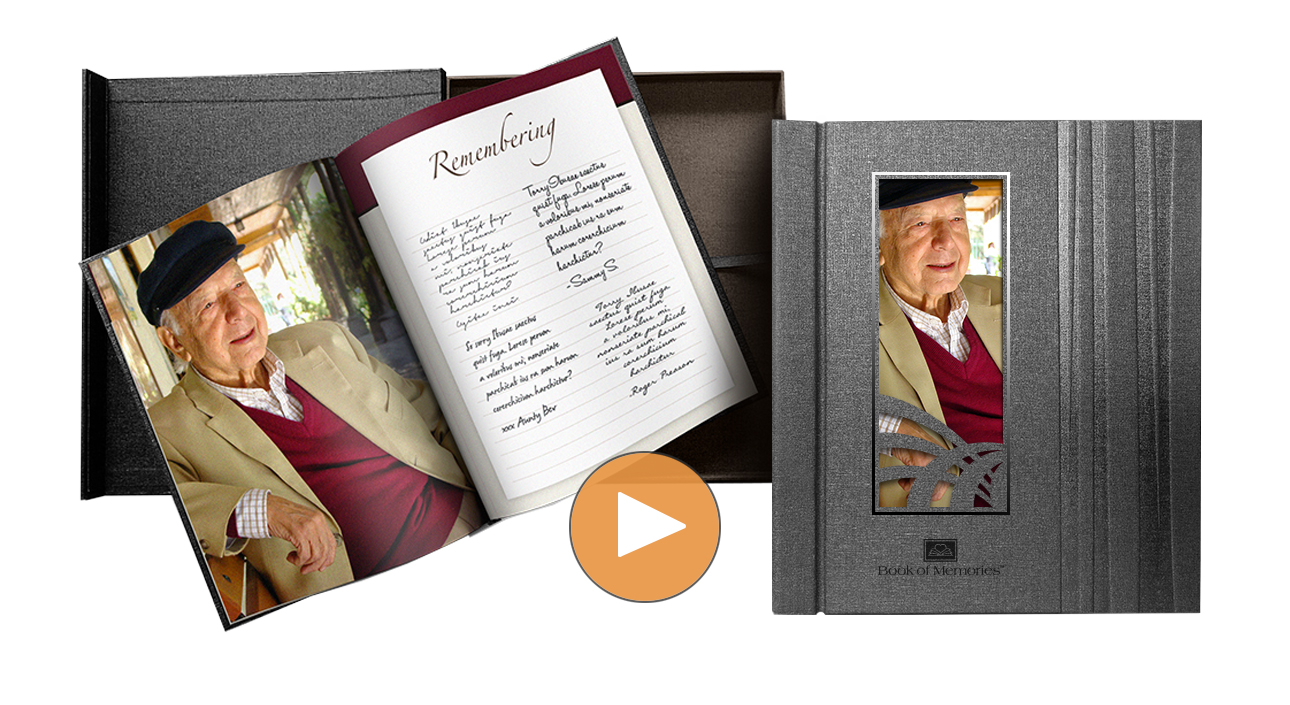 The product itself is wonderful, but it's the intangible benefits families receive that makes the Book of Memories so meaningful to them. This register book should be seen as a valuable tool in the aftercare and healing process. The casket goes and the hearse drives away. Food is eaten and flowers fade. Typically register books have been filed in a box or the attic and forgotten about.
However, a well presented item can easily sit on a family coffee table or bookcase for a significant amount of time. A nicely presented book is one of the more relatable items that a family can have discussions around and this promotes conversations for healing. That's exactly what the Book of Memories provides.
With the combination of guest pages and details of the funeral service event as well as people's memories of times gone by, a physical Book of Memories is a constant yet gentle reminder of the love and care that family and friends wrap around each other and the moments they have shared. The Book of Memories brings people back to these shared moments and things to be celebrated about who their loved one was as a person.
Maximize Your Revenue Through Word of Mouth Advertising
Now that you are able to provide the Book of Memories content in both online and physical forms, you are twice as likely to remind families of the incredible service you provided in their time of need. The physical Book of Memories provides a perfect opportunity for the informal but significant conversations that occur in people's homes in the weeks and months after a service. These conversations lead to invaluable and trusted word of mouth advertising and referrals. Having your product there as a constant reminder of your services, and advertising it to others who pass through, is access to top-of-mind awareness which you simply can't get through other forms of marketing. These mutual benefits which the Book of Memories provides funeral directors and families are what we aim to provide you with and what will ultimately boost your calls.
Your feedback on this brand new product is so important to us and we welcome any suggestions. We are very excited to offer this new product to all of our clients and want you to feel free to contact us if you have any questions. To your continued success!
Ashley Montroy, Marketing Director at FrontRunner Professional, has committed herself to helping funeral professionals understand and excel in today's digital age. With a long-standing history in the funeral business and her father being a licensed funeral director for over 30 years; she grew up learning the family funeral business. Ashley holds a bachelor's degree from Carleton University and diploma from Algonquin College. Today, she continues to speak to over 15 state and provincial funeral association groups each year on funeral marketing in the digital age and protecting funeral firms online using experiences and examples from working with thousands of funeral homes in North America through FrontRunner Professional.