FrontRunner Professional: Then & Now
When you think of FrontRunner Professional – Do you picture a big technology company behind a logo? Or do you picture a family-run business with roots in funeral service?
As the Marketing Director here at FrontRunner, sometimes I take a step back and say – Okay, it's time to do some planning. In my last planning session, I couldn't help but think about how funeral directors see FrontRunner. While I know majority see us as a big technology company, I realized how important it is for every funeral director to know exactly who we are, as a family-run business, and where we come from.
So, who is FrontRunner Professional? It's time to tell a story.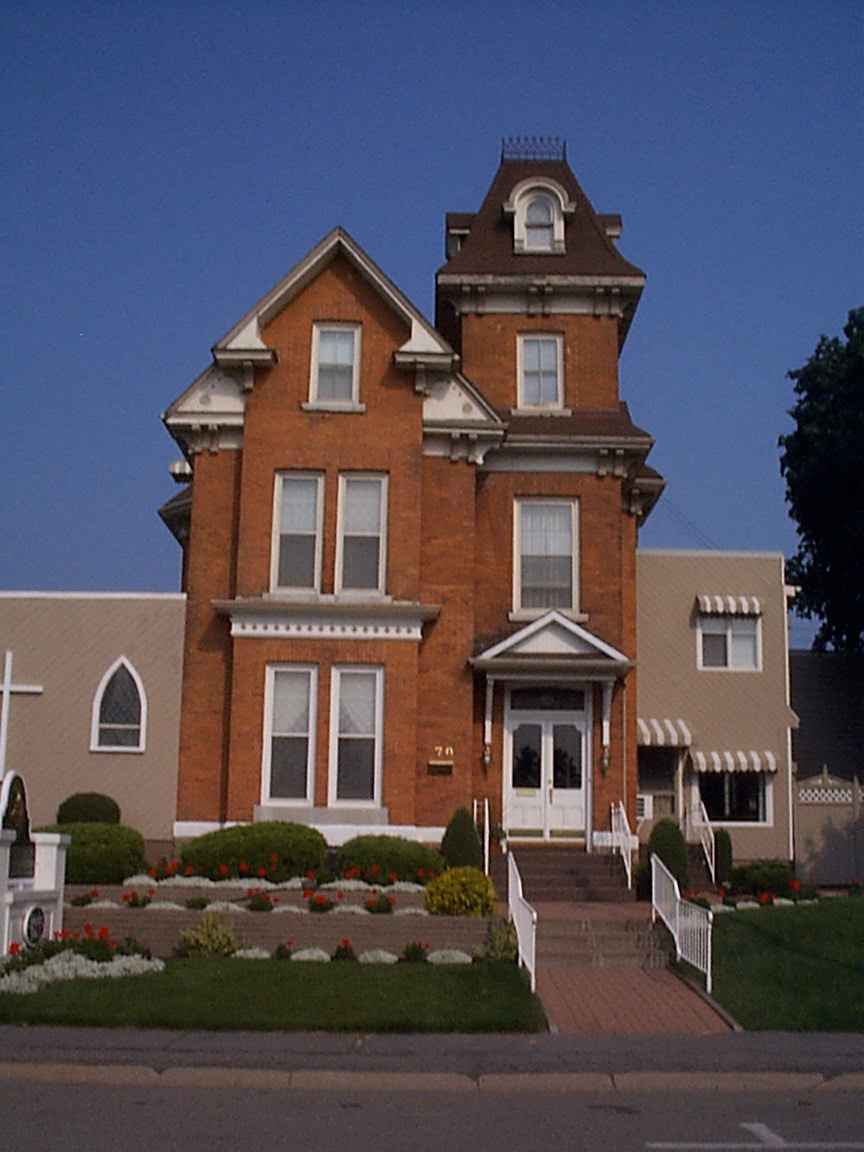 It all started in 1994 in the back of a family-owned and operated funeral home (picture to the right). Many do not know this but FrontRunner's Founder/CEO, Kevin Montroy is actually a 30+ year licensed funeral director. He owned and operated his funeral home in a teeny tiny little town called Gananoque. If you are tying my last name to his, you may realize that he is related to me. Kevin is my father.
It's funny looking back at the early days. I still remember looking out the kitchen window watching him stand outside in his black suit, the hearse, limos and line of black cars all lined up with a few part-timers who were honestly like family growing up, all waiting to welcome the family and head out to the cemetery. Those were the "serious" moments of growing up. The times where my mother would be saying to Stephanie (my sister) and I – "No stereos on or walking loudly. The family will hear you". But, those who grew up on top of a funeral home like my sister and I, know how these things work. But like most funeral directors kids can attest to, living in a funeral home gives you the opportunity to have the coolest house in town, have your Easter Egg hunts in places no other kids had theirs (yes, my sister and I would argue over the Chapel vs. the Coffee Lounge each year), and having your first job pulling weeds and cleaning cars, which all made that 7:00-9:00pm quiet time, also known as sit and don't move time, okay.
I remember when FrontRunner started. I remember the construction that moved our casket showroom to make room for FrontRunner's offices. I remember watching dad work long hours (and let's be serious – not much has changed) so he could not only be a funeral director but also build FrontRunner. When he started FrontRunner, we weren't really all that surprised. He made all of the wood business signs around town and had a small background in engineering, so seeing his passion for funeral technology was a perfect fit – he was always very creative.
Many people ask today – why did he get into the funeral technology space? This is something that I now understand.
For Kevin, he was a funeral director. He served families with everything he had. He built friendships that last even to this day. And he saw how technology could help funeral directors. To this day, he is still a funeral director at heart. If I had a nickel for every time we were out for dinner and I see him bolt out of the restaurant because an elderly person is struggling outside, or how many times he is on his hands and knees fixing a carpet that is folded. To this day, I always say "dad, you're such a funeral director".
If you know Kevin, you know he is a visionary. He wanted to have the most beautiful website that not only looked nice, but gave people what they needed and the tools he needed to grow. He wanted to have a way to give families something they could have forever. He set out on a path to build, at the time, a website that he could edit completely himself – and at that time, it was 1 of 5 self-administrable website platforms that existed.
I couldn't possibly write every story he has ever told me about all of this, but one does jump out when it comes to the early days of FrontRunner website technology. He built a tool into the website that would notify him every single time someone used the search feature. He had someone looking for angels on his website. So, he got the notification and thought: what could they be wanting? Immediately following, he had a notification saying Children Urns were being searched. So, he put two and two together and realized that what they were looking for was not on his website. What did he do? Created a brand new page on his website to display Children Urns. I chuckle at this because it is something that so many of our clients still use to this day.
The Creation of the Book of Memories Memorial Tribute Pages
He didn't want to stop at websites. He wanted to give families a place to remember their loved one. He wanted to build something that would keep them coming back to his website. So, he built the online Book of Memories tribute pages.
While both of these pieces have advanced tremendously since 1994, they are still very much the pillars of FrontRunner technology. A great story: I was at a restaurant a few years back and I got talking to someone at the bar and what I did for work came up. When I told the person about the Book of Memories, they said "isn't that the funeral home obituary pages on their website?" You could probably imagine the smile on my face. It was a proud daughter moment – not only is Book of Memories a tribute page unlike anything else on the market, it is a brand that is known and sought-after by consumers. How cool is that? I couldn't believe my ears.
When the Funeral Home Was Sold
In 2002, FrontRunner was at a point where Kevin had to put some serious thought into keeping or selling the funeral home. And like many people reading this post, he believed that everything happens for a reason. Earlier this year, Kevin's mother became very ill. She lived in Kingston, Ontario, which was abou 30 minutes away, and he knew he wouldn't be able to run the funeral home and FrontRunner, and travel back and forth to Kingston. Not to mention, he has a brother with a mental disability who lived with his mother who would need care when she passed. So, in his eyes – it was time. He put the funeral home up for sale and made the move to the "city" to take care of his mother and take the next steps for FrontRunner Professional.
When FrontRunner Moved from a Website Company to a Complete Technology Solution
I remember this stage of FrontRunner like the back of my hand. It was in 2004 and I watched my sister wake up and start work with dad. They and 2 others were a 4-man team who worked out of the house.
The 4-man team started to build out the next phase of FrontRunner; the integrated management system. When Kevin was making arrangements with families, he knew how time consuming it was to fill out paperwork; to write the same name onto 10 different forms. He knew there was a better way. So, he started expanding the website and Book of Memories to include a funeral home management component. He wanted funeral homes to have one point of data entry and let technology remove the redundancy.
So, they started: First came a forms engine that would let funeral homes print their forms with the click of a button. Then came an obituary engine that would let the funeral home create an obituary template that would auto-populate with the data already entered. He also wanted funeral homes to be able to submit the obituary to the newspaper right from their system. He then moved onto building a contract generation system that would integrate with the funeral homes accounting software and allow them to split payments between family members, because he knew he experienced this.
The last piece added was the Marketing Center. Now that funeral homes were using technology to save hours, he wanted them to have access to a library of ads that as a small firm, he knew he couldn't afford every time an ad had to run.
FrontRunner's First Official Office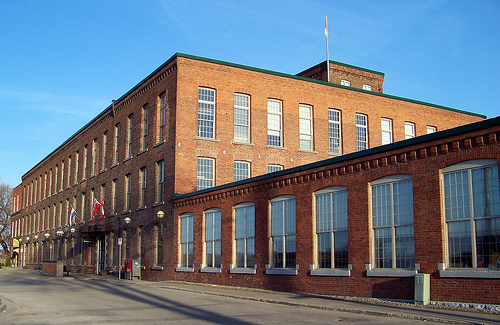 In 2008, it was time to move FrontRunner out of the home office and rent office space to grow our team. We took possession of our new office in this building to the right and quickly grew to a team of 8 employees. Over the next three years, we continued to grow across North America and we had to put the team in place. Before we knew it, we had 20 full time employees and not a whole lot of room for them to sit. Again, everything happens for a reason – the offices across the hall came up so we rented those as well.
Over these years we added the complete Book of Memories line to give the funeral homes DVD and stationery pieces to match the online tribute page. We also acquired the only web-based funeral management software to give our solution even more management functionality.
FrontRunner Team is Reunited
We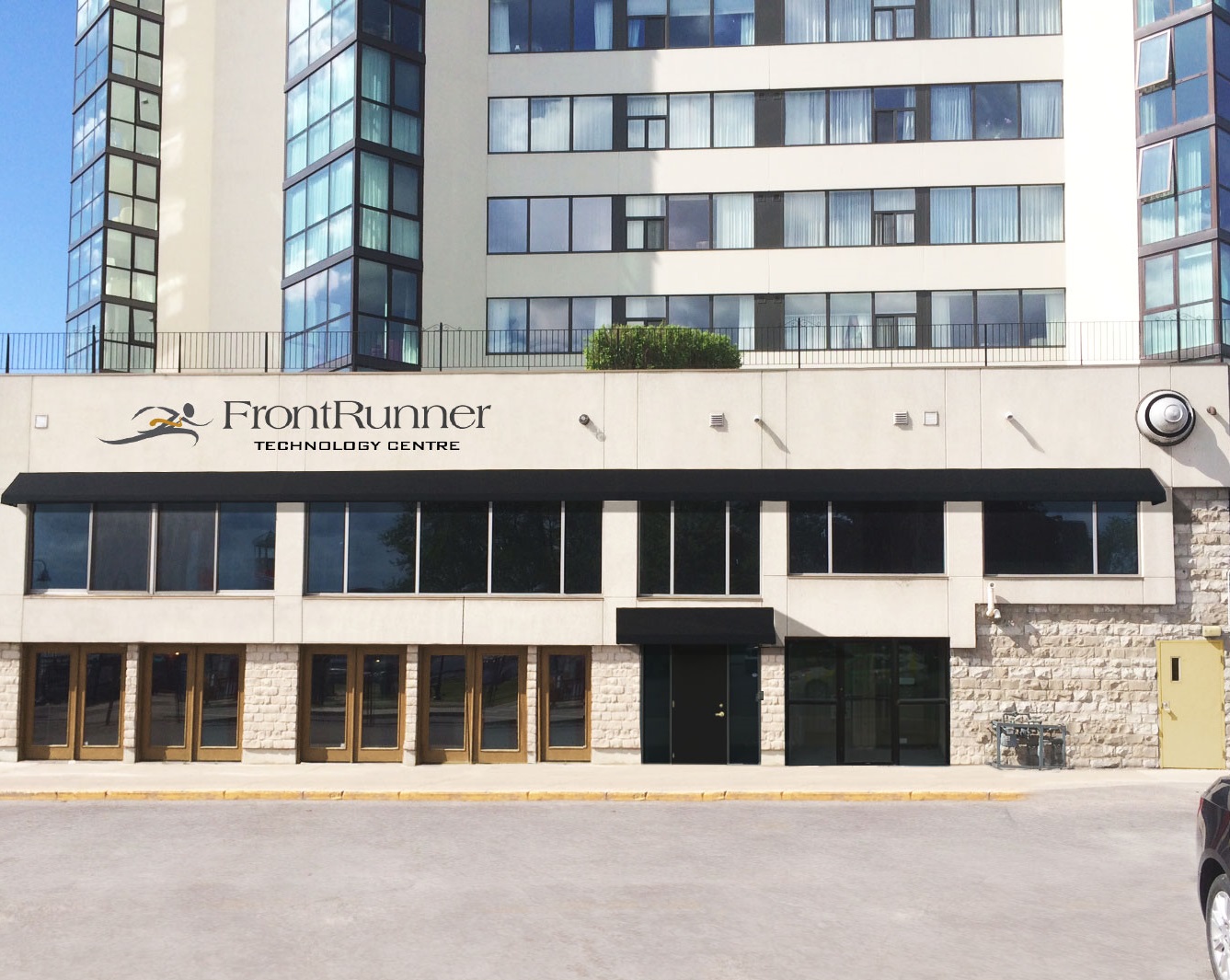 spent a few years separated in two offices. And in 2014, with 25 employees, we decided to look for a space we could call our own. Finally, after spending months looking – we found the perfect location to not only accommodate our staff but also give us the opportunity to invite funeral professionals in from all over the world and take part in our Technology Center. We would like you to meet FrontRunner's new home:

One of Many 2014 Milestones
2014 was a big year for FrontRunner. I cannot even begin to tell you all of the different milestones that were hit and goals that were achieved. One of the most memorable moments was winning the 2014 NFDA Innovation Award. On this day, I woke up with some of the FrontRunner team in Nashville and went to the ceremony where Kevin went on stage. We had no idea who won the award beforehand, and while the four of us sat in the second row, with some of our amazing clients might I add, we heard them an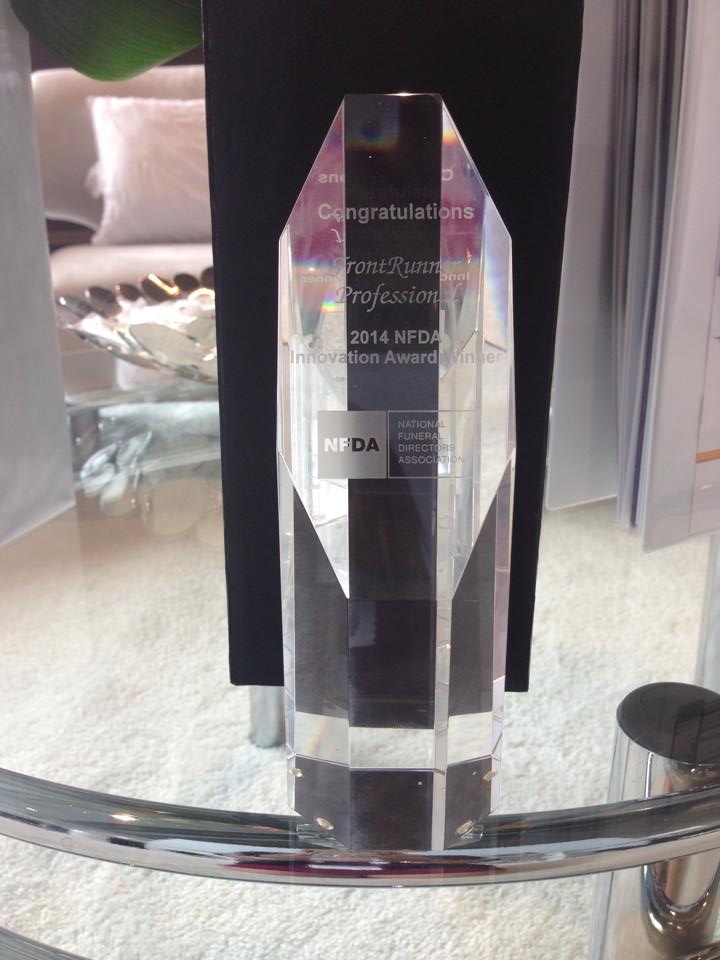 nounce the winner. Now, like I said before – we are not a typical big technology company. I had my cousin who is the President of FrontRunner on "video duty" beside me, my adopted sister and also partner in the company Jules Green on "photo duty", and I had my emotional and hormonal 5 month pregnant sister on FaceTime for the big announcement. People who were watching us when FrontRunner was announced as the winner, probably thought we were something else as we jumped out of our chairs like no one was around.
 So, who is FrontRunner today?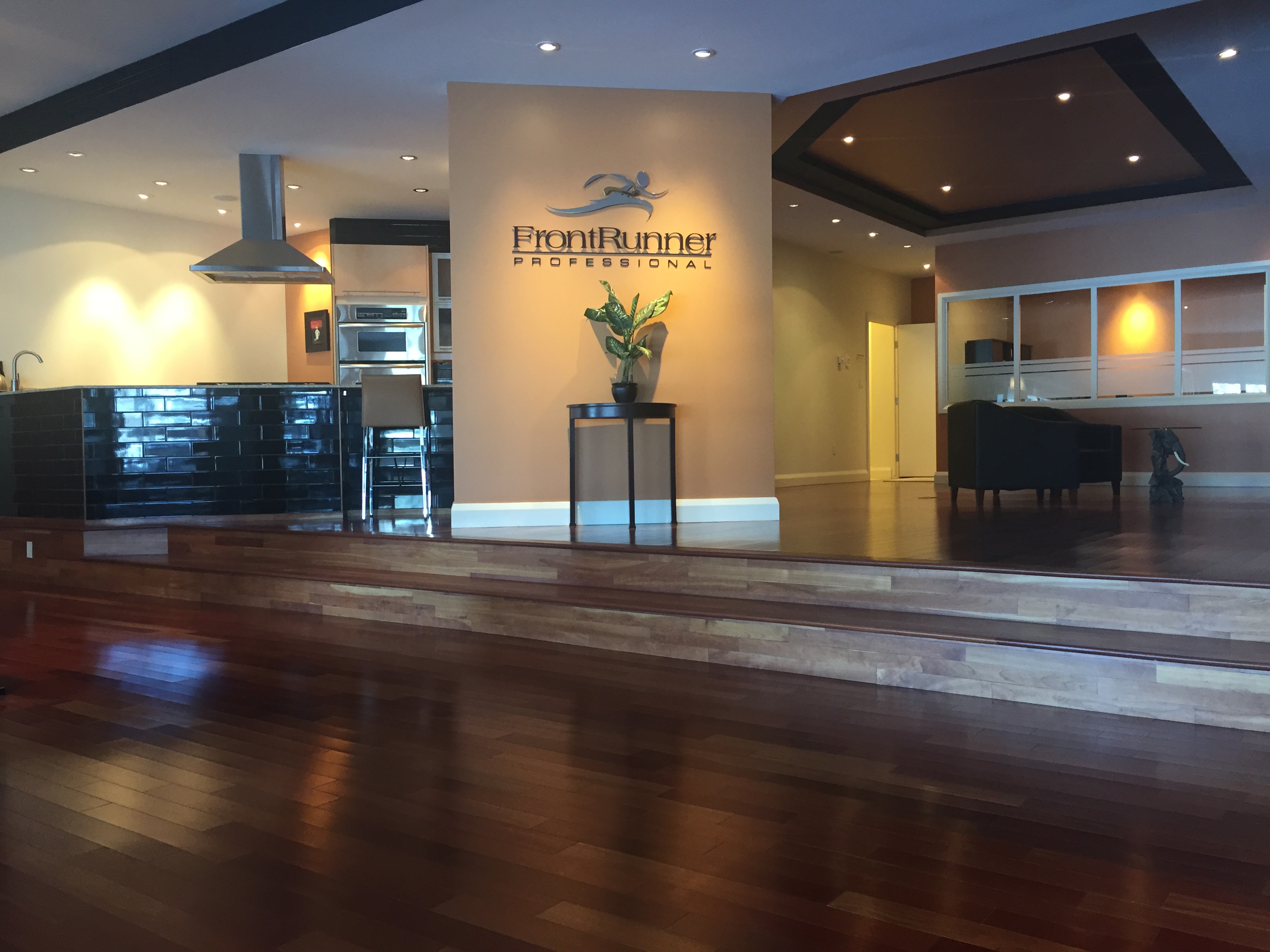 2015 marks the 20th year of developing funeral software. We started as a funeral home website provider. We grew to have a web-based website and management solution. And today, we have taken all of those pieces, combined with new ways to memorialize the deceased and grow market share and created one, single solution for funeral homes.
If you asked Kevin Montroy today if he misses arranging funerals with families he'd tell you (and I've heard him say it time and time again): he serves families every day with the Book of Memories. And now, he can do that and help funeral directors grow their business, be more efficient and protect them and this industry from the pitfalls of technology. There are things he understands not only because he owns a technology company but because he was a funeral director for so long.
I hope you see a little more now about who FrontRunner is and where we come from. We have the most amazing clients from 4 different countries, the best staff a company could ask for and 8 family members who grew up in this space running the company – and we wouldn't change any of it for the world. We thank each and every person who has contributed to the last 20 years. Cheers to the next 20!
Ashley Montroy, Marketing Director at FrontRunner Professional, has committed herself to helping funeral professionals understand and excel in today's digital age. With a long-standing history in the funeral business and her father being a licensed funeral director for over 30 years; she grew up learning the family funeral business. Ashley holds a bachelor's degree from Carleton University and diploma from Algonquin College. Today, she continues to speak to over 15 state and provincial funeral association groups each year on funeral marketing in the digital age and protecting funeral firms online using experiences and examples from working with thousands of funeral homes in North America through FrontRunner Professional.