Funeral Director Spotlight: Thank You For All You Do
It takes a special kind of person to help support families through a loss. Funeral professionals are dedicated, supportive, passionate, and most importantly caring individuals.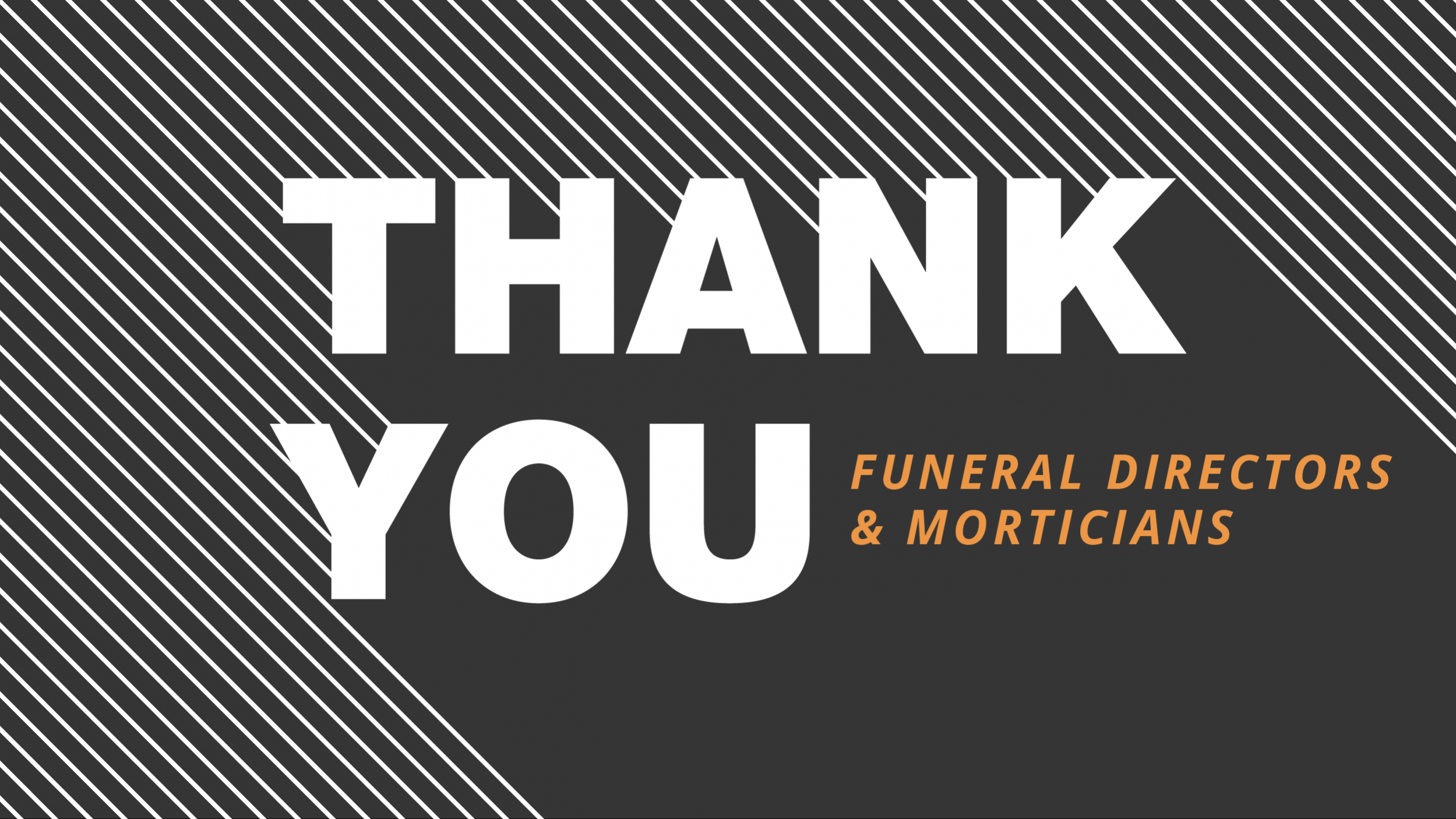 March 11th is National Funeral Director and Mortician Recognition Day. It's a special day dedicated to thanking funeral professionals for their hard work and dedication to helping others. The role of a funeral professional isn't your typical 9-5 job. It's late nights and early mornings. It's missing special occasions to be there when someone's world is falling apart. It requires generosity, compassion and dedication every single day.
While those who work in the profession understand the ins and outs, many other people do not. For many of us, our only interactions with funeral professionals are after a loss has occurred. While people are there to witness everything on the day of the service, there's much more that goes on behind the scenes, unnoticed. Unless you've had to work directly with a funeral director planning a service, you likely don't realize everything they do to make the service perfect for the family. Even those who have arranged before don't often see everything that goes into preparing for the service.
For this year's National Funeral Director and Mortician Day, we wanted to give those outside the profession a closer look at everything their local funeral professionals do for families each day. We had the opportunity to sit down Teresa Jones of Choice Memorial Cremation & Funeral Services and Victoria Ordoyne of Ordoyne Funeral Home to learn a bit more about what they do.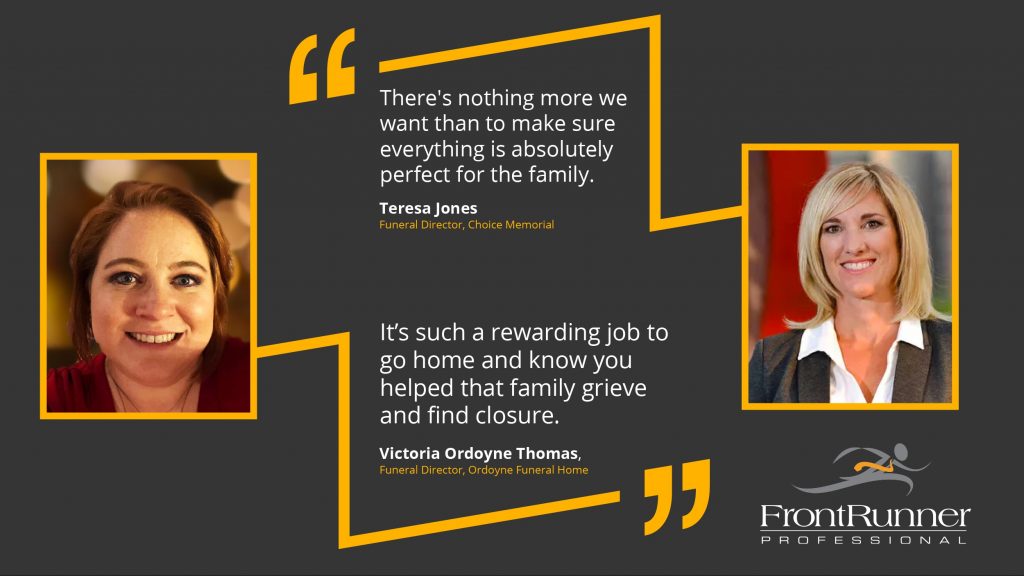 It's Not A Job It's A Calling
It takes a special kind of person to help support families through a loss. Some funeral directors are born into it. Victoria for instance is a third generation funeral director. After growing up in the business, she followed in her father's and grandfather's footsteps to serve her community. Others stumble into the profession. During our interview with Teresa, she shared how she was working outside of the profession, but a local funeral director recognized she had the qualities to excel in funeral service. From there she started her career focusing on preplanning and aftercare, before obtaining her license and eventually opening her own firm. Regardless of how they entered funeral service, it became very clear that those who serve just have certain qualities. Funeral professionals are dedicated, supportive, passionate, and most importantly caring individuals.
There's Never Enough Time In The Day
Every job has busy days, but for funeral professionals that's just a regular day. Both Victoria and Teresa shared what a typical day for them looked like and it was clear that they're always thinking about the business and no two days ever look the same.
Teresa's funeral home is quite busy serving multiple families every day. "We're extremely busy here, we serve about 90 families a month. So in a day you might come in and meet with a family or be on the phone or out for a transfer; you're constantly on the run. And you know it might quiet for 10 minutes so that's when you jump into some paperwork to send off or try to finish up other tasks."
Victoria shares a similar routine at her firm. "A typical day to day is busy. If we do have something on, we make arrangements with the family, set up the appointment and meet with them. We schedule everything with the church and cemetery. We handle the death certificate and everything."
With the job being so busy and unpredictable each day, it can hard to plan ahead for family time. Something many people don't realize is that the funeral professional serving you, may have just canceled something in their personal life to be there and support you. As Victoria mentioned; "planning a weekend is really hard. We have two kids and we never tell them what we're going to do on the weekend and don't want to upset them if we have to cancel."
That's just another incredible trait so many funeral professionals have. It takes selflessness to be able to stop what you're doing during free time to go and assist others. During my time at FrontRunner, I've heard so many stories of funeral professionals always putting the family first. Whether it's leaving in the middle of a movie or coming in on your only day off that month, it's truly inspiring.
Dealing With Death Everyday Isn't Easy
Like any job, there are challenges at work. A printer running out of ink is frustrating, but it pales in comparison to the challenges a funeral professional may face. As Victoria mentioned; "We're dealing with death every day and you know that's something we've accepted. You learn to put your emotions aside. But, when it's something you can relate to like a man who's the age of your father or your husband, a death from a disease that's in your family as well, I think those are the hard ones because you know no matter how much you want to put your emotions aside you know that could be your family member as well."
Teresa shared similar stories and mentioned how even though some services are challenging, it's still all about helping the family. "We all serve from our hearts and there's nothing more we want then to make sure everything is absolutely perfect for the family". This is something else a lot of people don't recognize enough. Funeral professionals deal with loss every single day. Despite the heartache or emotions they might be feeling from the service before, they still show up to offer the next family everything they can.
It's The Little Things That Matter
Having an outlet is important. During our conversations, both Teresa and Victoria shared how despite how difficult some services can be, spending the free time they do have makes them appreciate the little things, a little bit more. Teresa mentioned that, "your family support is important. It gives you a different perspective that in the blink of an eye, your life can change and you have to be so appreciative of those things you have. Your health, that you get along with your family that you don't take that stuff for granted."
Just like there are challenges, the job can also be quite rewarding. For many funeral professionals, it's knowing that they really helped the family through a difficult time. Victoria mentioned that, "what's rewarding to us is that it's us with the family from beginning to end. At a bigger funeral home one person may pick them up, one person makes the arrangements, someone else does the embalming, but you don't get that connection as much. Whereas here, we're there from the moment of the call until the day they come pick up the death certificate. So that connection with the family and just overall when you can give them that service that they deserve and they're so happy it's such a rewarding job to go home and know you helped that family grieve and find closure."
The Job Never Stops
Death doesn't just happen during business hours. Victoria and Teresa shared that the job of a funeral professional never really stops. Especially those who own or manage the business, their minds are always thinking about it.
"It's not for everyone that's for sure. You have to accept that you're going to miss out on some things. Like I said, you never know what's going to happen the next day. That's a big thing, it's not an 8-5 job and you have to be comfortable with that. You have to learn how to separate your emotions from the job" said Victoria.
"Even though you go home the job doesn't end. I wake up and think oh shoot I need to make sure I order that urn tomorrow or make sure we have the hearse here in the morning. You're constantly thinking about it" added Teresa.
That's another part of the job that people don't recognize enough. While families see the end result on the day of the service, they're often surprised to learn how much actually goes into making that service so special. Many funeral professionals spend time outside of the funeral home coordinating service details with other businesses or preparing for the service.
"We do it all from meeting with the family, the death certificate, preparing and embalming, doing the hair and makeup, all the way to driving the hearse. It surprises people that we do so much of the job. There's so many people think that there's a chauffeur to do this part and a hairdresser to do another part, and a doctor to do that part. We do a little a bit of everything and I think people are really surprised to see that" said Victoria.
It's definitely not a job for everyone. But those who choose to serve families give everything they have. It requires a library of skills to handle so many different facets of the job.
Thank You Funeral Directors & Morticians
On behalf of everyone at FrontRunner, thank you funeral professionals for everything that you do. Your commitment to serving families, the active role you take in community events, and for being there to help someone through some of the most difficult moments in life is appreciated.
At FrontRunner we're fortunate to work with some truly incredible clients. Your dedication and passion for your work is inspiring to say the least. We're very fortunate to have you as clients and friends.
A special thank you as well to Teresa Jones and Victoria Ordoyne. Thank you for taking time out of your busy days to help us gain more insight into the profession to be able to share with others.
If you know a funeral director or have worked with one in the past, we encourage you to reach out and celebrate them. It's a selfless job and one that should be recognized and appreciated more often.
Tommy holds a Communications degree from Laurentian University and an Integrated Marketing Communications Graduate Certificate from St. Lawrence College. He is a Content Marketing Specialist at FrontRunner and focuses on producing engaging content that funeral homes can use to connect with families. In addition, Tommy crafts SEO content for clients and specializes in helping the general public connect with the death care industry as a whole.