Recap of the 2014 National Funeral Directors Association Convention
October – the one month out of the year where many of our staff members board a plane to attend the largest funeral director convention in the world. A time where weeks before are about putting the final details on the booth, getting everything ready to ship and (me personally) praying it all arrives without a hiccup.
This year, we traveled to the one-of-a-kind Nashville, Tennessee. This is by far one of my favorite cities to travel to. Although the trip down and spending 17 hours in airports due to weather was not the most enjoyable for half of the team (while the other half was stuck in NY overnight), once we were there it was smooth sailing! The 4 days spent in Nashville have us now all looking back smiling, sometimes chuckling, but always thinking how great of a trip it really was. I will speak on behalf of the entire FrontRunner team and say that there were definitely some highlights to this year's show:
#1: FrontRunner winning the 2014 NFDA Innovation Award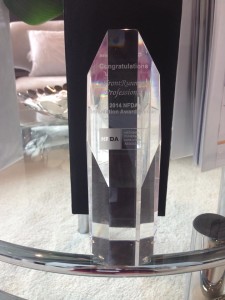 Last month I received an email from NFDA letting me know that FrontRunner was selected from a panel of funeral directors to be one of the five finalists in the running for the NFDA Innovation Award. They told me that funeral directors-at-large would cast their vote for the most innovative entry, and we would find out the results (literally) during the general opening session at the NFDA convention. First thing I thought was – COOL! The month went by and our clients, colleagues (and even people just hearing about FrontRunner's Total Business Solution) all cast their votes.
Fast forward to the day we found out we won the award – Monday, October 13th. This is the morning of the General Session where a representative from FrontRunner (Kevin Montroy – CEO/Founder) had to be backstage prior to the opening remarks. I actually went back there with Kevin at first and even behind the curtain was impressive from an event planning view. There again I thought, wow – this is just one more piece of the convention that the NFDA team organized so well.
I took my seat in the second row of chairs to get the staff on FaceTime for the big announcement. The room was packed! It probably had close to a thousand (if not more people) in it and the FrontRunner team was eager to hear if we had won. NFDA now past-president, Robert Bates called the finalists out on stage one by one – all outstanding companies by the way, who do great work – and with a small introduction of each he said "The winner of the 2014 NFDA Innovation Award is…FrontRunner Professional". Talk about a row full of excited people (yes, our row with our team and some great clients sitting with us).
On the way out, we were stopped by numerous people to say congratulations and the coming days were no different. We had more people coming to meet us, more clients coming to see us and congratulate us than any year before – it really was an amazing couple of days.
Let me say a big thank you to every person who voted for us and to all of the people out there who support FrontRunner Professional. We would not be where we are today, truly helping funeral professionals without the support – so THANK YOU! Also, a huge thank you to our team – from our programmers, designers, success coaches, sales people, content writers, marketing team and all the way to our management team– you all deserve a pat on the back. This award would not have been possible without your hard work and dedication to this profession.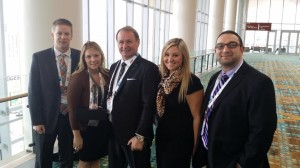 #2: Releasing FrontRunner's Pulse Business System
Another highlight for us at this year's show was releasing the Pulse Business System. After just having won the award for the Total Business Solution – the Pulse Business System marks the next evolutionary stage of the Total Business Solution.
Over the past year, our funeral home software solutions have got to exactly where we wanted them to be, and then some. Our Total Business Solution was based on the concept of a single point of data entry for deceased and family information. It was a solution that allowed funeral directors and staff to enter that information once and have it populate an online memorial tribute page on their website, all funeral stationery pieces, DVD slideshows, state, federal and local forms, contracts with QuickBooks integration and more. Our goal was to simplify their business so they could spend less time entering data and more time serving families.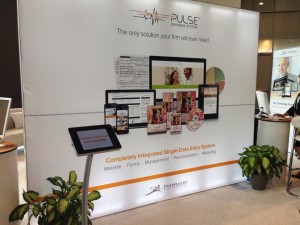 The new Pulse Business System takes our Total Business Solution and allows firms to truly monitor the Pulse of their business. It takes the information entered and incorporates website analytics, keyword suggestions, deceased and case reporting to give them the tools they need to make better decisions and grow market share. It is the only system on the market today that truly gives them everything they need in one single solution. This is exactly where we wanted our system to be so this year's show was a huge milestone for our company.
#3: Attending the Service of Remembrance featuring country music legend; Vince Gill
During the convention, we made sure to attend the Service of Remembrance. We attend this each year but being as big of a country music fan as I am, I knew I had to see this one. Vince Gill sang his song 'Go Rest High on that Mountain' that he wrote for his older brother who died 22 years ago – and still to this day, it was hard for him to sing. It was a beautiful ceremony.
#4: Seeing so many familiar faces and stopping to chat every 4 feet (literally)
One thing about these types of shows is there are so many familiar faces. We knew from previous years to always leave the hotel at least 30 minutes earlier than originally planned because you stop every 4 feet to talk to someone. To everyone who we stopped to chat with on the way to the convention center, at the booth and even out on Broadway and everywhere in between – thank you! Thank you to all of our amazing clients who came by the booth and sat with our team during the opening session while the award was given. I also can't forget to say a big thank you to all of the new faces we met as well. We had people in our booth from so many different parts of the world. I personally spent quite a bit of time with a lady from France – talk about neat conversations! We look forward to welcoming so many new firms who we met at this show to the FrontRunner family and are excited to bring new technology and solutions to our exciting clients to help them continue to knock it out of the park!
#5: The NFDA Bookstore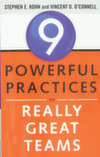 One of the highlights for myself and Jules (yes, we are

the two big nerds of the staff) was the assortment of books available for purchase. This is one place that I didn't make it to last year so I made sure to visit this year. Back home, we had just hired 3 new staff to our team and the knowledge some of the reads could give them was invaluable. Let's just say we went on a bit of a shopping spree inside the convention center. Here are just a few we picked up:
#6: Seeing so many different parts of the convention working as one
As mentioned above, I couldn't believe how well this year's convention was organized. I am not sure if it is because of the innovation award and being a part of the opening ceremony but everywhere you looked was an organized event. When you walked up the escalators, each hallway had educational sessions (which had so many great speakers and topics) and then going up to the third level; you would pass by the NFDA bookstore and other small booths before taking the final escalator up the expo hall. At night, you would see different NFDA staff hosting events around town. Bravo NFDA staff on a job well done!
Well, reflecting back – what a great show it was! We would love to hear some of your highlights from the show. And of course, we cannot wait to see you in Indianapolis for the 2015 NFDA Convention and Expo. Cheers to a wonderful year ahead!
Ashley Montroy, Marketing Director at FrontRunner Professional, has committed herself to helping funeral professionals understand and excel in today's digital age. With a long-standing history in the funeral business and her father being a licensed funeral director for over 30 years; she grew up learning the family funeral business. Ashley holds a bachelor's degree from Carleton University and diploma from Algonquin College. Today, she continues to speak to over 15 state and provincial funeral association groups each year on funeral marketing in the digital age and protecting funeral firms online using experiences and examples from working with thousands of funeral homes in North America through FrontRunner Professional.