Resources, Videos & Training Tips For FrontRunner Clients
At FrontRunner, we pride ourselves on providing premier customer service and support. After all, how many companies do know where you can call up the CEO at a moment's notice. That's what sets our team apart. From the top down, everyone here is committed to providing our clients with everything they need to succeed.
From time to time, that means offering support to resolve issues. If you call or email the FrontRunner support line, we'll be in touch quickly to help you resolve the issue. Sometimes though, many issues can be resolved by the user much faster than contacting us.
Between our support manual, training videos, and resources, there's a large library to review if you need help.
Support Manual
The FrontRunner support manual offers a wealth of information to help you use your FrontRunner system to the fullest. Most problems can be resolved by referencing this comprehensive guide. Inside you'll find Troubleshooting Tips, Frequently Asked Questions, Policies and more.
With an easy to use menu on the side, you can quickly navigate to the feature or setting you need to address. There's also a search bar available to assist you as well.
Inside the different sections, you'll find step by step advice as well as photos and videos. If there's anything you would like more information on or think we should add to the support manual, reach out and let us know.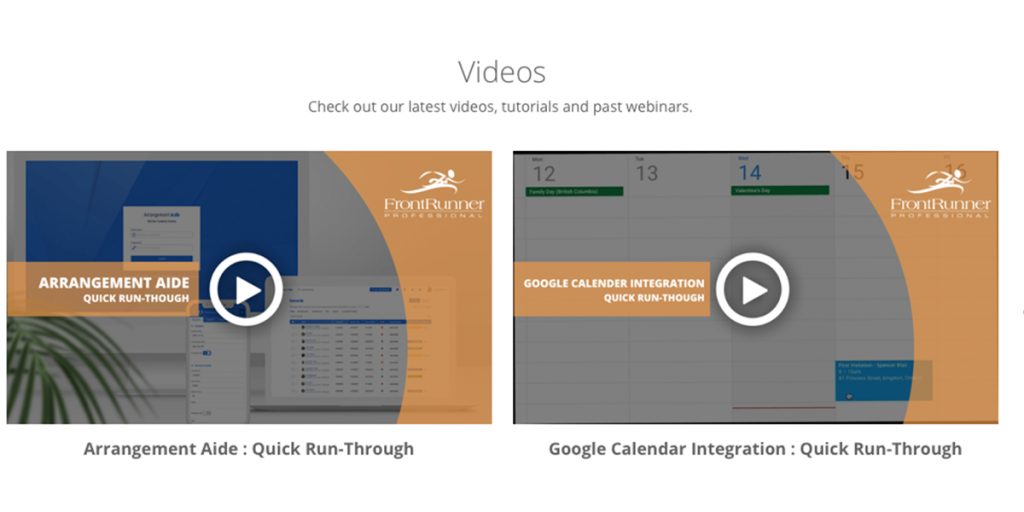 Videos
Video learning has been on the rise the past few years. That's why we've added a library of help videos to our resources section. Here you can watch brief tutorial videos to help guide you with using various tools in your frontrunner system.
You'll also be able to check out promo videos to learn about some of our latest and most popular tools like Arrangement Aide.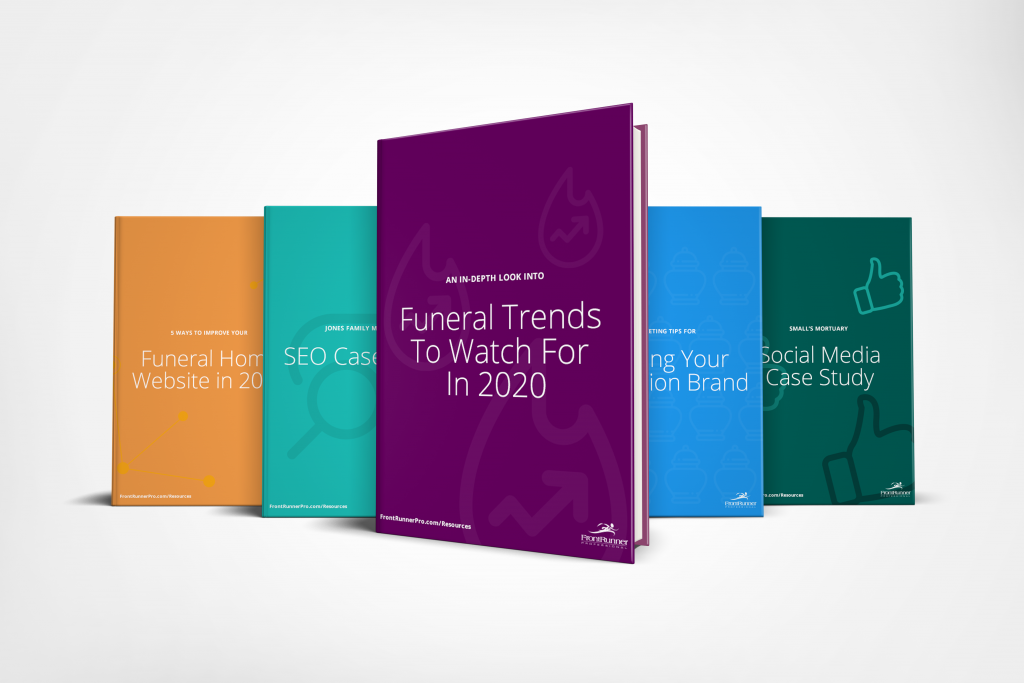 eBooks & Case Studies
Looking for advice, insights, or the latest trends? Make sure to check out the selection of eBooks and case studies on our resources page. Each month the FrontRunner marketing team updates this section with new content.
Thinking about getting started with a tool like the Pulse Business System? Maybe you want some help with search engine optimization or social media marketing? Browse our case studies to learn about the success our clients are having.
If you want to learn about marketing best practices, get website tips and more; check out the helpful eBooks we have to offer. Each month we feature a new one in out Pulse Newsletter. This library is always growing so check back often for new resources to help your business.
We're a true partner for your business!
As you can see, we want to make using your FrontRunner system easy and stress free.
If you ever run into an issue, make sure to browse through the resources shared above. If you need further help, no problem we'll be there for you.
Just get in touch with our support team and we'll gladly assist you.
Tommy holds a Communications degree from Laurentian University and an Integrated Marketing Communications Graduate Certificate from St. Lawrence College. He is a Content Marketing Specialist at FrontRunner and focuses on producing engaging content that funeral homes can use to connect with families. In addition, Tommy crafts SEO content for clients and specializes in helping the general public connect with the death care industry as a whole.