4 Simple Ways to Use Your Funeral Home Website as Your Marketing Base & Generate Results!
We're in an age where consumers want a business to take them by the hand and guide them to any and all information they seek about a product or service, online. Despite how this may sound, it's actually a good thing. Instead of having to throw funeral home marketing against a wall and hope for some of it to stick, consumers are looking to gather info on their own. The only challenge is making sure the info is simply accessible and hyper-relevant to what they're looking for. Luckily, your funeral home website can be put to work to easily tackle these tasks.

There are some simple methods you can use to spoon feed customers the exact content they're looking for. By looking at your funeral home website from a different perspective, your funeral home's online presence can be more than just another way to get a company phone number or obituaries. It can be your community's resource for death care education. Your funeral website may be filled with great content, but you need to take an extra step to guide your community to where they want to be.
You need to make sure your entire funeral home website is being seen if you want to maximize calls. Getting traffic on your obits is great, but that's the easy part. Future calls are going to come from those who have used your website as a resource and when they hear the word "funeral", "cremation" or even "cost of a funeral" and more, your firm is the first and only place that comes to mind – or at least it should be. Your marketing needs to flow effortlessly from your website and provide an easy path back to it (offline marketing included).
Here are the 4 easiest ways to build your marketing base:
Optimize Your Website to Show up First in Google, Bing & Yahoo!

A search engine's job is to provide users with the most relevant information it can, as quickly as possible based on the search terms they're entering. In order to make sure your funeral home website is ranking among the thousands of monthly searches in your community, you need to make sure the keywords consumers are searching are in your site's content. This will vary from region to region, so you need to use Google's Keyword Planning Tool to find out what your specific audience is looking for. If the keyword typed into Google is not on your website, how can you expect Google to choose your website as the top result?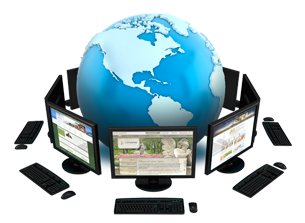 According to Google, 4 out of 5 consumers use search engines to find local information. This is a huge stat for funeral homes! Search Engine Watch states that the number 1 position in Google gets 33% more traffic, and from that position, traffic drops dramatically. In fact, Page 1 results on Google receive around 91.5% of all the traffic. These stats may seem a bit intimidating at first, but you'll be surprised at how big of a change a few keywords will make.
It's important to think outside the box a bit here too. You don't want to simply match keywords to the services you provide, but all aspects of your funeral home website. Try to capture people in your community who may be looking for grief resources after a loss by implementing the appropriate keywords into a page on your site about this topic. Or become the leading local resource on cremation by using keywords to make sure users land on a specific page on your site which will answer all of their questions. It can take a bit of time to notice the results, but the impact it will have on your traffic will be massively positive.
2. Use Your Funeral Home Website to Power Your Social Media Channels

Coming up with engaging social media posts that drive traffic to your site day after day can be difficult for funeral homes. However, many of you may not be using a tool that's right under your noses to its fullest capacity: your funeral home website.
Your web pages are a great resource for posting relevant and useful content, and best of all this method provides a direct link to where you want families to go. The trick with posting your website content on social media is using a roundabout method.
Let's use the Central Funeral Homes' webpage below on organ and tissue donation as an example.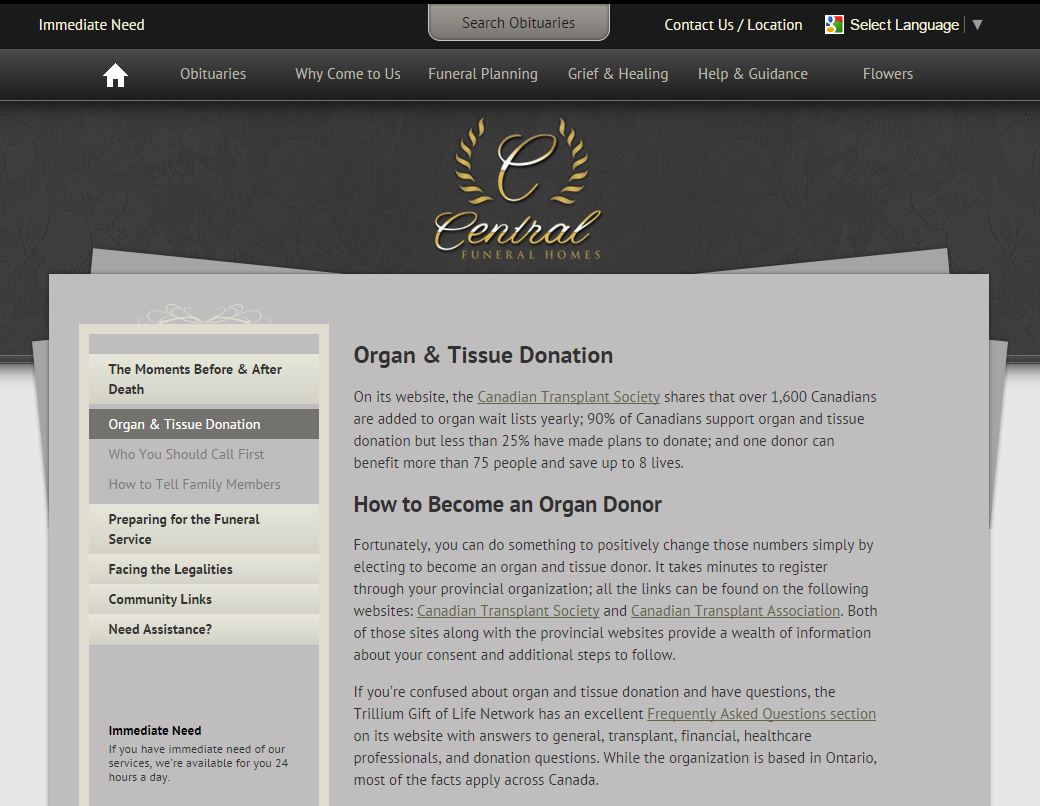 In no way does this page try to sell anything to families, get them to pre-plan online, or convince them of anything regarding using your funeral home for death care services; that's not the point. The idea with a page like this is to try and educate consumers, all while displaying your brand. This social media post could have a graphic and say something like:
Did you know one organ donor can save up to 8 lives? Are you a donor? Learn more about organ and tissue donation here: [insert link to the page on your website]
Provide the link, and then families are guided directly to a page with all of the content that you promised. This will help them view you as a learning resource and make them realize that your funeral home website is more than just an obituary database. You'll see much better results than simply saying "Pre-plan now!" with a link to your online form. The next time they have questions about grief, death care, legalities, or otherwise, they may just turn to your funeral home website for the answers.
3. Bridge Your Funeral Home Website and Offline Marketing Efforts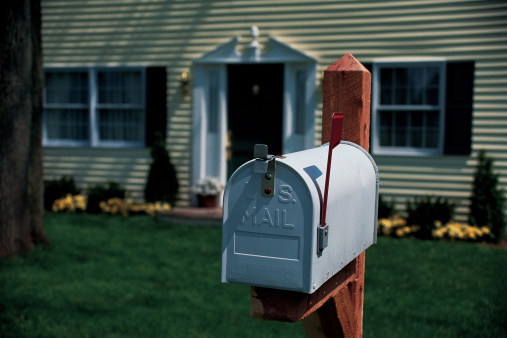 Virtually everything is fully integrated today, and this has huge implications on marketing. You can combine different marketing channels in unique ways to measure how your offline ads or marketing materials are doing and better decide how to spend your marketing budget. One of the simplest ways to integrate your marketing is through your print and online.
You do this by including a call to action (ex. "Visit us here to learn more:") and then following it up with the URL to a relevant webpage. Providing a link to your website on your print ads does a few things:
Directs consumer to the exact page they're looking for that relates to the ad. For example, this is a good place to link to your online pre-planning page. You use your ad to convince them of why it's a good idea, and then show them where to do it. It simplifies the process for everyone involved.
Track how the specific ad is doing using Google Analytics. By using a specific link in an ad, you can track the number of visits to your website from the specific ad. This way, if you're spend time and money on offline marketing, you can put a link such as www.MontroyFuneralHome.com/YellowPages to see exactly how many website visits that ad got your firm and measure your return on investment (ROI).
Increase your chances of generating leads. By exposing people to your funeral home on multiple platforms, you're creating more opportunities to be seen. Providing an online resource also gives people who see your print ad the opportunity to learn more about your funeral home on their own time.
Some of you may still be spending hundreds on newspaper and YellowPage ads (don't worry you're not alone), and some are probably getting some results from them, but how can you know for sure if you aren't tracking them? Combining your website and offline marketing lets you look at your budget in a new light so you can make the most of your dollar.
4. Your Website and Funeral Home Resources
Similar to print ads, any resources your funeral home distributes should also point back to a corresponding page on your website. If you hand out grief resources, provide a link at the end of the handout where people can go for more information about the topic of the brochure or marketing piece. This means the exact page too. Just sending people to your homepage  and expecting them to know where to find those great grief resources you talked about, for example, in your brochure isn't good enough anymore. You need to guide them to the exact page they're looking for to make the process of finding info as painless as possible.
Another big part of your materials is funeral home branding. People who receive anything from your funeral home should immediately recognize it as yours. Your online presence is no exception and is in fact filled with opportunities to brand your funeral home and tell your community what makes you so special. I can't tell you how many funeral homes I visit who create a three-fold brochure on white paper with some text and a logo with a few pictures. This simply does not match the quality of their brand and their beautiful online presence. Do you see the disconnect that can happen?
Creating a Solid Base for Your Funeral Home Marketing

There are many elements to a funeral home marketing plan, but you need to make sure you have a solid base before you start to build these elements up, and it all starts with a great funeral home website. With a proper marketing plan, you can help direct consumers exactly to the information they're looking for and they'll thank you in the long run.
Your funeral website should not just be an item on your checklist. It should be used as the base which all your marketing stems from, and it should be full of great keywords, resources and it should be ever-evolving. From here you will be able to position yourself as the go-to resource in your community, creating more leads and generating calls like you never thought possible. If you'd like to build a better funeral home website for your marketing base, you can book a time with FrontRunner product specialist, Jules Green. She'll take great care of you!
Before I go, I'm curious to hear from funeral professionals out there: Are you using your funeral home website as a base for all of your funeral marketing efforts?
Ashley Montroy, Marketing Director at FrontRunner Professional, has committed herself to helping funeral professionals understand and excel in today's digital age. With a long-standing history in the funeral business and her father being a licensed funeral director for over 30 years; she grew up learning the family funeral business. Ashley holds a bachelor's degree from Carleton University and diploma from Algonquin College. Today, she continues to speak to over 15 state and provincial funeral association groups each year on funeral marketing in the digital age and protecting funeral firms online using experiences and examples from working with thousands of funeral homes in North America through FrontRunner Professional.