4 Steps to Knowing What Your Community Types into Google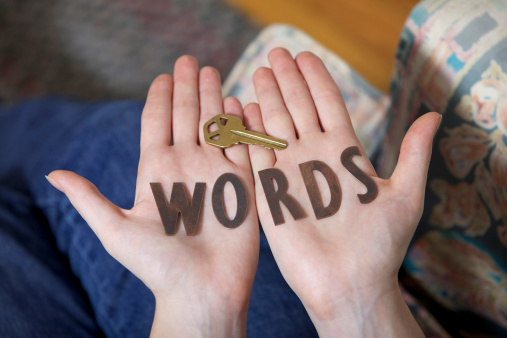 Search engines love keywords. In fact, keywords are critical to any funeral home's Search Engine Optimization campaign. If you don't take the time to figure out what words and phrases work best, any plans to attract more visitors won't get very far. And, all the work you've put in to your website will be a waste of time and money if no one is actually finding your site online.
What keywords are best?
The best keywords for your website are dependent on your community, your families, your competition, and the services your firm offers. The best thing to do is to take the time to figure out what words and phrases people use – what your competitors are using – and what are the best ones to describe your services.
Step #1 – Prepare your target keywords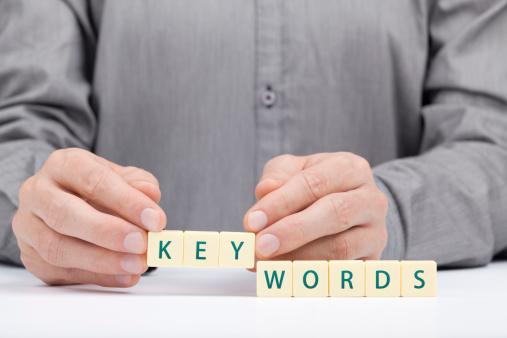 This step takes time. Type out a list, similar to below, that features the words online visitors would be using to find your firm, adding your city or town to each. Put words and phrases like this in a spreadsheet or a similar document so you can track the progress now and in the future:
General Terms: funerals, funeral homes, funeral arrangements, obituaries, cremations
Funeral Planning: funeral costs, planning a funeral, pre-planning a funeral, how to plan a funeral
Grief & Healing: grief support groups, how to deal with grief, bereavement support groups
Help & Guidance: funeral guide, funeral etiquette, writing a eulogy, price list
Services You Offer: traditional funeral services, cremation services, online flower ordering, memorial websites, grief aftercare
Competitors' Services (services you may or may not offer): funeral webcasting, memorial DVD creation, grief resources, funeral prices
There's no magic number as far as how many keywords and keyword phrases you should search but the more you add, the better. It's also a good idea to incorporate words that most people would use as opposed to formal funeral service terminology. For example, are online visitors more apt to type in the word 'burial' or 'interment'?
Once your initial list is complete, walk away for a few minutes to see if anything else comes to mind. Every online visitor is different and has their own way of searching for information. Think of all the ways that people may refer to a service or product that you offer.
Step #2 – Let the Research Begin
Did you know there are free tools that can tell you exactly how many times a keyword is searched in your community? What a powerful way to bring more people to your funeral home's website! Rather than entering every keyword into the search engine, one by one, we recommend that you use Google AdWords, a free keyword research tool that is handy,  effective and will make your life a whole lot easier. If you don't have an account, not a problem. Create one by going to the AdWords website and signing up. From the first page that opens, mouse over 'Tools' in the top menu and choose 'Keyword Planner.'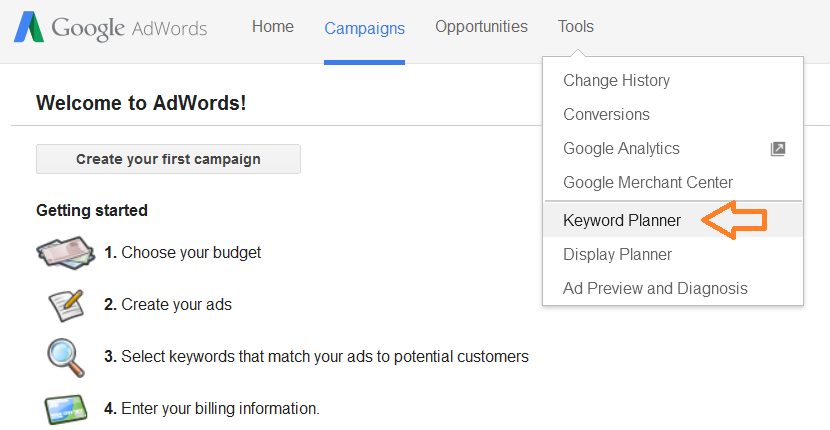 Choose 'Search for new keyword and ad group ideas.' Fill in the fields as shown below. Enter your keywords (separated by a comma) into the top field. It's also important to define your target – especially your city and language. Then click on 'Get Ideas.'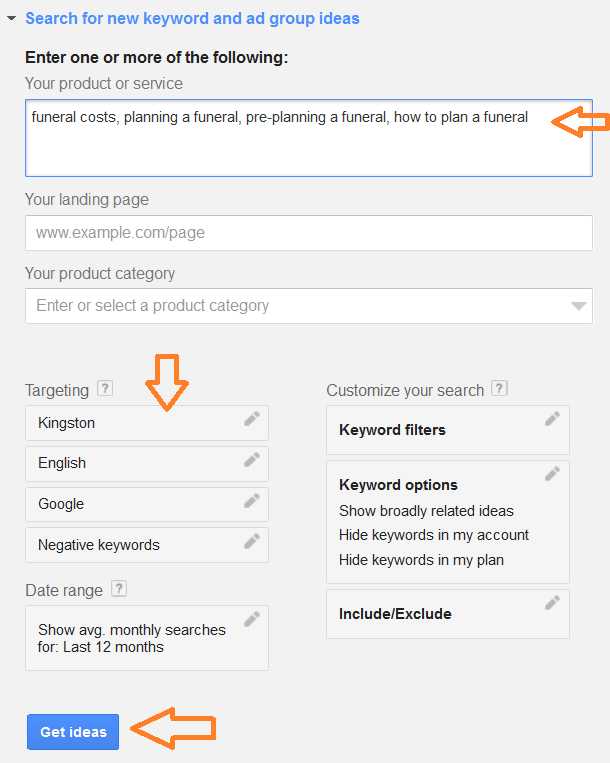 Step #3 – Keyword Ideas
Click on the Keyword Ideas tab to see a rundown of the keywords you entered as well as a list of keywords by relevance.  Google AdWords summarizes the average number of monthly searches (based on previous month) and the level of competition or how many other websites are using these keywords. The most ideal keywords are those that range between 10-20 (or higher) for average monthly searches and have low-medium competition.
In the example below, the first three keyword phrases are relatively strong and should be incorporated into your website. The term 'pre-planning a funeral' was not searched so that can be put on the back-burner for now or you can rephrase it and click on 'Get Ideas' again to see if the results are any different.

When you scroll down the page, you will see 'Keyword (by relevance).' This will give you an even better idea about what terms are being used to search for the services you may provide. Note that there are more searches for 'funeral homes' but the competition is medium – some of your competitors are using this keyword. The keyword 'cremation' is searched often as well but it appears most of your competitors are using this keyword.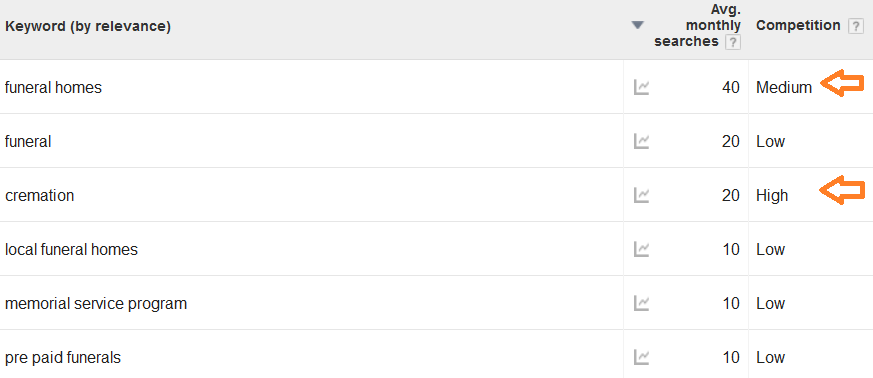 It's quite fascinating to determine what people are searching and then determining what would work best on your site. While Google AdWords does offer a chance to purchase the services (ads), it's not necessary. There are enough keywords and enough ways to optimize your website without having to pay for this to boost your website rankings.
Step #4 – Google your competition
It's also a good idea to take a close look at your competitors' websites. See what pages and information they have on their sites that you should have on your website. Type in a few of the strong keywords you have chosen to see how your competitor fares in the rankings.
Again, this all takes time but once you get the hang of it, it can become a painless monthly ritual. You need to determine what people are searching in order to take the steps to ensure your website is seen. Select the keywords with higher search volumes and low-medium competition.
What's Next?
Once you have determined what keywords will work best for your website and in your community, the next stage is effectively implementing them into your website. We'll cover that in the next post: 'Stop Guessing & Start Seeing Results: Bring More Visitors to Your Website by Using the Words They Google.' If you have any questions before then, don't hesitate to contact FrontRunner.
Ashley Montroy, Marketing Director at FrontRunner Professional, has committed herself to helping funeral professionals understand and excel in today's digital age. With a long-standing history in the funeral business and her father being a licensed funeral director for over 30 years; she grew up learning the family funeral business. Ashley holds a bachelor's degree from Carleton University and diploma from Algonquin College. Today, she continues to speak to over 15 state and provincial funeral association groups each year on funeral marketing in the digital age and protecting funeral firms online using experiences and examples from working with thousands of funeral homes in North America through FrontRunner Professional.