How Posting Your Obituaries to Your Website Without Delay Helps Increase Traffic, Service Attendance & Revenue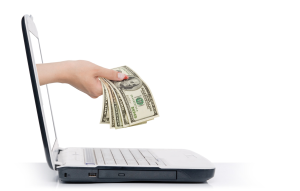 When a death occurs, a funeral director has to spring into action. There are countless tasks to be done and each one is as important as the next. The slightest detail missed can mean one very upset family. One of these many important tasks is creating an obituary with the family that will honor the life of the deceased, inform friends and family of the death, and notify those interested of the possible upcoming service. An obituary is a powerful message to the public and is not something that should be rushed. However, getting an obituary online quickly can have huge implications on your funeral home's business.
Obituaries can be sad, funny, to the point, or even used to convey a higher message. In short, an obituary reflects the deceased it was created for and is the most efficient way to let people know they have passed. No matter your involvement in helping a family create an obituary, you have a big responsibility in getting the word out there once it is created. Newspapers do still play a large role in obituary and death notice publishing, but the internet has since changed the distribution game, and this is good news for funeral homes.
In the past, funeral directors relied solely on media outlets such as newspapers to get information about a funeral out to the public, but now they have much more control over the process. Once the obituary is created the funeral home and family can control where it's going and can opt to only post the obit online if desired. Of course there are dangers of obituary piracy which should be taken into account when posting online, but these can be easily avoided by staying informed. As I'm sure most funeral directors know, the benefits of posting your obituaries online far outweigh the risks. What some of you may not know, is how when you post the obituary can affect your business.
It may seem obvious that you should be posting your obituaries as close to the time of death as possible, but many funeral directors still don't do so. The fact is, by waiting even a few days to get the obit online, you could be losing easy business and exposure and those companies who are taking your obituaries and creating memorial tribute pages of their own will now have an advantage. Here are some of the top reasons you should make posting your obituaries online a top priority as a funeral director once a death occurs. It's important to find a funeral home software the optimizes the obituary process.
Better Attendance at Services 
This is the most obvious reason and one of the main reasons obituaries are posted online in the first place. Family and friends want to know when someone has passed away the moment it has happened. Those who wish to attend the funeral will want to know the service details as soon as possible so that they can make the necessary arrangements to be able to attend it. People may find out about the funeral in many different ways, but having them count on your firm for this info creates some powerful branding and is something funeral homes should strive for.
The simplest way to achieve this is indirectly through the family of the deceased. As is expected, most will hear about this passing from the immediate family. Some may get a call from them directly, but others will hear about it and search for it online. Aside from posting the obituary yourself and sharing it on your own social media channels, you should be encouraging family members to share the obituary you create through their own social media accounts as well. It doesn't really matter how or where people see the obituary, as long as they're being linked back to your site and not to a third party website where your obituary is living, it's a win for your funeral home.
The more eyes you have on your website, the better, and the earlier these people see service information, the more likely they are to be able to attend. Getting more people to a service will not only let more people know about the value your funeral home offers, but the family you're serving will also greatly appreciate the large number of comforting faces they were able to see. Knowing that you can have some control over this is a pretty amazing thing.
Boosted Organic Search Engine Rankings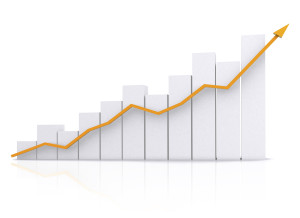 There are many factors at play when it comes to search engine optimization (SEO). One of these factors is the age of a webpage. Naturally, the sooner you post an obituary, the older the page will be. Another factor for SEO is the traffic of the webpage. Being that obituaries receive the majority of their traffic within the first few days they're posted, it is vital that your funeral home is the first one to post them so you don't get left behind in the search engine rankings. As you can see from these two factors alone, getting your obituaries online quickly has huge implications on search engine rankings. Improving the rankings of these individual tribute pages will in turn have positive effects on the traffic and search engine rankings of your site as a whole.
Another reason you'll want to get your obituaries up quickly, is to rank ahead of others who may be posting them. You may work with a newspaper to distribute your obituaries, but in a sense there is some competition between you two online. If you are able to get your obit online before a newspaper does, there is a very good chance that it will rank higher in organic searches. It's good for people to hear about a service in any way that they can, but it's even better if they're finding out about it from your website. This way you are able to ensure the obituary is seen under your branding and messaging, and that your funeral home's reputation stays intact and in your control. Not to mention the fact that you're directing them to your online revenue generators…which brings us to the last point.
Increased Online Revenues
Perhaps the most compelling reason to promptly post your obituaries online is that it can actually generate you more money. Similar to service attendance, when an obituary is posted as soon as possible, it gives people more time to access it before the funeral and increases the chance that people will make purchases through your funeral home's website. This is fairly straightforward logic when you think about it, yet some funeral homes wait up to 10 days before publishing their tribute pages!
Understandably there may be cases where the posting delay is out of the hands of the funeral director. However, for those who are delaying putting their obits online without good reason, we have some powerful stats that may help you change your ways.
Take a look at these numbers taken from a few anonymous clients of ours.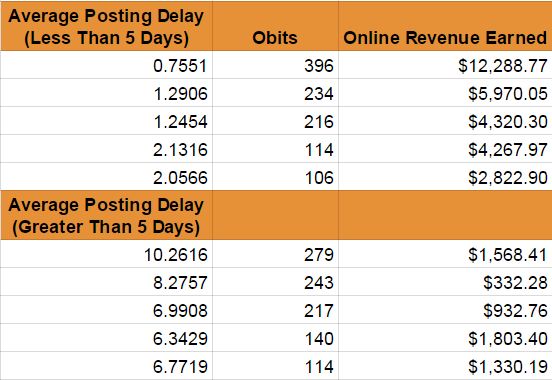 As you can see from the chart above, all of the funeral homes who posted their obituaries online with a delay of less than 5 days, earned more revenue than those who waited more than 5 days. The evidence becomes even more compelling when you look at a funeral home from each posting delay group with a similar number of obits posted. From these examples, it's plain to see the difference that just a couple days can make when deciding when to put your obituaries up.
Of course there are more factors at play than the ones shown here, but these stats shouldn't be taken lightly, especially when you look at the difference in revenue between the top firm from each group in the above example. The Book of Memories, FrontRunner's online memorial platform, makes posting records and beautiful tribute pages a painless process. With our one-write logic, you only have to put the info of the deceased into your system once and it populates every area you'd need it to. It's tools like this which allow you to post records quickly without a second thought.
By being diligent with your records, there is a potential to make your funeral home more profitable and raise a lot of awareness and keep your firm top-of-mind. So go ahead and fill your services with happy families, protect your online obituaries and ensure the traffic and profits that come from the online obituary are coming to you and not someone else – all just from getting your obituaries online quickly.
So, what are you going to do? Start posting your obituaries to YOUR website before you even send them to the newspaper. You don't want to be pushed down the search engine rankings because the newspaper's website has your obituary up first. It's your traffic, your revenues and your future on the line and there is no reason to not start doing this today!
If you want to learn more about best practices for how to use your obits to increase attendance and revenue, and how to protect them online, please don't hesitate to contact us.