Is Your Funeral Firm Six Feet Under?
I've always loved the HBO series, Six Feet Under, so I jumped at the chance to see it again when Amazon Prime recently made all five seasons available to subscribers. The long Fourth of July weekend gave me ample time to dive in with both feet.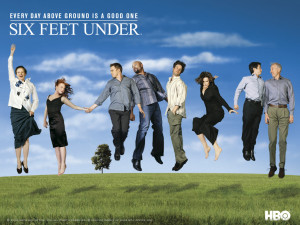 Without doubt, the second time around watching Alan Ball's landmark series has not only been fun, it's been insightful. It has led me to more deeply understand and appreciate the real value of funeral service software for those of us who work day-to-day on the front lines of funeral service. Sometimes, true learning happens when we least expect it.
When I saw it before, I had yet to obtain a funeral director's license and was fairly unfamiliar with the ins-and-outs of funeral home operations. Now, with real world experience and after spending some more time with the Fisher boys, I'd like to offer a few thoughts about how we – with the assistance of advances in funeral technology – can avoid at least some of their work-place headaches. Even if you never saw (or liked) Six Feet Under, I think you'll benefit from what I have to say about nagging funeral home inefficiencies.
First, let me share this quote from Ruth, the matriarch of the Fisher clan. It's not astoundingly witty but it typifies an average day in the funeral home: "I'm never sure what to expect. Every day is a new adventure." That certainly cuts it all down to the quick.
When faced with a profession as unpredictable as funeral service, it helps to have a strong foundation of identifiable, proven processes and procedures. Unfortunately, that's exactly what the Fishers don't seem to have; almost every intake is fraught with personal angst and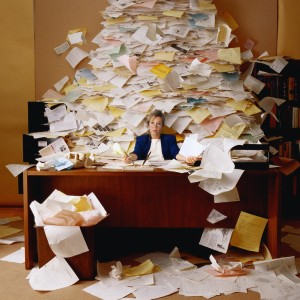 professional mismanagement. For example, when Nate Fisher goes downstairs to the prep room to locate vital paperwork, he's stymied by the mess. When he's working in the office, he's met with stacks of papers and file folders, and about a billion post-it notes on the bulletin board. (Not quite as overwhelmingly cluttered as the scene on the left but almost.)
It's no surprise that Nate says to his brother (when speaking about his new role as a licensed funeral director), "You know, I keep thinking it's going to get easier. But it just doesn't." David replies, "No, it doesn't. It just gets more familiar."
What's that old adage? Ah, yes: Familiarity breeds contempt. While the statement usually applies to relationships with other people, very few of us will argue that becoming overly familiar with inefficient, unproductive workplace systems like those of the Fisher & Sons Funeral Home can certainly lead to a contemptuous relationship with our chosen career.
Fortunately for us, there's business management software designed exclusively for funeral service professionals that can put an end to both office-related clutter and our growing sense of frustration (or contempt) with day-to-day funeral home operations.
Consider FrontRunner Professional: we offer two versions (web-based and PC-based) of our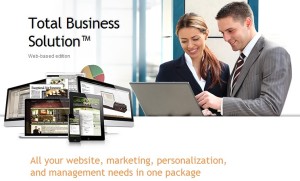 proprietary software, the Total Business Solution. It's described as "all-inclusive management, website, marketing, and personalization software." And from what FrontRunner clients are saying, the Total Business Solution could be exactly what the Fishers (and perhaps your funeral home) need to stay competitive.
Simplify, Organize, and Centralize…As If by Magic
Very few of us really consider technology to be magical but science fiction author (and inventor), Arthur Clarke, certainly did. In his book, Profiles of the Future: An Inquiry into the Limits of the Possible, he wrote, "Any sufficiently advanced technology is indistinguishable from magic." Without doubt, the clutter and overall inefficiency of the Fisher family's funeral firm could stand a bit of magic.
At the heart of the Total Business Solution is a multi-functional, user-friendly website, built with content designed to meet the expectations of today's families living in this information age. Featuring social media integration, the Total Business Solution website generates leads from the online prearrangement system; includes effortless, built-in revenue generators; provides invaluable information to families about firm and funeral options; and uses apps to display grief support, local weather, news, and those all-important client family testimonials.
It also features the very popular online memorialization feature, the Book of Memories™. Online visitors can read a loved one's obituary, learn service details, leave a message of condolence, light a memorial candle, send flowers, and make a memorial donation safely and securely. Website visitors will even be invited back one year later with the built in anniversary reminder. How is that for effective automated service?
Here's one of the very best and most advanced aspects of the FrontRunner funeral home websitevv: It's been built with responsive technology, another magical aspect of this all-inclusive funeral service software.  In short, the developers made it so the system automatically reconfigures your website to look perfect on any device – smartphone, tablet, laptop and full-screen computer monitor. Since more than 1/4 of web traffic comes from mobile devices (and that number rises every month), it's really high time your funeral firm had a device-friendly website.
The Total Business Solution system also makes the day-to-day management of at-need and pre-need cases easier than ever. The web-based, fully-integrated flexible funeral home management solution allows you to track inventory, generate contracts, export to QuickBooks accounting, and print all necessary forms in minutes. Additional features include employee data maintenance, time sheet entry and tracking, and employee training management. (The Fishers could have more carefully tracked the hours and activities of their embalmer Frederico and their very short-term apprentice, Arthur.)
Since we're talking about reducing clutter, there's even an arrangement package that allows you to interact and engage with families at differing levels. Once the arrangement is complete, it's ready for use in all areas of your system from your website, to your forms generation, to notices submission.
Using app-based technology, the Total Business Solution (whether you choose the web-based version or opt for the PC-based system) is fully customizable, making it very easy for your firm to have exactly what's required; no more and no less.
When it comes to avoiding mistakes and reducing clutter, this integrated funeral service software system (like all FrontRunner technology solutions) was built with one-write logic. That means your funeral home employees need to enter vital service information only once; the software does all the work by pushing the data to where it's needed within the system. Now, that's efficiency-in-action.
Is It Magic…or Simply Brilliant Design?
FrontRunner clients seem to think it's a little of both. Chris Chappelle of J.J. Patterson & Sons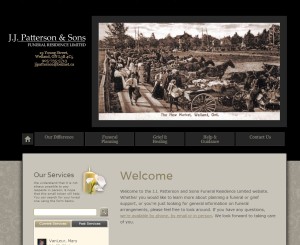 Funeral Residence Limited, in Welland, Ontario, Canada, describes it as the "single best marketing strategy we have utilized since acquiring the funeral home. The feedback from the families we serve and those using the site have been phenomenal. The only ones who aren't pleased with the site are our competition." Tim Buckley of the American firm, McMahon, Lyon and Hartnett Funeral Home in White Plains, New York simply says, "FrontRunner Professional keeps our funeral home on the cutting edge." With a customized version of FrontRunner's Total Business Solution, your firm can be in exactly the same place: on the cutting edge and poised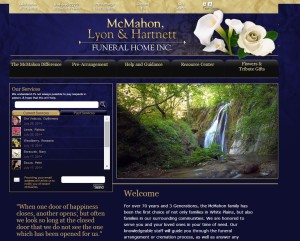 for greater success.
Is it time for all of us to take a lesson from the inefficiencies of the fictional Fisher & Diaz funeral home? I think so. After all, ours is a uniquely personal profession. How many times have you simply sat holding the hand of a grieving widow, bereaved parent, heart-broken sibling, or child?
For me, those are the most meaningful moments in Six Feet Under; they are reminders of the essence of the important work funeral professionals do. In my humble opinion, anything that relieves funeral directors (and funeral home support staff members) of the tedium of paperwork and recording-keeping, and significantly reduces the possibility of mistakes, helps us to do that work in a less distracted, more attentive, and ultimately, more profitable–way.