Two new FrontRunner offerings bring more visitors to your door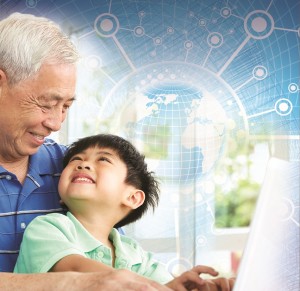 As part of FrontRunner's commitment to create effective tools to help funeral homes extend their reach further in their communities, we are pleased to announce that two new services are now available to our clients. Both search engine optimization (SEO) and integrated funeral webcasting services are in-house options that will lead more visitors to your funeral home and make a lasting impression on families.
Bringing more families to your website one search at a time
FrontRunner's new SEO team is in place to offer extensive, affordable services to boost website traffic and increase the online visibility of our clients' websites. The certified team is made up of strategists, programmers and content writers who focus on a careful blend of technical expertise and content production.
It's one thing to have a live website; it's quite another to have visitors actually find your website with ease. Competition is fierce for top online rankings so it's necessary to make sure that your website is fully optimized meaning it is both search engine and people friendly.
Since 90 percent of all online traffic to your website is achieved through the search engines, taking advantage of specialized SEO services can mean the difference between high website visibility and getting lost in the constantly shifting internet landscape.
Why choose FrontRunner for your SEO services?
FrontRunner is dedicated to providing clients with everything they require from a Technology Partner. Many of our clients expressed frustration after spending significant sums of money with other SEO companies that produced few tangible results. It only made sense for us to develop a comprehensive SEO program.
We are the website provider for our clients. Who better to optimize a website than the company that built it?
As a family-owned and operated business founded by a licensed funeral director, we understand the challenges faced by funeral firms and what it takes to compete online.
We understand the funeral industry since death care professionals are our only clients.
There are countless companies out there offering SEO services but do they understand what funeral professionals do and what families in particular communities are looking for – the terminology they are using – as they search for funeral services? The FrontRunner SEO team develops strategies that incorporate this type of information as well as community-specific details.
The new SEO team is just another way FrontRunner is working to raise the bar of online business systems and processes for their clients. The three annual packages focus on various levels of optimization strategies that suit any website and budget.
For more information about the new FrontRunner SEO Maintenance Packages.
Bringing family and friends closer together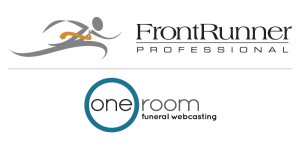 In an ideal world, family and friends who choose to gather in person for a funeral service would have the time and money to do so. Unfortunately, that's not realistic for those who live in different cities and countries, and on different continents.
A new partnership with One Room has created an exceptional integrated webcasting solution that brings families and friends closer together at their greatest time of need. This revolutionary service for FrontRunner's funeral firms simplifies web streaming and delivers private, reliable and high quality experiences for people around the world.
One Room offers high-definition, cloud-based streaming that is accessible from any device. There is no software to download and it's fully automated; funeral home staff can remotely control the system from a smart phone while they tend to the needs of the family. The advanced integration into the Book of Memories means staff work in one system to produce videos that families will appreciate and treasure forever.
One Room allows an unlimited number of family members and friends who are unable to be at the funeral to share the experience on the day of the service or view it at a time of their choice using a private access code. Email addresses entered in the system receive e-invites with login details. A recorded archive, to view online or download later, creates a permanent memento for the family.
Callum Winsor will lead and develop One Room's North American Division. He coordinates sales and customer service, and works with local distributors. Callum is the ideal person for this job because he, like so many others, was unable to attend the funeral for a special relative.
"What really drew me to this position was the memory of how hard it was to miss my great grandmother's funeral several years ago because the plane ticket across the country was just too expensive. This new role allows me to provide a system that will keep others from suffering that pain from not properly mourning a loss."
To learn more about One Room, please contact us.