As our team finishes the final preparations to head the International Cemetery, Cremation and Funeral Association (ICCFA) convention next week, I wanted to take a minute to share some of the things that make it a place that I enjoy returning to again and again! Nashville is one of my absolute favorite cities, whether going for work or for fun (or both)! If you're heading there next week, you'll want to make time to take in some of these amazing things that Nashville has to offer. Let me give you some things to take in from experience.
1. Amazing Entertainment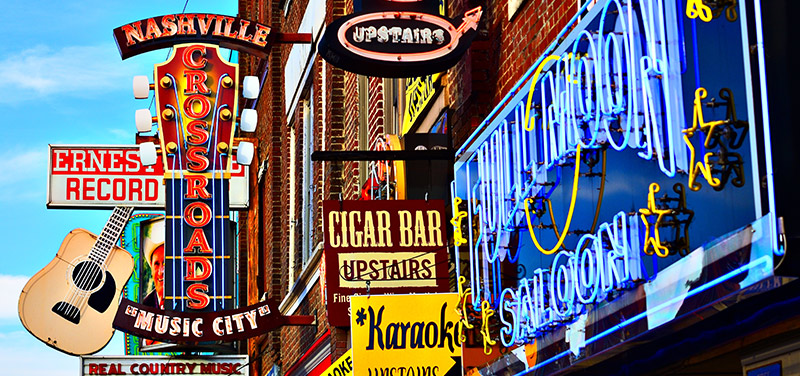 Nashville, also known as Music City, is chock full of entertainment, especially if you're a country music lover like I am. Set aside some time to take a stroll down Broadway – there is live music literally at every other door.This has to be my personal favorite thing to do in Nashville!
The FrontRunner team has a few favorite spots that we love to visit for live music when we're in Nashville. You might even find us busting a move or two on the dance floor,or riding a mechanical bull (yes, FrontRunner's COO Jules Green gave this a whirl):
Tootsie's – Last time we were in Nashville we spotted famous country music singer, Randy Houser here.
Honky Tonk Central – 4-story (!!!) bar full of live music
2. Everything Country Music
Country music fans will be right at home in Nashville. From the cowboy boot selection to the crowds of people loving the live music, you're bound to find something you love in Nashville!
3. Being a Tourist in Nashville
If you're interested in the touristy stuff, there are many fantastic options in 'Music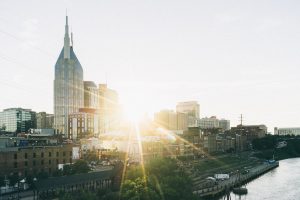 City'.Nashville is most commonly associated with Grand Ol Opry, the "home of country music" which has showcased country legends for many years. There are a few events taking place during the run of the convention which you may be interested in checking out! The Ryman Auditorium is another monumental Nashville music venue. Known as "the spot where Bluegrass was born", the venue now hosts events from all genres of entertainment. If you're a fan of the TV show Nashville (or even if you're not), you'll want to stop by The Bluebird Cafe. This 'listening room' offers two shows every. single. night.
4. Delicious Eats!
One of the things that I love the most about travelling all over the world is trying all the different restaurants and food options available, and Nashville definitely stands out here. The Omni Hotel, the host hotel for the ICCFA show, has the most amazing fried chicken at their southern comfort food restaurant,Kitchen Notes . Jules Green and I can both attest to this from our last trade show in Nashville,. If traditional southern BBQ is more your taste, give Jacks Bar-B-Que on Broadway a try. Expect a bit of a wait, but it will be so worth it once you taste that brisket!
5. The FrontRunner Booth at the ICCFA Convention
You know we saved the best for last! Stop by to see the FrontRunner team at booth # 1119. Myself, Jules, Robyn and Catherine are very excited to meet new funeral professionals and catch up with old friends and clients. We're opening up our team to all attendees: if you want to have us take a look at where you stand online and recommend where you're lacking online and what you could do to grow in 2017 just fill out the form here. It's absolutely free. Think of it as some free advice to help you knock it out of the park this year!
It's our first time back in Nashville since 2014, when FrontRunner was awarded the NFDA Innovation Award, so we're thrilled to be back for another amazing show.
Also, speaking of the show, ICCFA is hosting some great and informative sessions, has a great line-up of exhibitors and we know that the 2017 ICCFA convention will be the best one yet from the looks of everything.
We'll be offering some exclusive ICCFA convention specials (25% off kind of specials), so be sure to pop by and say hello!
Ashley Montroy, Marketing Director at FrontRunner Professional, has committed herself to helping funeral professionals understand and excel in today's digital age. With a long-standing history in the funeral business and her father being a licensed funeral director for over 30 years; she grew up learning the family funeral business. Ashley holds a bachelor's degree from Carleton University and diploma from Algonquin College. Today, she continues to speak to over 15 state and provincial funeral association groups each year on funeral marketing in the digital age and protecting funeral firms online using experiences and examples from working with thousands of funeral homes in North America through FrontRunner Professional.