The Remarkable Opportunity within the Pet Loss Information Gap
I've been thinking a lot lately about what's called the "Information Gap" — a surprising phenomenon in this age of information overload. Basically, the gap divides the "information haves" — those folks with access to information and the skills to use it, and the "information have-nots", who (for one or more of three reasons) haven't a clue. What's so important about this gap? It's where opportunity resides. And the emerging pet loss profession was born in this gap, and offers amazingly profitable opportunities for funeral professionals because it fills a growing need among pet owners.
Consider this scenario: a young woman who was forced to put her dog down by local animal control authorities, and left to deal with her situation alone. No advice was given and certainly no compassion was offered. As smart and Internet-savvy as she is, she was not given time to access information; to discover she had options. And the wound left by her dog's sudden departure continues to hurt her deeply, even years later.
Then there's the family with young children, whose pet has died. They are busy, loving parents; and oh, so want to ease the sadness of their youngsters. But how?! Without professional support, that's how. They will muddle through; do their best. Yet, had they known where to look, they could have done better — for their pet, their kids, and themselves.
These are people familiar with pet "ownership" (I ask you, who really owns who?!), but totally unfamiliar with the many ways this new profession could help them during this family crisis.
That's clear evidence of the gap. And we're going to call it "Opportunity", because that's just what it is — and it's right here for the taking.
Why Serve the Growing Number of Pet Parents?
In short, because there are more pets than ever, and more money is being spent on them every year. Kit Yarrow, author of an October 2012 Time Magazine online article, Millions on Pet Halloween Costumes? Why We Spend More and More on Pets, shares some staggering numbers about Americans and their pets. "Last year, consumers spent $51 billion on pets," Yarrow writes, "a record that's expected to be broken again this year. As recently as 2002, total pet expenditures in the U.S. came to less than $30 billion. "Part of the surge in pet spending," says Yarrow "is simply because there are more pets out there. In 1988, 56% of American households had a pet. Today, pets are part of 62% of homes."
That's a whole lot of families, and you can bet many of them are in need of trusted pet loss service providers. And the smart ones will turn to their local funeral firm for assistance. Why? Because it's a natural assumption to make. And one that could lead to higher revenues for you. Here's one example.
Mike Harris, a speaker at the Pet Loss Business Development Conference series held this past July is a funeral director with his family-owned firm Paul. R. Harris Funeral Home in Rochester, New York. At each conference location, he shared this persuasive nugget of information with audience members: he could directly attribute 32 new calls — in the span of 3 years — at the traditional funeral home simply because he had served their pets.
Now, I don't know the financial details of each of those 32 arrangements, but I'll wager they significantly added to the firm's bottom line. Not to mention the significant gains in their reputation as full-service funeral home, staffed by dedicated and compassionate funeral professionals.
I personally am stunned that no local funeral firm owner or manager in my area has been forward-thinking enough to examine this business-building opportunity close enough to see it for what it is: a natural extension of a funeral professional's commitment to service; one that could add revenue and position them as a compassionate, full-service funeral firm.
If this describes your locality, then think long and hard about this opportunity, will you? After all, there are probably many families who need this type of care, usually with more frequency than they require traditional funeral services. As an exemplary pet loss care provider, you'll effectively 'get a (compassionate) foot in the door, and have the opportunity to shine brightly enough to draw attention to your traditional funeral home service offerings, and plant the seed for future first calls.
Will It Be Your Phone Which Rings?
It could be. And it should be. If the thought of adding pet loss services to your funeral firm offerings is daunting — maybe you don't even know the first thing about pet loss — put your anxieties in your back pocket for a minute, take a deep breath, and imagine the possibilities.
It might help you to know there's a new technology solution available to make the transition into the pet loss marketplace easier.  An Unforgettable Friend is a complete turn-key technology solution from FrontRunner Professional.
The An Unforgettable Friend Opportunity
I've got to tell you that I was utterly delighted that FrontRunner gave me the opportunity to write the webpage content for the site, the online articles, and all the downloadable resources for this offering. The project gave me a remarkable opportunity to share my extensive experience as a loving (and often bereaved) pet parent, hone my SEO copywriting  and content writing skills, and forced me to "think outside the box" when it came to serving the growing number of pet owners. In all honesty, I'm very proud to say there's no other pet loss solution quite like An Unforgettable Friend.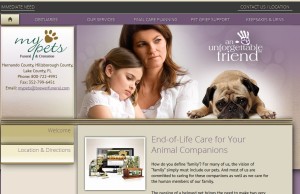 The website portion of the solution features a downloadable pet loss pre-planning guide, an advance health care directive for pets, grief support eBooks for children and adults, and one-sheets on a variety of topics including helping children through pet loss, pet memorialization and remembrance ceremony suggestions.  The website site also features an eCommerce component, marketing a complete line of pet loss products: cremation urns, pet caskets, memorial jewelry, keepsake urns and grave markers.
It's just one part of the total turn-key package, and rests solidly on the three-part foundation unique to all FrontRunner Professional technology solutions and available to all FrontRunner clients:
The proprietary one-write logic where the back-end management system automatically populates vital case information into the deceased pet's  Book of Memories™ online tribute site (an exclusive feature of the An Unforgettable Friend website), as well as into all related forms and documents.
The online lead-generating strategic initiatives collectively known as the Matrix. These direct-to-consumer websites attract the interest of families and drive them to the website of the An Unforgettable Friend affiliated pet loss professional in their community.
The web-based Marketing Center, featuring tri-fold brochures, print ads in a number of sizes, in both color and black & white, all designed to promote your service offerings.
Don't be Like Mark Twain
I know, I know. Who wouldn't want to be the possessor of his wit and wisdom? Well, here's something about him that's not enviable, and he said it of himself: "I was seldom able to see an opportunity until it had ceased to be one." That's the characteristic I'm referring to when I ask you not to emulate him. It's his myopia; his "sightlessness" when it came to discerning a favorable circumstance when it presented itself–that's exactly what I don't want for you.
I'd like you to recognize–and seize–the emerging opportunities presented within the pet loss information gap. And because I know that An Unforgettable Friend exists to support you in making the leap into the pet loss marketplace, I'm confident you'll have the support you need to succeed.
Contact FrontRunner to see this
turn-key pet loss business solution today!